Home Sweet Home – Aaron Kwok, Duan Yihong
Home Sweet Home is a suspenseful thriller film directed by Chen Zhengdao, starring Aaron Kwok, Duan Yihong, Zhang Zifeng, Tiffany Hsu, and Rong Zishan.
The film tells the story of a harmonious family of four who have a secret visitor and the family is no longer at peace.
Details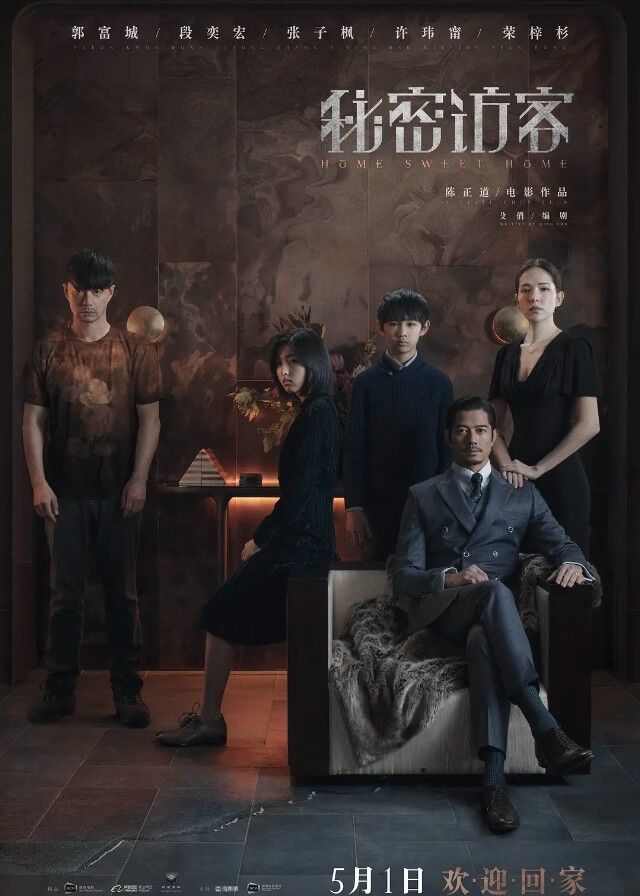 English Title: Home Sweet Home
Chinese Title: 秘密访客
Genre: Suspense, Thriller, Crime, Drama
Duration: 111 min.
Director: Chen Zhengdao
Writer: Shu Qiao
Producer: Shi Xiaoye
Product Company: Alibaba
Released Date: 2021-05-01
Broadcast Website: Viki
Cast
Synopsis
The school bus driver, Yu Kunqiao, caused a major school bus accident due to negligence. Kunqiao risked his life to rescue Wang Chuqi, who seemed to be closely related to the truth behind the accident. Unfortunately, no other students on the school bus survived. Upon learning of this incident, Wang's wealthy father had to hide Kunqiao in the basement of their home for three years in order to conceal this secret. However, he constantly hinted at Kunqiao to turn himself in. With the arrival of visitors, this once warm and harmonious family started becoming increasingly eerie. The mother became restless and anxious all day, the sister's behavior changed dramatically, and each family member seemed to have sinister intentions. Strange incidents kept occurring, and the dark secret behind this family seems poised to come to light.
Reviews
You May Also Like
Related Posts