Go Ahead – Tan Songyun, Song Weilong, Zhang Xincheng
Go Ahead is a youth growing-up and healing drama directed by Ding Ziguang, led by Tan Songyun and Song Weilong, with Zhang Xincheng in a special role, co-starring Tu Songyan, Sun Yi, He Ruixian, An Ge.

The drama tells the story of three children who was hurt by their original families, form a non-blood family. They support each other during their growth, heal their inner hurts gradually, reconcile with their past selves, and become better.
Details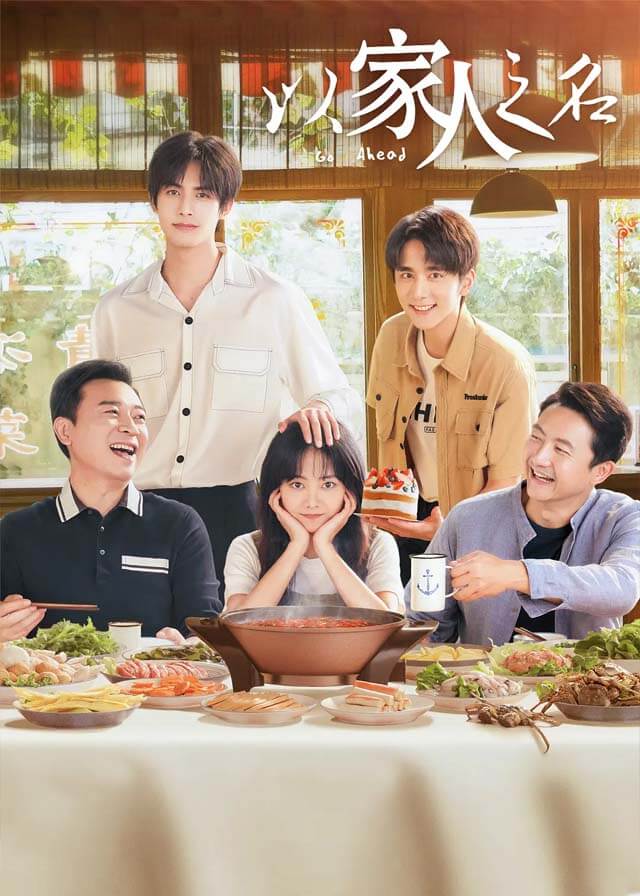 English Title: Go Ahead
Chinese Title: 以家人之名
Genre: Youth, Family, Life
Tag: Healing, Bromance, Child Abandonment, Meet Again, Slice of Life, Friends to Lovers
Episodes: 46(TV) / 40(DVD)
Duration: 45 min.
Director: Ding Ziguang
Writer: Shui Qianmo, Wang Xiongcheng
Producer: Long Ya
Product Company: HUACE FILM&TV, KANXINQING STUDIO, ZhANGXINCHENG STUDIO, XINGYUN CULTURE
Released Date: 2020-08-10
Broadcast Website: MGTV, Huace, Viki
Cast
Synopsis
Three children who are not related by blood and have suffered different traumas in their original families are brought together by coincidence to become brother and sister.
The elder brother Ling Xiao, the second brother He Ziqiu, and the younger sister Li Jianjian are raised by two fathers Li Haichao and Ling Heping. They support each other and grow up together.
After graduating from high school, the two brothers return to their families of origin. On one side is the new family that they recognize and cherish each other, and on the other side is their biological parents that they cannot choose but have an indifferent relationship. They wandered between two families.
Nine years later, the brothers return to their new families and are finally reunited, but the psychological problems caused by their families of origin still follow them.
Facing various difficulties in life, they choose to make a concerted effort to get through them. After some trials and tribulations, they finally bravely step out of the shadow of their past, allowing their parents to face their problems and making each other become better and better.
Reviews
You May Also Like
Related Posts
Chinese Dramas Like Go Ahead

Zhang Xincheng Dotes On Tan Songyun, Called Her Unquie Nickname

How many girlfriends has Song Weilong had? What kind of girl does he like?

2020 Top 10 Campus Prince Charming: Zhang Xincheng only took the 3rd, Song Weilong was recognized as the Dreamboat

Who is Seven Tan Songyun's boyfriend? Is it true that she has a ten-year relationship with Wu Yichen?

Zhang Xincheng And His 4 Rumored Girlfriend

Landy Li Landi's Boyfriend is Zhang Xincheng? They Have Been in a Relationship for 6 Years?

How is Tan Songyun and Ren Jialun's relationship in private?

Zhang Xincheng Photos

Song Weilong Photos

Tan Songyun Photos

Why Tan Songyun Hasn't Been A-list Actress Yet With Many Hit Dramas

Xiao Zhan Ranked 1st, Wang Yibo 2rd - The Most Popular Chinese Actor in Thailand

Zhang Xincheng Dramas, Movies, and TV Shows List

Song Weilong Dramas, Movies, and TV Shows List

Tan Songyun Dramas, Movies, and TV Shows List

Seven Tan Songyun Denied The Rumor Of She Has Married And Divorced

Jing Boran and Tan Songyun are the Most Popular CP Recently! Do You Think They are a Good Match?

Wang Kai and Tan Songyun: How Do You Feel Their Nan De Xiao Ting CP

The CP of Wallace Chung, Tan Songyun is expected- "The Sword and The Brocade" released The Valentine's Day blockbuster