A Chinese Odyssey Part Three – Han Geng, Tiffany Tang
A Chinese Odyssey Part Three is a fantasy romantic film directed by Liu Zhenwei, led by Han Geng and Tiffany Tang Yan, co-starring Wu Jing, Karen Mok, Zhang Yao, Zhang Chao, Xie Nan, Wang Yibo, and Huang Zheng.
The film focuses on the unparalleled love story of Zhi Zun Bao and Zi Xia who use the "Moonlight Box" to change their destiny.
Details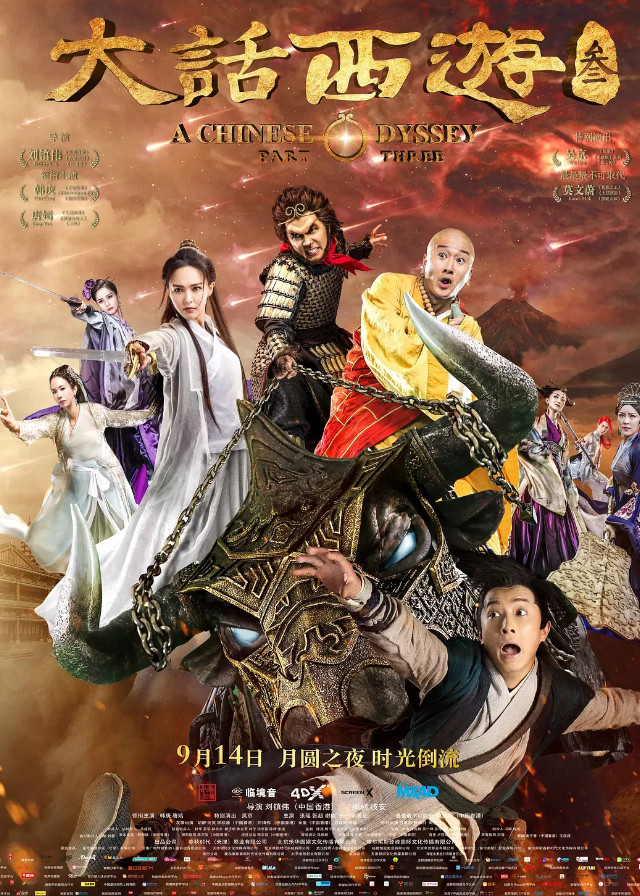 English Title: A Chinese Odyssey Part Three
Chinese Title: 大话西游3
Genre: Fantasy, Romance, Comedy
Duration: 93 min.
Director: Liu Zhenwei
Writer: Liu Zhenwei
Producer: Lu Jianmin
Product Company: SPRING ERA, YUE HUA ENTERTAINMENT, STAR ALLIANCE MOVIES
Released Date: 2016-09-14
Broadcast Website: 爱奇艺
Cast
Synopsis
The Fairy Zi Xia, who died under the fork of the Bull Demon King in "A Chinese Odyssey 2: Cinderella", will see this scene in advance through the "Moonlight Box". She chooses to go back in time to prevent Zhi Zun Bao from falling in love with her in order to avoid the tragedy.
Zhi Zun Bao meets Bai Jingjing again, who has been waiting for him.
The love-hate relationship between the past and present lives is once again played out for the last time.
Reviews
You May Also Like
Related Posts