Water Boys – Xin Yunlai, Li Xiaoqian, Feng Xiangkun
Water Boys is a youth comedy film directed by Song Haolin, starring Xin Yunlai, Feng Xiangkun, Li Xiaoqian, Wu Junting, and Wang Chuan.
The film is based on the Japanese film "Waterboys/ウォーターボーイズ", which tells the story of five ordinary teenagers who accidentally form a men's synchronized swimming team and face distrust and ridicule from their teachers, classmates, and parents, but instead, they are inspired to "win once".
Details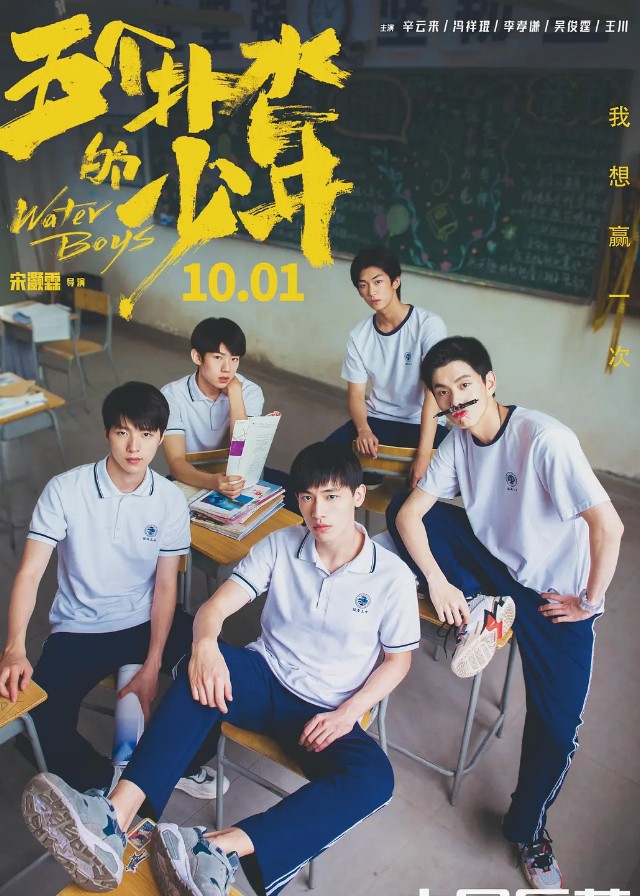 English Title: Water Boys
Chinese Title: 五个扑水的少年中国版
Genre: Youth, Sport, Comedy, Drama
Duration: 111 min.
Director: Song Haolin
Writer: Song Haolin, Miao Qian
Producer: Sun Yonghuan
Product Company: ENLIGHT PICTURES
Released Date: 2021-10-01
Broadcast Website: 唐阁影院 Tag Theatre
Cast
Synopsis
In the ordinary teenage years of many people, there are the craziest and brightest moments.
Zhang Wei is a high school sophomore with an average appearance and mediocre academic performance, considered a "poor student" by his teachers and mother.
Facing pressure from all sides, he gradually lost confidence in himself until he was unexpectedly appointed as the captain of the school's newly formed men's synchronized swimming team, which began to change him little by little.
Never having been believed in before, he now faced the trust of his teammates Gao Fei, Chen Minghan, Qu Qu, and Wang Zi, and for the first time, he had the idea of wanting to win.
For the sake of the rekindled passion in their hearts, the teenagers decided to join forces and embark on this "men's synchronized swimming" youth counterattack battle together.
Reviews
You May Also Like
Related Posts