Under the Power – Ren Jialun, Tan Songyun
Under the Power is a historical romantic suspense drama directed by Yin Tao, led by Ren Jialun and Tan Songyun, co-starring Han Dong, Ye Qing, Yao Yichen, Lu Hong, Xi Xue, Li Tingzhe, and Han Chengyu.

The drama is based on the novel of the same name by Lan Se Shi, which tells the story of Lu Yi, an Imperial Guard who is ordered to investigate the case of the missing money to repair the river in Yangzhou in the late Ming Dynasty when traitorous officials are in power. He is assisted by Yuan Jinxia, a female constable of Yamen.
Details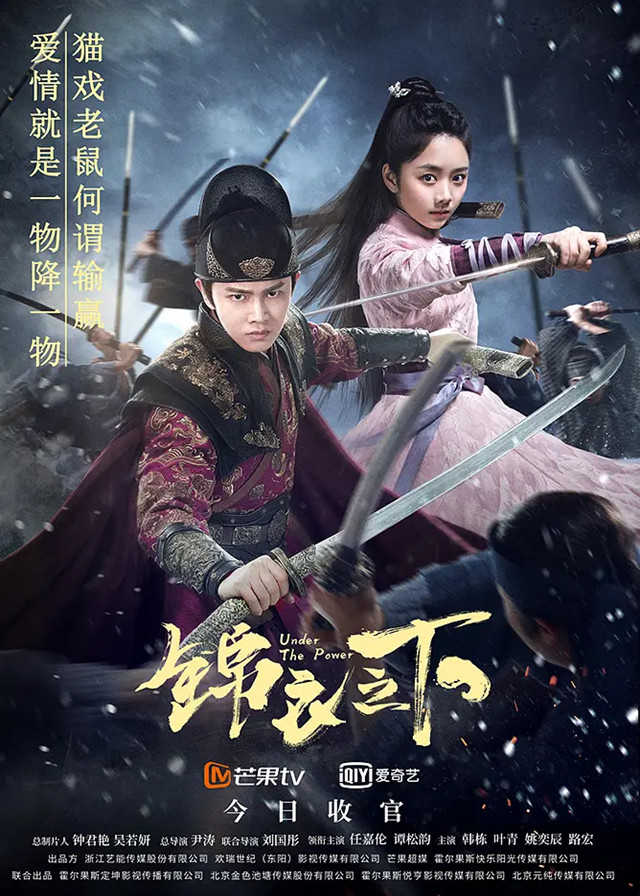 English Title: Under the Power
Chinese Title: 锦衣之下
Genre: Historical, Suspense, Romance
Tag: Investigation, Strong Male Lead, Smart Female Lead, Cold man/Warm woman, Love Triangle, Revenge
Episodes: 55
Duration: 45 min.
Director: Yin Tao
Writer: Hu Na, Lin Yating
Producer: Zhong Junyan, Wu Ruoyan
Product Company: Impact Media, H&R CENTURY PICTURES, MANGO EXCELLENT MEDIA, Hunantv.com Interactive Entertainment Media Co. Ltd
Released Date: 2019-12-28
Broadcast Website: Prime Video, Viki, AsianCrush, 熱點劇場Hotspot!, MGTV
Cast
Synopsis
Yuan Jinxia, a gifted female constable of Liushan Yamen, was in a feud with each other with the ruthless Imperial Guard, Lu Yi because of a case.
Jinxia thought she would never meet him again in her life, but things went athwart.
The court money to repair the river disappeared, Jinxia was ordered to go to Yangzhou to assist Lu Yi to investigate the case and retrieve the lost official funds for the court.
Because of the shocking secret case, they worked together to solve it.
They went from mutual dislike to admiration and then fell in love.
However, Jinxia was actually the orphan of the Xia Ran case, carrying the feuds of family between her and Lu Yi.
In the end, the two lovers went through hardships, to save the people, fight against the Japanese invaders, eliminate the traitors, put aside family feuds.
They joined forces against the enemy, broke through the shackles of the world, and bravely came together.
Reviews
You May Also Like
Related Posts
Chinese Dramas Like Under the Power

How is Tan Songyun and Ren Jialun's relationship in private?

Who Is Allen Ren Jialun's Wife? He Got Married With A Child

Who is Seven Tan Songyun's boyfriend? Is it true that she has a ten-year relationship with Wu Yichen?

Why Tan Songyun Hasn't Been A-list Actress Yet With Many Hit Dramas

Allen Ren Jialun, Bai Lu: The Fated Love In Two Lives Begins

Seven Tan Songyun Denied The Rumor Of She Has Married And Divorced

Jing Boran and Tan Songyun are the Most Popular CP Recently! Do You Think They are a Good Match?

Ren Jialun Photos

Tan Songyun Photos

Wang Kai and Tan Songyun: How Do You Feel Their Nan De Xiao Ting CP

The CP of Wallace Chung, Tan Songyun is expected- "The Sword and The Brocade" released The Valentine's Day blockbuster

Zhang Xincheng Dotes On Tan Songyun, Called Her Unquie Nickname

Ren Jialun Dramas, Movies, and TV Shows List

Tan Songyun Dramas, Movies, and TV Shows List

Allen Ren Jialun and Fair Xing Fei Fall In Love in "Miss Crow with Mr. Lizard", Sweetness Is Overwhelming!

Allen Ren Jialun, Li Qin Start The Fantasy Xian Xia Love Journey

Ren Jialun, Bai Lu, The Gorgeous Cp In The New Coming Dramas