Ride On – Jackie Chan, Liu Haocun, Guo Qilin
Ride On is an action comedy film written and directed by Yang Zi, led by Jackie Chan, Liu Haocun, and Guo Qilin, co-starring Wu Jing and Xiao Shenyang.
The film tells the story of a martial artist, Lao Luo, who is determined to turn his beloved horse, Chitu, into a martial arts star, but the mischievous horse also brings unexpected challenges to his daughter's boyfriend Naihua.
Details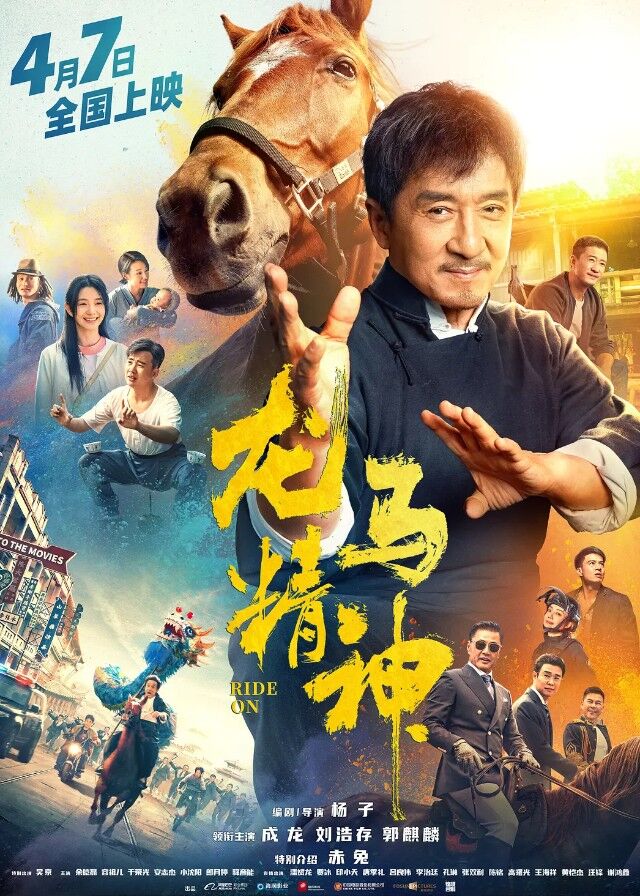 English Title: Ride On
Chinese Title: 龙马精神
Genre: Action, Comedy, Drama
Duration: 126 min.
Director: Yang Zi
Writer: Yang Zi
Producer: Han Ken, Fu Ruoqing
Product Company: Alibaba, Hairun Film, Hengdian Film
Released Date: 2023-04-07
Boradcast Website: -
Cast
Synopsis
Lao Luo is a martial artist who was down and out in life, and had a beloved horse named "Chitu." He always wanted to train it to become a motion star on the film set.
However, he became deeply involved in a lawsuit and could only seek help from his long-lost daughter Xiao Bao and her lawyer boyfriend, Nai Hua. While helping Lao Luo with the lawsuit, Xiao Bao also tried to persuade him not to risk Chitu's life by performing dangerous stunts.
However, despite his daughter's opposition, Lao Luo continued to secretly train Chitu and also subjected his son-in-law Naihua to various tests.
Reviews
You May Also Like
Related Posts