Our New Life – Li Wenhan, Cai Ming, Yang Chaoyue, Xu Juncong
Our New Life is a social reality comedy film directed by Shen Ao, Bao Bei Er, Yao Tingting, Lu Zhengyu, and Zhang Luan.
The film consists of five separate story units. The unit "Guang Chang En Chou Lu / 广场恩仇录" is directed by Shen Ao, starring Cai Ming, Li Wenhan, and Zhang Shuangli; the unit "Leng Jing Leng Jing / 冷静冷静" is directed by Bao Bei Er, starring Xu Juncong and Bao Wenjing; the unit "Yun Shang Yin Yue Hui / 云上音乐会" is directed by Yao Tingting, starring Wang Qiang and Lan Yingying, with special appearances by Yu Entai and Bai Jingting; the unit "Zui Ran Bu Guo Xi Yang Hong / 最燃不过夕阳红" is directed by Lu Zhengyu, starring Yang Zishan, Zhang Kaili, and Yang Di, with special appearances by Fan Ming and Cai Guoqing; the unit "Yi Lu Qian Xing / 一路前行", is directed by Zhang Luan, starring Yang Zisan, Wang Xun and Pan Binlong, with a special appearance by Ding Zhenzhu.
Focusing on the laughter and tears of small people, the film tells the stories of ordinary people's struggle for a better life in the new era, showing a different and joyful new life, and also demonstrating the sense of achievement, happiness, and security brought to the people by the country's development and progress and changes in people's livelihood.
Details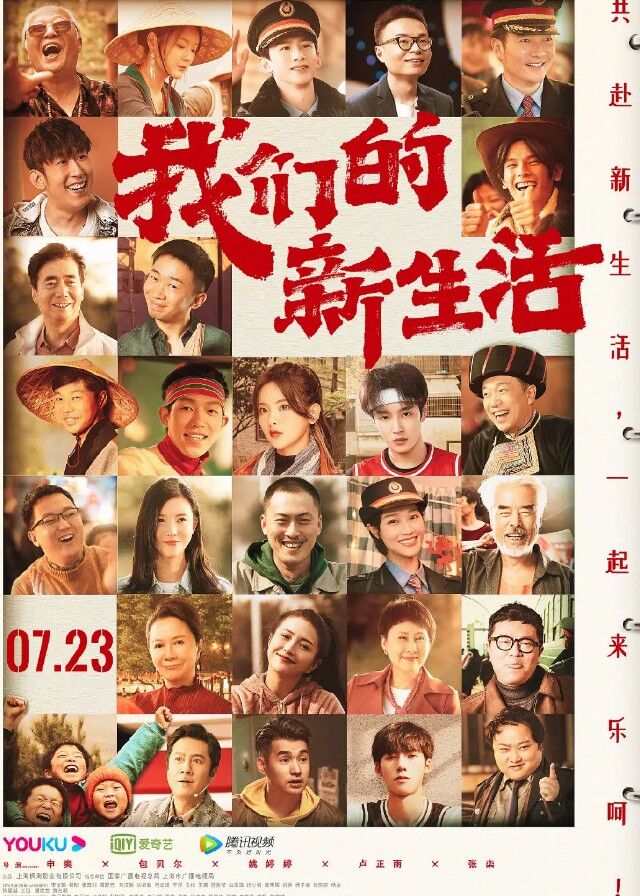 English Title: Our New Life
Chinese Title: 我们的新生活
Genre: Comedy, Life, Drama
Duration: 146 min.
Director: Shen Ao. Bao Bei Er, Yao Tingting, Lu Zhengyu, Zhang Lun
Writer: Shen Ao. Bao Bei Er, Yao Tingting, Lu Zhengyu, Zhang Lun
Released Date: 2021-07-23
Watch On: youku.tv
Cast
Synopsis
Guang Chang En Chou Lu
The community square dance troupe led by Auntie Niu and the basketball team led by high school student Huang Xiao, both faced the pressure of training for a major competition. The two sides have had multiple conflicts over the shared community venue, and the contradictions have continued to escalate. Huang Xiao's grandfather, Lao Huang, was arranged by Auntie Niu to persuade his own grandson, and after several rounds of wits, a self-directed "Injury Feigning" drama finally forced the basketball team to make concessions. After the square dance troupe's competition ended, Huang Xiao unexpectedly learned that his grandfather had a brain tumor…
Yi Lu Qian Xing 
Urban girl Chen Jingyu is devastated by the unexpected death of her boyfriend and falls into a state of depression. While driving through Tibet, her car breaks down on the road to Beichuan. Chen Jingyu takes refuge in a Qiang village with rich ethnic customs, where she meets repair shop owner Yang Cidian, as well as innkeepers Lao Wei and Xiu Fen. Thirteen years ago, a major earthquake brought great trauma to the people here, but today the village has recovered and is full of laughter and joy. During her stay in the village for several days, friends learned about Chen Jingyu's story, and also shared their own memories of the pain they experienced during the disaster and their personal healing processes.
Yun Shang Yin Yue Hui
Four young boys from a poor mountainous area with a dream of music formed the "Leaping Monkey Band". In order to participate in a competition, the band leader, Hou Jiarui, secretly took his three brothers and boarded a train to Beijing. A series of confrontations between train attendant Xiaojin, train conductor Lao Jia, and the quartet ensued during the chase. The police officer Xiao Bai, passengers A Niu and Yue Yue were also forced to become involved. At this time, news came that an accident occurred on the front-line road due to falling rocks, causing the train to be trapped halfway. Faced with the upcoming missed competition, the boys shed tears of frustration, and people finally learned about the motivation behind the band's participation. With the support of enthusiastic people, can the boys finally overcome geographical barriers and turn the "impossible" into the "possible"…
Zui Ran Bu Guo Xi Yang Hong
An elderly couple, Zhang and Li, are picked up by their daughter to take care of their grandson in the big city. However, they have a hard time adapting to the fast pace of modern society. Zhang, who used to be strong and capable, becomes clumsy and out of place in her daughter's home. Zhang's daughter, Xiao Li, and her husband, Yang Dadi, are at a loss as to how to help Zhang integrate into city life. They plan a well-intentioned deception based on Zhang's love for the singer Cai Guoqing. However, the couple's attitude leads the plan to deviate from its original course, until Zhang finally sees Cai Guoqing in person at a recording of a TV program.
Leng Jing Leng Jing
Gao Leng and Shen Jing met at university and got married soon after graduation. Gao Leng is independent and strong-willed, determined to succeed and provide a comfortable life for Shen Jing. He is busy with work all day and communication with his wife becomes less and less. Shen Jing loves romance, is sensitive, and does not pursue wealth and material success. However, she feels neglected by Gao Leng's busy schedule and lack of attention. The relationship crisis between the two has been building up for a long time and finally erupted into a heated argument, leading their marriage to the brink of collapse…
Reviews
Related Posts
Lan Yingying Dramas, Movies, and TV Shows List

Li Wenhan Dramas, Movies, and TV Shows List

Yang Zishan Dramas, Movies, and TV Shows List

Wang Qiang Dramas, Movies, and TV Shows List

Wang Xun Dramas, Movies, and TV Shows List

Yang Di Dramas, Movies, and TV Shows List

Zhang Kaili Dramas, Movies, and TV Shows List

Pan Binlong Dramas, Movies, and TV Shows List

Cai Ming Dramas, Movies, and TV Shows List

Bao Wenjing Dramas, Movies, and TV Shows List

Zhang Shuangli Dramas, Movies, and TV Shows List

Xu Juncong Dramas, Movies, and TV Shows List