Love Can't Be Said – Zhou Yiran, Wu Nien Hsuan
Love Can't Be Said is a youthful romantic film directed by Wu Jiakai and Zhang Zhihong, led by Zhou Yiran and Wu Nien Hsuan, co-starring Tang Jiawen, and Weng Chuhan, with special appearances by Wu Yanshu, Zhang Xinyi and Yuan Hong.
The film tells the story of a timid senior girl, Tong Zhiliao, who meets her four-year crush, Gu Bin, on campus by accident, and from then on, this girl, who only dares to hide in the corner of the library to watch his back and write to him in silence but never sends him a letter, starts a beautiful story of first love that she will never forget.
Details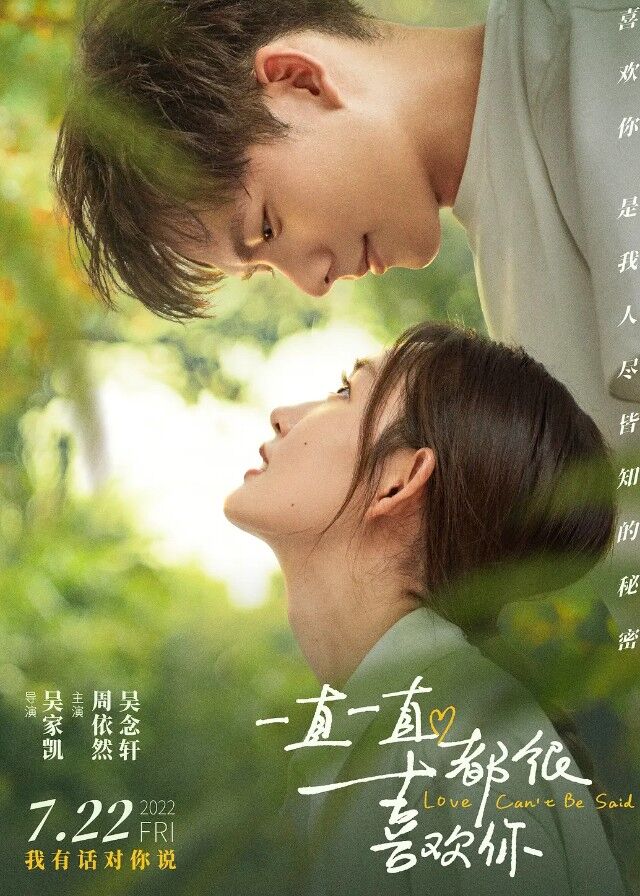 English Title: Love Can't Be Said
Chinese Title: 一直一直都很喜欢你
Genre: Youth, Romance
Duration: 94 min.
Director: Wu Jiakai, Zhang Zhihong
Writer: Yang Hui, Ye Man
Producer: Wang Xiaoxiao
Released Date: 2022-07-22
Broadcast Website: 唐阁影院 Tag Theatre
Cast
Synopsis
Tong Zhiliao, a senior college girl, has had a crush on her fellow student Gu Bin from Taipei for whole four years.
She enters his world, experiencing the freedom and passion of youth, which completely captivates her throughout her youth.
As graduation approaches, she faces a choice: whether to keep her secret within her youth or bravely say, "I've always, always liked you."
Reviews
You May Also Like
Related Posts