The Hidden Fox – Zhao Huawei, Chen Yusi
The Hidden Fox is a wuxia action film directed by Qiao Lei, led by Zhao Huawei and Chen Yusi, co-starring Ray Lui, Jun Yu Shan Shan, Chen Zihan, Yang Yi, Zhao Zichong, and Fu Jia, with special appearances by Wu Yijiang and Zheng Haonan.
The film is based on Jin Yong's martial arts novel "The Flying Fox of Snow Mountain", which tells the story of eight villains who, in order to seize a mysterious treasure, set up a trap to lure the world's greatest master, Miao Renfeng, into a duel with Hu Yidao, the guardian of the treasure, resulting in the tragic deaths of both of them;
Ten years later, the treasure map reappears in Jianghu and all the people gather again to fight for the treasure.
Details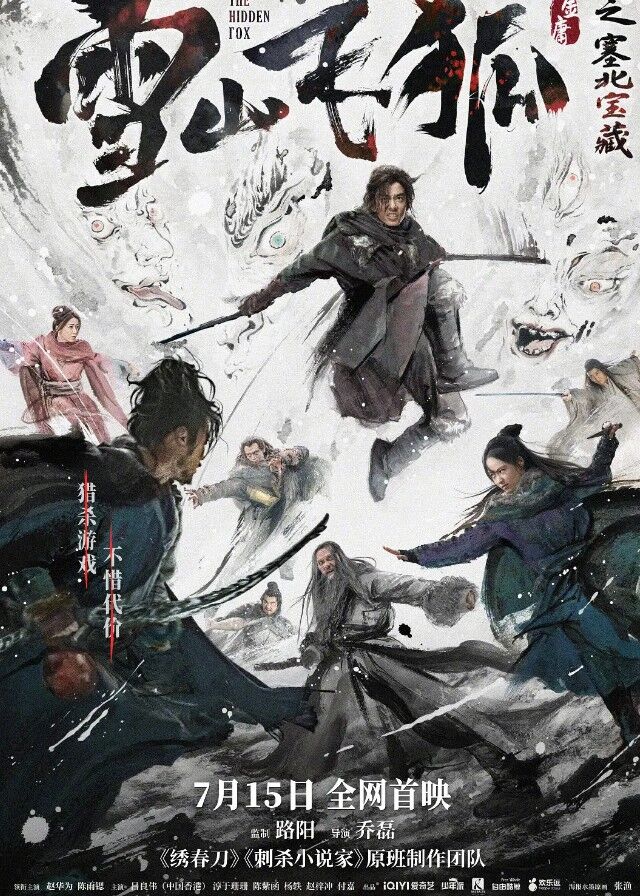 English Title: The Hidden Fox
Chinese Title: 雪山飞狐之塞北宝藏
Genre: Wuxia, Action, Drama, Suspense, Thriller
Duration: 103 min.
Director: Qiao Lei
Writer: Qiao Lei, Mu Zixin
Producer: Song Jia
Product Company: iQiyi
Released Date: 2022-07-15
Broadcast Website: iQIYI
Cast
Synopsis
Ten years ago, Tian Guinong gathered a group of his strong men and set up a trap, luring the great heroes Miao Renfeng and Hu Yidao into a battle for the sake of a treasure. Both Miao and Hu lost their lives in the process.
Ten years later, Hu Yidao's son, Hu Fei, sharpened his skills and sought revenge for his father. A revenge battle begins, and a "hunting game" unfolds.
Reviews
You May Also Like
Related Posts