Miss Crow With Mr. Lizard – Allen Ren Jialun, Fair Xing Fei
"Miss Crow with Mr. Lizard" is an urban romantic drama directed by Wu Qiang, starring Ren Jialun and Xing Fei, co-starring Liu Ruilin, Zhao Yixuan, Jun Sheng, and Ge Shimin.
Details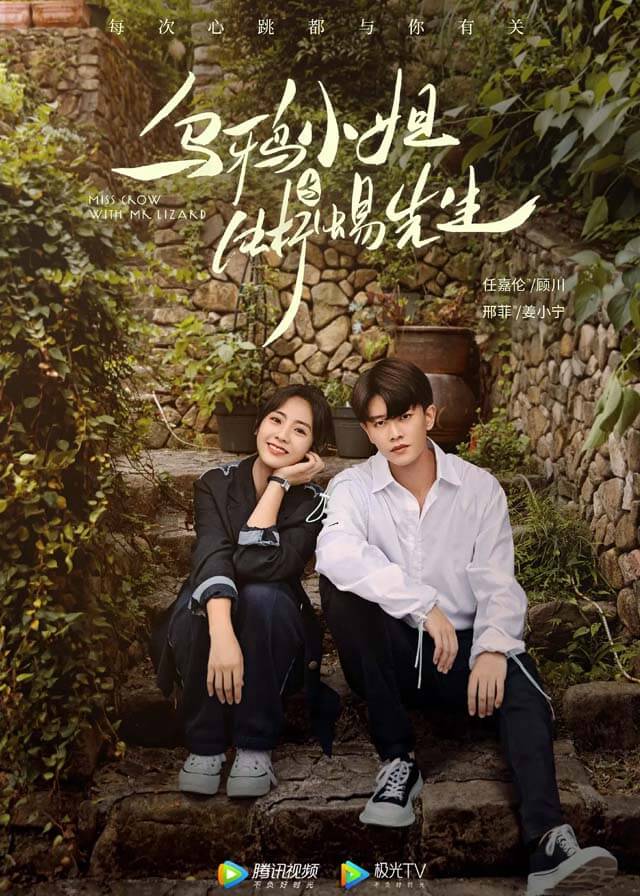 English Title: Miss Crow With Mr. Lizard
Chinese Title: 乌鸦小姐与蜥蜴先生
Genre: Romance, Urban
Episodes: 36
Duration: 45min
Director: Wu Qiang
Writer: Yang Nan, Liu Chang
Producer: Gu Sibin
Product Company: Tencent Penguin Pictures, T.H ENTERTAINMENT, Maoyan Entertainment
Broadcasting website: WeTV, Viki
Release Date: April 28, 2021
Cast

Ren Jialun
as Gu Chuan

Xing Fei
as Jiang Xiaoyu
Synopsis
Gu Chuan was involved in a major car accident in the year of his graduation from college, resulting in serious damage to his heart, but the rescue team rescued him in time to regain his life.
However, due to the artificial heart in his body, he could not exercise vigorously, could not be happy or sad, and could not live normally as an ordinary person, which made Gu Chuan, who was originally cheerful and full of enthusiasm for life, gradually lose confidence in his life as a walking corpse.
Ten years later, Gu Chuan co-founds "Chuan" architectural design studio with his friend Xu Chengran.
Gu Chuan tries to accept his different body and find new hope, but every time he fails, until he meets Jiang Xiaoning.
Jiang Xiaoning's parents died when she was young and she lives with her grandmother and aunt.
But the unfortunate childhood does not bring her down, she grows into an optimistic and cheerful girl who knows how to cherish and work hard to live.
They become subordinates by mistake, and after getting along with each other frequently, Gu Chuan sees in Jiang Xiaoning the enthusiasm and hope for the life that he had lost and finds a new way of self-identity while helping Jiang Xiaoning to complete her studies and dreams.