Forget You Remember Love – Xing Fei, Jin Ze
Forget You Remember is a romantic drama directed by Liang Wenyi, starring Xing Fei, Jin Ze, Jiang Xingcheng, Li Zhengjun, Wen Yuan, and Jurat.

The drama tells the romantic love story of an inspiring young girl, Ye Qianyu, who accidentally meets a down-and-out boss, Shan Junhao, in a fishing village by mistake. They experience ups and downs, growing up along the way and gaining true love.
Details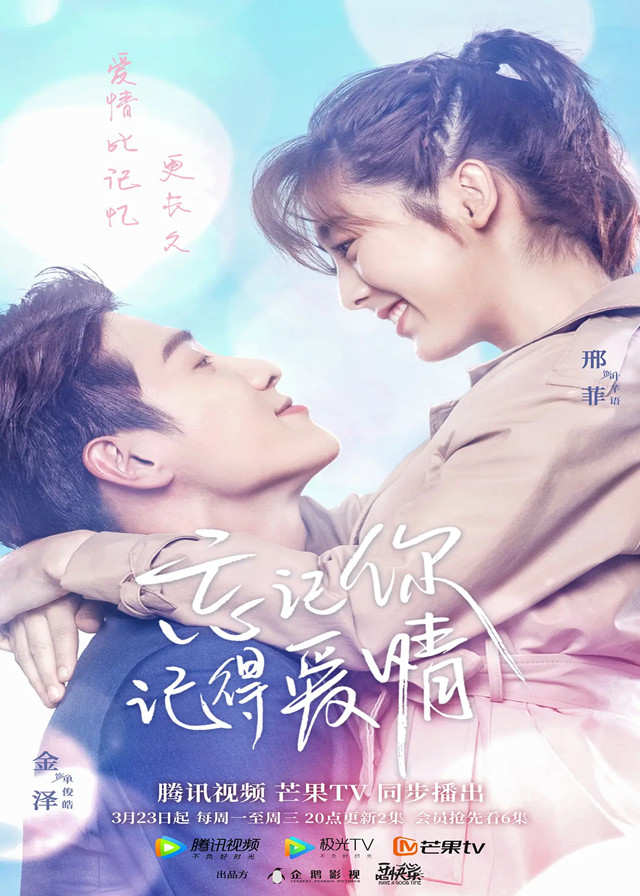 English Title: Forget You Remember Love
Chinese Title: 忘记你,记得爱情
Genre: Romance, Urban
Episodes: 38
Duration: 45 min.
Director: Liang Wenyi
Writer: Yang Zisu, Xi Wenting
Producer: Fang Fang, Shen Lingwei
Product Company: TENCENT PENGUIN PICTURES, HAVE A GOOD TIME
Broadcasting Website: MGTV, WeTV
Released Date: March 23, 2020
Cast

Xing Fei
as Ye Qianyu

Jin Ze as Shan Junhao/Tao Hao

Jiang Xingcheng as Fan Yunyi

Li Zhengjun as Xu Ziqian

Wen Yuan as Tai Chu

Xue Bowen as Ye Shengzhe

Jurat as Zhang Minghan

Joyce Zhao as Chen Jinzhi

Yang Mingna as Jiang Caiyue

Alex Dung as Tang Shunming
Synopsis
Ye Qianyu, an ordinary girl who is known as "the leader of the fishing village", and Shan Junhao, a "digital prince" who believes that " the rate of return is better than everything".
The two of them, who could not have had interactions, were tied together by fate because of a sudden car accident.
The cool boss Shan Junhao changed his temperament due to memory loss and turned into a soft and considerate warm man, Tong Hao.
On the beautiful island, Ye Qiangyu gradually fell into a romantic relationship with Tong Hao.
But when she learned that Tong Hao's real identity is Shan Junhao, the general manager of Senwell Group, Ye Qiangyu was caught in a conflict.
After a conspiracy, Tong Hao accidentally regained his memory and turned back into the cool "prince" again, and the memory of his love with Ye Qianyu on the island was lost.
At this time, on the one hand, Ye QianYu had to face the subversive reconstruction of the island by the Senwell Group led by Shan JunHao, and on the other hand, she hoped to try her best to find her lover who had lost his memory.
The double pressure of love and life pushed Ye QianYu to grow up continuously.