Your Highness, The Class Monitor – Niu Junfeng, Xing Fei
Your Highness, The Class Monitor is a youthful school romantic drama, starring Niu Junfeng and Xing Fei.

The drama is adapted from the novel "Mi Ai Bai Fen Bai: Xiao Cao De Zhuan Shu Tian Xin", which tells the story of Gu Zichen, a rebellious rich young master, and Su Niannian, a stubborn and competitive female school whiz, who meet by accident. They have a pure and romantic love story revolving around their studies and growth while solving their misunderstanding.
Details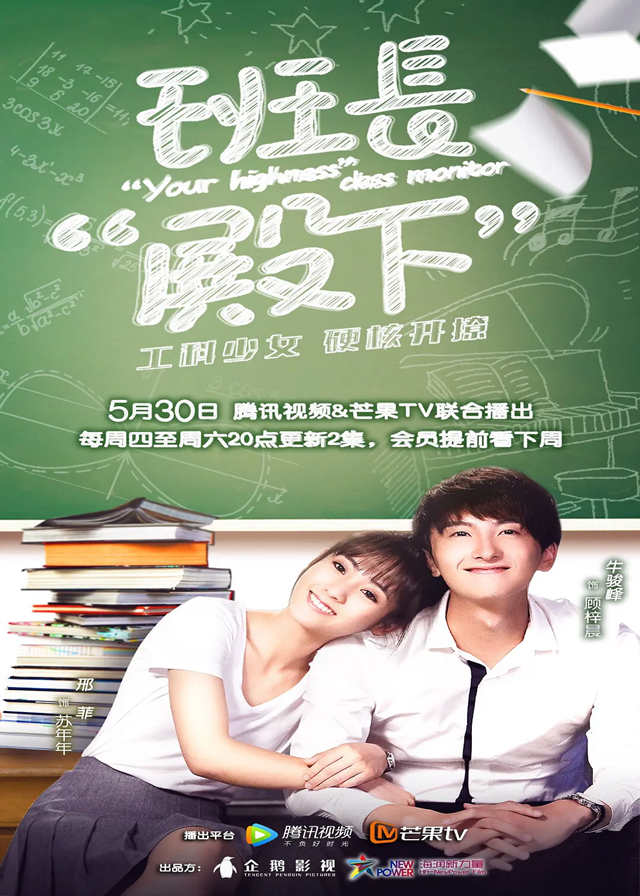 English Title: Your Highness, The Class Monitor
Chinese Title: 班长"殿下"
Genre: Urban, Youth, School, Romance
Tag: Student, Enemies to Lovers, Rich Man/Poor Woman, Love Triangle, Amnesia, Male Chases Female First
Episodes: 36
Duration: 45 min.
Director: Chen Yanming, Jian Yuxuan
Writer: Tian Qing, Xu Jian, Sun Baida
Producer: Fang Fang, Xu Jian
Product Company: TENCENT PENGUIN PICTURES, HR-NewPrower Film
Released Date: 2019-05-30
Broadcast Website: WeTV
Cast
Synopsis
Su Niannian, a straight-a-student who wants to enter Peking University and Qinghua University, failed her entrance exams because of a traffic accident. She entered an ordinary university in a small city.
In this university, which she completely despised, she met a lot of "problem students" that she could not accept inside.
She persuaded herself to stay for the time being with the idea that she would soon be able to transfer to another university, but she met Gu Zichen who caused her to miss her exams, and was also involved in a past affair of their fathers.
The unconvincing character of Su Niannian also touched every one of her classmates, those seemingly unruly male classmates were actually just using their appearance to cover up their vulnerability, they quietly studied hard and had a sense of teamwork.
Niannian gradually changed her prejudice against everyone, got along with everyone well, and influenced and motivated everyone with her positive and optimistic attitude and rich knowledge.
In the end, under the leadership of Su Niannian, they worked together to win the championship of the science and technology competition, creating an academic miracle.
Everyone started a different life, and Su Niannian not only gained a sincere friendship but also started a pure and romantic love.
Reviews
You May Also Like
Related Posts
Chinese Dramas Like Your Highness, The Class Monitor

Xing Fei, Daddi Tang Xiaotian -A Fake Romance Turns Real?

Who Are Fair Xing Fei's Rumored Boyfriends? Ideal Type Requirement Is Easy?

What's The Relationship Between Fair Xing Fei And Lin Yi?

How Is Fair Xing Fei And Hu Yitian's Relationship?

Who Is Niu Junfeng's Girlfriend? What's His Relationship With Guan Xiaotong And Yang Zi

Xu Kaicheng, Xing Fei- Sweet And Funny Adventure In "Yue Zhao Ji"

Allen Ren Jialun and Fair Xing Fei Fall In Love in "Miss Crow with Mr. Lizard", Sweetness Is Overwhelming!

Xing Fei Photos

Xing Fei, Tang Xiaotian Fall In Love In "My Little Happiness"

"Chengrang CP" Of Li Chuan, Huang Yilin gets rave reviews- "My Little Happiness" Sweetness Overflows

Xing Fei Dramas, Movies, and TV Shows List

Niu Junfeng Dramas, Movies, and TV Shows List