My Little Happiness – Xing Fei, Daddi Tang
My Little Happiness is an urban workplace drama directed by Yang Long, starring Xing Fei and Tang Xiaotian in the lead roles, starring Huang Yilin, Li Chuan, Deng Yuli, and Fu Weilun, with Liu Chang and Pan Shiqi in special roles.
The drama is based on "You are my little happiness" by Dongbenxigu, which tells the story of a reunion between a trainee lawyer, Cong Rong, and a surgeon, Wen Shaoqing, and how they go from disliking each other to accompanying each other with the help of their multiple identities as "work partners" and "considerate neighbors".
Details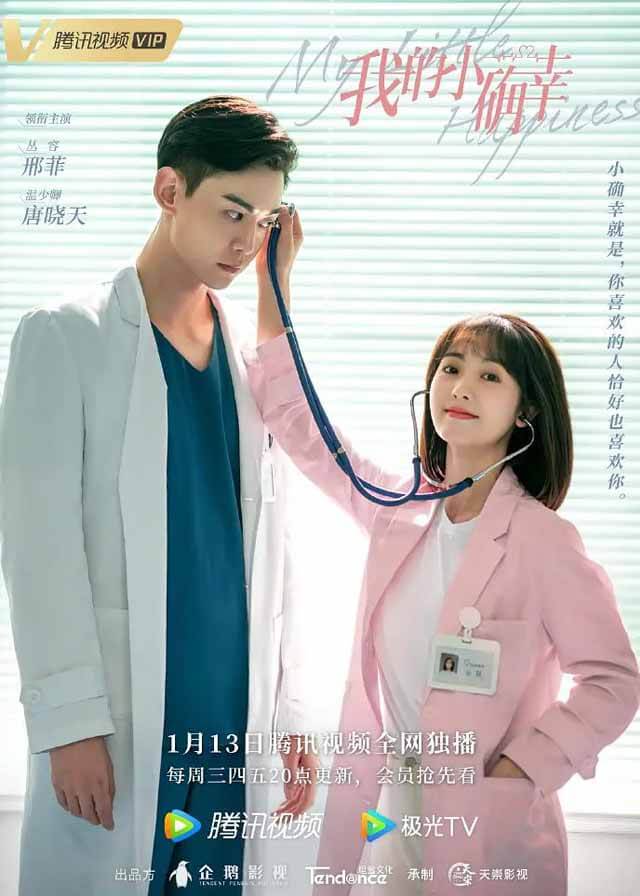 English Title: My Little Happiness
Chinese Title: 我的小确幸
Genre: Urban, Romance
Tag: Male Chases Female First, Adapted From A Novel, First Love, Steamy Kiss, Kiss Scenes, Fluffy
Episodes: 28
Duration: 45 min.
Director: Yang Long
Writer: Liu Fei, Liu Chenguang, Shishi
Producer: Huang Xing, Liu Zhimin, Zhang Chi
Product Company: Tencent Penguin Pictures, Tendance
Released Date: 2021-01-13
Watch On: WeTV, TencentVideo, Viki
Subtitle:
English, Chinese, Thai, Indonesian, Malay, Vietnamese, Spanish, Portuguese, Korean, Arabic, Czech, Dutch, Estonian, French, German, Greek, Hebrew, Hindi, Hungarian, Italian, Romanian, Polish, Serbian, Turkish, Ukrainian
Cast
Synopsis
Cong Rong was arranged by her mother to study economics abroad, and settling abroad was the ultimate request of her mother.
However, Cong Rong, who was determined to become a lawyer, studied on her own and quietly sneaked back to China to get her certificate, and returned to China to get a job without her mother's permission.
The first problem she encountered during her internship was Wen Shaoqing.
The red rope of fate tied them tighter and tighter, and Wen Shaoqing was not only Cong Rong's landlord, but also the neighbor door to door.
When the truth came out, Cong Rong realized that she had already fallen in love with Wen Shaoqing.
Reviews
You May Also Like
Related Posts