Put Your Head on My Shoulder – Xing Fei, Lin Yi
Put Your Head on My Shoulder is an urban youth romance drama directed by Zhu Dongning and starring Xing Fei, Lin Yi, Daddi Tang Xiaotian, Zheng Yingchen, and Zhou Junwei.

The drama is based on Zhao Qianqian's novel of the same title, which tells a warm and sweet love story between Situ Mo, a sunny girl, and Gu Weiyi, a physics genius, after they accidentally shared a room.
Details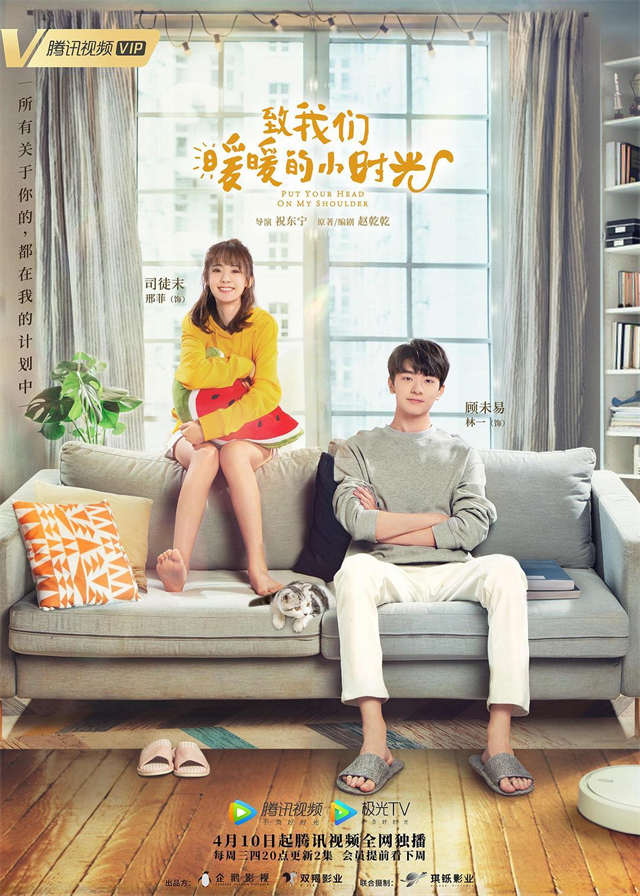 English Title: Put Your Head on My Shoulder
Chinese Title: 致我们暖暖的小时光
Genre: Urban, Youth, Romance
Tag: Cohabitation, Height Difference, First Love, Student, Hardworking Female Lead, Bright Female Lead
Episodes: 24
Duration: 45 min.
Director: Zhu Dongning
Writer: Zhao Qianqian, Wu Xueying, Dai Qi, Chan Xiaoxue, Liu Yu
Product Company: TENCENT PENGUIN PICTURES, S.JIE IDEAS MEDIA
Released Date: 2019-04-10
Boradcast Website: TencentVideo, Viki, WeTV, Netfilx
Cast
Synopsis
As graduation approaches, Situ Mo, who has been used to following arrangements since she was a child, is confused about her future and tries out various arrangements. She is always unable to find the courage to make a choice for herself.
As the old and new campuses merged, a physics student, Gu Weiyi, enters Situ Mo's life. The humdrum life sparks a wave of laughter.
Several times fights made Situ Mo and Gu Weiyi gradually get into each other's hearts and mistakenly become co-rental allies.
In the process of getting along, they put aside prejudice. With each other's encouragement and help, they find a new direction in life and career but also harvest love.
They experienced graduation, job hunting, and working together, and realized that the warmest time is to take the right path and do the right thing with the right person.
You May Also Like
Related Posts
Chinese Dramas Like Put Your Head on My Shoulder

What's The Relationship Between Fair Xing Fei And Lin Yi?

Xing Fei, Daddi Tang Xiaotian -A Fake Romance Turns Real?

Daddi Tang Dramas, Movies, and TV Shows List

Lin Yi Dramas, Movies, and TV Shows List

Xing Fei Dramas, Movies, and TV Shows List

Lin Yi Photos

Xing Fei Photos

"Chengrang CP" Of Li Chuan, Huang Yilin gets rave reviews- "My Little Happiness" Sweetness Overflows

Xing Fei, Tang Xiaotian Fall In Love In "My Little Happiness"

Who Are Fair Xing Fei's Rumored Boyfriends? Ideal Type Requirement Is Easy?

Does Lin Yi Have A Girlfriend? His Ideal Type Is Zhou Jieqiong

Who is Daddi Tang's Girlfriend?

Keep Running announced the new lineup: Bai Lu, and Lin Yi Join, Cai Xukun Quit

How Is Fair Xing Fei And Hu Yitian's Relationship?

Lulu Xu Lu, Lin Yi- Sweet Love In "Love scenery", A Star Falls In Love With Science Geek

Allen Ren Jialun and Fair Xing Fei Fall In Love in "Miss Crow with Mr. Lizard", Sweetness Is Overwhelming!

How Is Yukee Chen, Lin Yi's Chemistry? They Partner Sweetly In "Memory of Encaustic Tile"

Xu Kaicheng, Xing Fei- Sweet And Funny Adventure In "Yue Zhao Ji"