Master Devil Do Not Kiss Me 2 – Li Hongyi, Xing Fei
Master Devil Do Not Kiss Me 2 is a school romantic web drama directed by Shang Tao and starring Li Hongyi, Xing Fei, Zhang Jiongmin, Fu Longfei, Qie Lutong, Bo Chengjun, Zhang Xiaowei(Sun Anke), Yang Zhiying, and so on.

The drama is adapted from the novel of the same title by Jin Xia Mo, which tells the story of An Chuxia, a feisty and unconquerable girl who came to the Han family because of her mother's death. She met Han Qilu and studied together at Si Di Lan College. They gradually have a special feeling for each other during the period of getting along. They walked through their moving youth together.
Details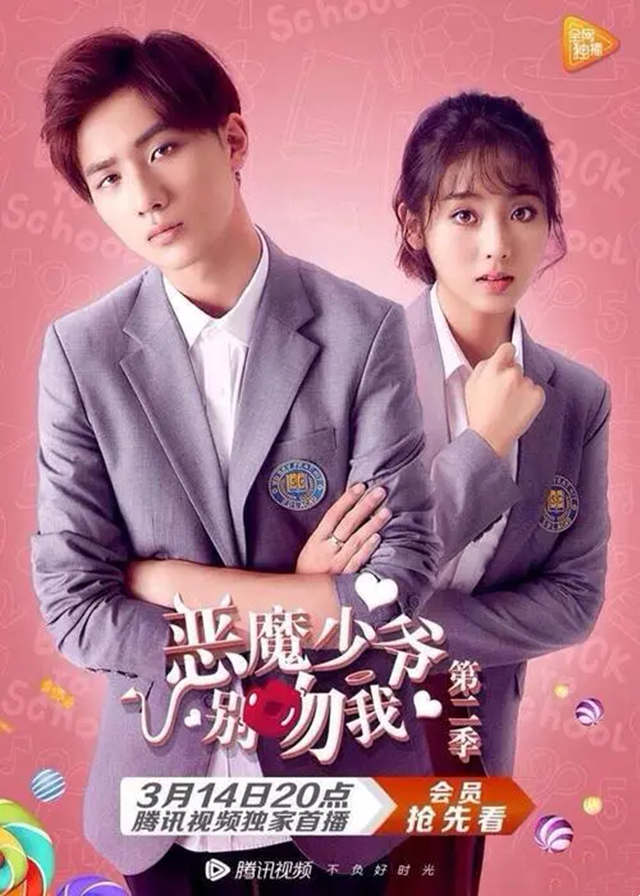 English Title: Master Devil Do Not Kiss Me 2
Chinese Title: 恶魔少爷别吻我2
Genre: Urban, Romance, School, Comedy, Life, Youth
Tag: Love Triangle, School Bullying, Unrequited Love, Rich Male Lead, Student, Ex-Girlfriend Comes Back
Episodes: 23
Duration: 20 min.
Director: Shang Tao
Writer: Jin Xia Mo, Ye Qingcheng, Pan Shiyi
Producer: Liu Zifan, Gu Fangfang
Product Company: TENCENT VIDEO, BALE MEDIA
Released Date: 2017-03-08
Watch On: KUKAN, Viki, WeTV
Subtitle:
English, Chinese, Thai, Indonesian, Malay, Vietnamese, Spanish, Portuguese, Korean, Japanese, Arabic, Hindi, Bosnian, French, German, Italian, Polish, Romanian, Russian, Turkish, Armenian
Cast
Synopsis
After a lot of trouble, An Chuxia's school life is getting more and more smooth, and her relationship with Han Qilu is getting better and better.
At this time, Han Qilu's ex-girlfriend, the genius young designer Xiang Mankui, returns from abroad and becomes Chuxia's classmate, which makes the calm school life a tumultuous place.
Xiang Mankui approaches Chuxia with an ulterior motive, to regain the trust of Qilu.
Xiang Mankui and Qilu are getting closer and closer, but Chuxia is sore inside but pretends to be stubborn as usual.
Jiang Chenchuan, who is persistently pursuing Chuxia, stands out and fights for her, causing Han Qilu to be jealous and their misunderstanding deepens.
When the annual design competition starts, An Chuxia decides to join the competition and pursue her dream.
With past bad memory, Qilu is afraid that Chuxia would abandon him and leave him as Xiang Mankui do before. He closes his heart again, becoming a cool guy.
Chuxia is tired to deal with this. At the same time, the clues about her birth are also coming to light, and all this seems to throw Chuxia into a glacier full of reefs and danger.
Reviews
You May Also Like
Related Posts