Lucky's First Love – Bai Lu, Xing Zhaolin
Lucky's First Love is an urban romantic drama directed by Chen Shiyi, led by Xing Zhaolin and Bai Lu, and starring Zhai Zilu, Chen Haolan, Liu Ruoyan, and Huang Jidong.

The drama is adapted from An Siyuan's novel of the same title. It tells the story of first love and romance from the perspective of three couples in the workplace. The story is about the love process of an independent young woman brimming with potential and a "black-hearted" boss.
Details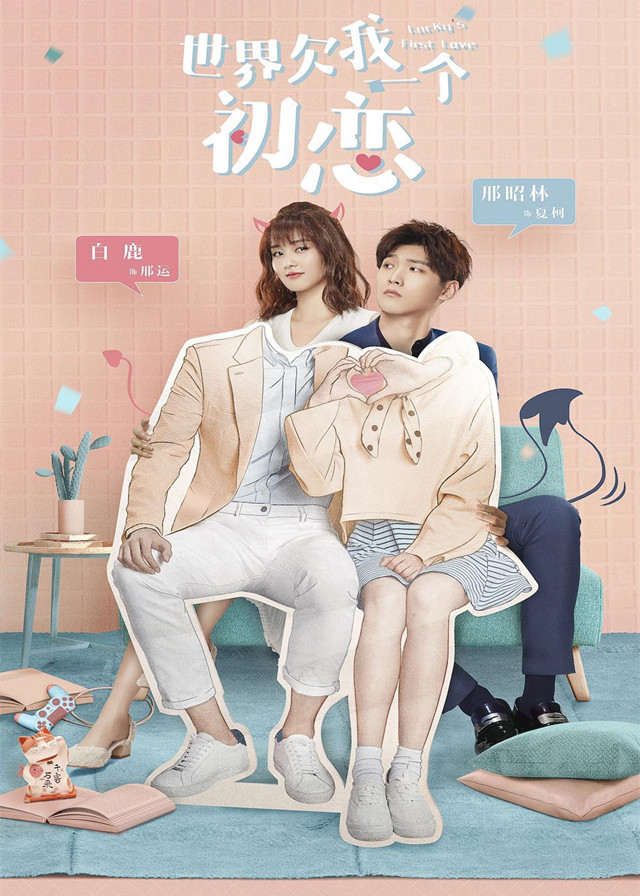 English Title: Lucky's First Love
Chinese Title: 世界欠我一个初恋
Genre: Urban, Romance
Tag: Boss-Employee Relationship, Cinderella and Ceo, Ex-Girlfriend Comes Back, Love Triangle, First Love, Childish Male Lead
Episodes: 24
Duration: 50 min.
Director: Chen Shiyi
Writer: Sun Qijun, Zhang Ying, Zhu Zitao
Producer: Dai Ying, Zhang Yan, Sun Qijun
Product Company: iQIYI, HE LI CHEN GUANG GROUP, SHANGHAI HELI FILM&MEDIA
Released Date: 2020-09-25
Broadcast Website: Viki, iQIYI
Cast
Synopsis
The 24-year-old Xing Yun is a sincere, kind, and optimistic girl. As an animator, she has always dreamed of being a product architect. As the head employee of TIG, she has been working hard to support Xia Ke, her boss.
When the company was selecting a product proposal for the love project company-wide. With zero dating experience, she started a blind date in order to fulfill her dream.
But this action made the boss Xia Ke, who has been "tormenting" her feels a crisis.
In the process of "repelling" Chu Nan, who is on a blind date with a "conspiracy", and the free and spontaneous He Yu, Xia Ke finally recognizes his true feeling.
Meanwhile, the profit-oriented investors had a huge disagreement with Xia Ke, who was committed to making conscientious products. In order to maintain his ideal and original intention, Xia Ke resolutely broke with the investors and the company was in crisis.
A group of young people who were full of ideas united together and struggled fervently to help the company to overcome the difficulties in the end.
Xing Yun, Xia Ke grew up together, establishing a tacit understanding and trust, and reaping the benefits of a successful career and love.
Reviews
You May Also Like
Related Posts
Chinese Dramas Like Lucky's First Love

Bai Lu and Zhang Linghe Are In A Relationship?

Zhang Linghe Breaks Up with Bai Lu? Falls in Love with Esther Yu Shuxin?

How Is Dylan Wang and Bai Lu's Relationship? Their Romantic Encounter is Exciting!

How is Luo Yunxi and Bai Lu's Relationship?

Who is Xu Kai's Girlfriend? Dating rumors With Bai Lu is more famous.

Does Bai Lu Have A Boyfriend? Xu Kai Is The Most Famous Rumored Boyfriend Of Her

What's The Relationship Between Xing Zhaolin, Liang Jie?

Xing Zhaolin Photos

Bai Lu Photos

New Girlfriend Of Xing Zhaolin Is Revealed?

Keep Running announced the new lineup: Bai Lu, and Lin Yi Join, Cai Xukun Quit

Who Is Wang Yizhe's Girlfriend? Rumor of Dating Bai Lu Is True Or Not?

Xing Zhaolin Dramas, Movies, and TV Shows List

Bai Lu Dramas, Movies, and TV Shows List

Allen Ren Jialun, Bai Lu: The Fated Love In Two Lives Begins

Xing Zhaolin, Bambi Zhu Xudan Get Married In "Cute Programmer", Creating A New Screen CP For Viewers

Ren Jialun, Bai Lu, The Gorgeous Cp In The New Coming Dramas