You Are My Destiny – Xing Zhaolin, Liang Jie
You are My Destiny is a romantic urban drama produced by Tencent Penguin Pictures, directed by Ding Yingzhou and Zhou Junlun, led by Xing Zhaolin, Liang Jie, Fu Jing, co-starring Li Jiulin, Liu Lin, Wang Lei, Liu Xuehua, Chang Long, Wang Qian.

This drama is adapted from the 2008 Taiwanese popular drama "Fated to Love You", which tells the story of Wang Xiyi and Chen Jiaxin, who originally had no connection, but due to a mistaken love, were destined to meet again.
Details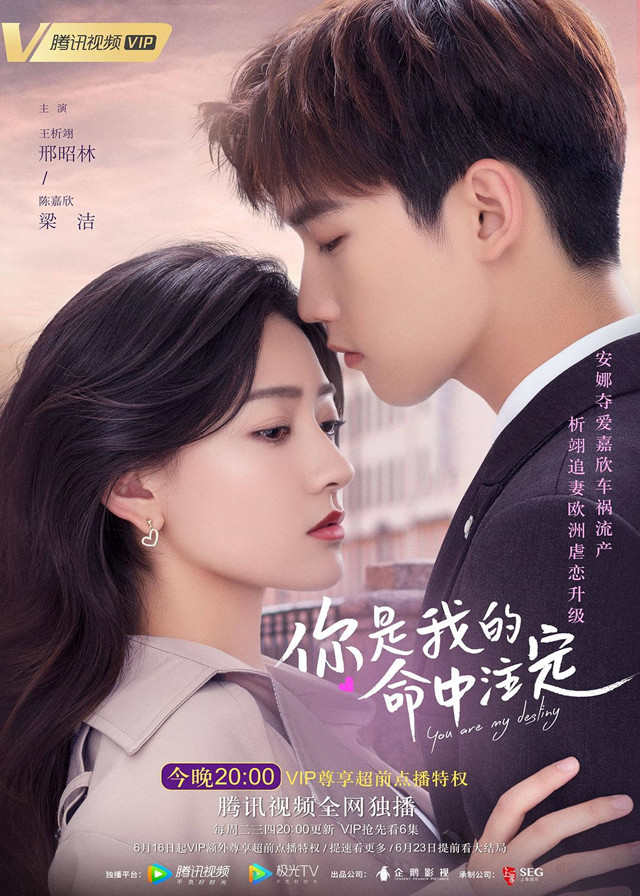 English Title: You are My Destiny
Chinese Title: 你是我的命中注定
Genre: Urban, Romance, Comedy
Tag: Rich Man/Poor Woman, Love Triangle, Forced Marriage, Forgiveness, Nice Male Lead, Misunderstanding
Episodes: 36
Duration: 45 min.
Director: Ding Yingzhou, Zhou Junlun
Writer: Chen Xinyi, Zou Weigang, Du Xinyi, Ge Ling
Producer: Zhang Zhiwei, Chen Yijun
Product Company: TENCENT PENGUIN PICTURES
Released Date: 2020-06-05
Broadcast Website: WeTV, Viki
Cast
Synopsis
Chen Jiaxin is a new-coming assistant in a law firm, and Wang Xiyi is a corporate heir with an elite education. They met by chance on a cruise to the Bahamas. They quickly entered into a marriage accidentally.
After the marriage, Chen Jiaxin was pregnant and was determined to give up her job to devote herself to her family. They also developed a mutual affection for each other during their time together.
After the accidental miscarriage, Chen Jiaxin left to study in Hungary. After a series of trials and tribulations and with the help of friends, she eventually grew up to be a new potter.
After missing his lover for three years, Wang Xiyi waited in silence and learned that a mature man should take responsibility for his family and career.
After a chance reunion with Chen Jiaxin in Hungary, he was finally forgiven. They grew up together through all the difficulties in life.
Reviews
You May Also Like
Related Posts