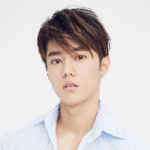 Zhao Dongze dramas, movies, and TV shows list contains the best TV series, films of Zhao Dongze and the ongoing and upcoming shows. The list will be updated continuously, bookmark this list to get the latest tv shows of Zhao Dongze.
Zhao Dongze Dramas List
TBA

#1

Historical, Romance, Fantasy

Zhang Yuxi, Thomas Tong

The righteous and the demons have been fighting for a thousand years. The leader of the righteous Alliance Fengyue Jianzun, the demons Lord Feng Xingtian duel to the death. But their descendants, Shen Shaoyou and Feng Lixue have become close friends by chance. To protect his master, Shen Shaoyou accidentally pushed Feng Lixue off a cliff. Feng Lixue was saved and took her away by Chong Hua, who is from the demons. The fate of both of them has been rewritten. Lixue will become the master of the demons. While Shen Shaoyou will become the leader of the righteous sect. they are destined to fight and kill each other. Ten years later, they reunited. Lixue used Shaoyou's guilt to lurk around him, with several assassinations. But she was eventually moved by Shaoyou's tolerance, kindness, love, and secretly had an affection for him. When Lixue decided to let go of her father's hatred and turn to good, Chong Hua interfered and designed to make them misunderstand and hate each other. Eventually, Lixue became the master of the demons and had a duel with Shen Shaoyou, the master of the righteous alliance. After the ordeal, they felt each other's sincerity and finally joined hands again.

2022-11-07

#2

Urban, Youth, School

Zhao Dongze, Wu Mansi, Melody Tang

Deng Yu, a talented student, meets Lu Ming, a social young man, by chance. They find that they look exactly alike. Taking this as an opportunity, they begin an amazing experience of swapping lives. Deng Yu helps Lu Ming to join a multinational company with his straightforward enthusiasm, and Lu Ming's maturity and handsomeness help Deng Yu to successfully chase his sweetheart. But crises and accidents also come one after another with their exchange, completely messing up their lives.

2021-07-11

#3

Suspense, Action, Adventure

Bai Shu, Zhang Boyu, Zhao Dongze

waThe drama tells the story of Wu Xie, Wang Pangzi, Xiao Ge, Xie Yuchen, and other partners who cooperated with the relevant government departments to track down the ancient relics stealing and selling gang led by Qiu Dekao. They finally identify Qiu Dekao's conspiracy to covet national treasures for many years in Changbai Mountain's Yun Ding Heavenly Palace, and successfully stop the tomb raiding operation.

2020-09-10

#4

Historical, Romance, Political

Cheng Yi, Zhao Yingzi

Helan Mingyu, the granddaughter of the Lord of Yonglin, is a bright young girl who accidentally befriends Xiao Chengxu, the ninth prince of Shengzhou. They develop an affection for each other. When news of Xiao Chengxu's "death in battle" spreads by mistake, Mingyu is forced to marry Xiao Chengrui, the third brother of Xiao Chengxu, in order to save his brother Xiao Chengxuan, and is trapped in the harem. Xiao Chengxu's success in the war helps Xiao Chengrui to become the emperor and establish the kingdom of Da Sheng, but he is jealously guarded by the emperor because of his high achievements. Whe he learns the truth about the death of his mother and the passing of his father's throne, Xiao Chengxu decides to usurp power and take revenge. However, Xiao Chengrui dies suddenly because of an old illness and orders the son of Mingyu, Xiao Qiyuan, to succeed him, in order to keep Xiao Chengxu in check and secure the throne. Xiao Chengxu is forced to support Xiao Qiyuan, but he is still determined to marry Helan Mingyu. In the meantime, Qiyuan grows up and dislikes Xiao Chengxu's control. He is provoked by others to learn of his mother's affair with Xiao Chengxu and grows resentful towards both of them. Helan Mingyu tries to find a balance between Qiyuan and Xiao Chengxu in the interest of the stability of Da Sheng. Chengxu is eventually killed in battle and Qiyuan also dies with his favorite concubine Dong Ruoxuan. For the sake of Da Sheng's future, Mingyu once again stands strong by the side of the young emperor who has ascended to the throne.

2019-05-06

#5

Historical, Wuxia, Romance

Qin Junjie, Crystal Yuan

In Jianghu, Baiyue Cult was bring disasters to all beings, the three masters of martial arts, Bai Di, Xue Gu, Xue Mo and "Listening Snow Tower" master xiao Shishui worked together to fight against it. The master of the Baiyue Cult, Hua Lian and its high priestess joined forces and used the sacred bell to invade the mind of Xue Mo and made him kill his wife. Shu Jingrong, the daughter of Xue Mo, was accepted by Bai Di and grew up with her senior brother Qing Lan, Qing Yu, and Xiao Yiqing, the son of Xiao Shishui, the beloved pupil of Xue Gu. After the death of her brother Qing Lan and her master Bai Di, Shu Jingrong discovered the prophecy that she was an unfortunate girl. She blamed herself. Shu Jingrong took away his father's Sword and joined "Listening Snow Tower", working with the young master Xiao Yiqing to destroy the "Pili Tang" and fight against the evil Moon Cult. The Baiyue Cult's Protector, Gu Guang, was turned against and helped Xiao Yiqing unlock the wordless book left by Xiao Shishui. After learning the cause of his parent's death, Xiao Yiqing vowed to avenge for his parents. Xiao Yiqing and Shu Jingrong joined hands to eradicate the Baiyue Cult and returned the world a peaceful Jianghu. Finally, Xiao and Shu lived and died together, never leaving each other.

2018-08-02

#6

Urban, Romance, Comedy

Zhang Ruoyun, Crystal Zhang

Ai Ruoman, who is a successful lady with her own goals and pursuits, is an outstanding representative of the new independent urban woman. But she is not loved by men, and has been characterised by her ex-boyfriend as unlovable. Lu Fei, a gentle and easy-going man who is kind to people and comfortable with them. He just wants to be an ordinary person with a score of 60, loves cooking, cleaning and flowers. Although he is a good match for the girls, his romantic history is mysteriously blank, and he is afraid to take a step closer to marriage. They are both struggling thirty year old singles in a big city. They are not willing to be judged as having run out of golden years at the age of thirty, and are both trying to evolve into better versions of themselves, and to make better times in their lives. And it is only after fifteen years of knowing each other in circles that they recognise their friendship, and only after evolving into better versions of themselves that they finally reap the love.

2017-08-07

#7

Historical, Fantasy, Sci-fi

Zheng Yecheng, An Yuexi

Abu Chacha, a young girl from the planet "Duo", accidentally landed on Earth and was living in the body of Tang Qingye and met Tang Qingfeng, an outstanding young talent of Tang, and their life trajectories changed dramatically from then on. This pair of love-hate "brother-sister" not only involved in the royal strife but also became the attacking target of star pirates. It turns out that Tang Qingfeng is the son of the late emperor, in order to avoid the murder of the year, he was brought up by the Tang Family. However, in order to get the throne, Li Yi did not hesitate to collude with star pirates. for the security of the Tang Dynasty, Tang Qingfeng confessed to Li Yi that he had no intention of the throne. Under Tang Qingfeng and Abe's persuasion, Li Yi finally put aside his own personal thoughts, they joined hands to repel the enemy and protect the prosperous world of the Tang Dynasty.

2017-01-29

#8

Historical, Romance, Adventure

Jing Tian, Ren Jialun, Wan Qian

Shen Zhenzhu was born in a famous family and was chosen as the consort of Lord Guangping Li Chu. She gave birth to his eldest son, Li Shi, and was later posthumously named Empress Rui Zhen. She was just a lady from the south of China, but she was kind-hearted, had the country in mind, and was friendly to people. When the An Shi Rebellion occurred, she stayed in Chang'an with the people and was respected by the people of Chang'an. Although she was pursued by general Mo Yanchuo, she still kept her love for Li Chu. After the Tang Dynasty recovered Chang'an, those who were dispersed were not allowed to enter the palace, but Li Chu was determined to bring Shen Zhenzhu back. Shen Zhenzhu took Li Chu's future as a prince as her priority, refusing him. She won Li Chu's heart for the rest of his life with her talent and virtue, and she was not a luxurious person, managing the harem with the word "peace" and knowing the hardships of the people. Shen Zhenzhu, a talented lady of the generation, made a certain historical contribution to the development of the middle of the Tang Dynasty.
Related Posts