Listening Snow Tower -Qin Junjie, Crystal Yuan
Listening Snow Tower is a historical Wuxia romantic drama directed by Yin Tao and Liu Guotong, led by Qin Junjie, Crystal Yuan Bingyan, co-starring Han Chengyu, Angela Yuen, Lin Yuan, Zhao Dongze, Zhang Tianyang, Bai Shu, Jessica Hester Hsuan, Fu Chengpeng, Xi Xue and Lv Peng, with a special appearance by He Zhonghua, Lu Fansheng, Huang Sihan, Lu Xinyu, Xie Ning, Yang Mingna, Na Renhua.

The drama is based on Cang Yue's novel of the same name and is set against the backdrop of the rise and fall of the "Listening Snow Tower", which tells the Jianghu Legends of Xiao Yiqing, the owner of the "Listening Snow Tower", Shu Jing, the "Daughter of the Blood Demon", and the young brothers.
Details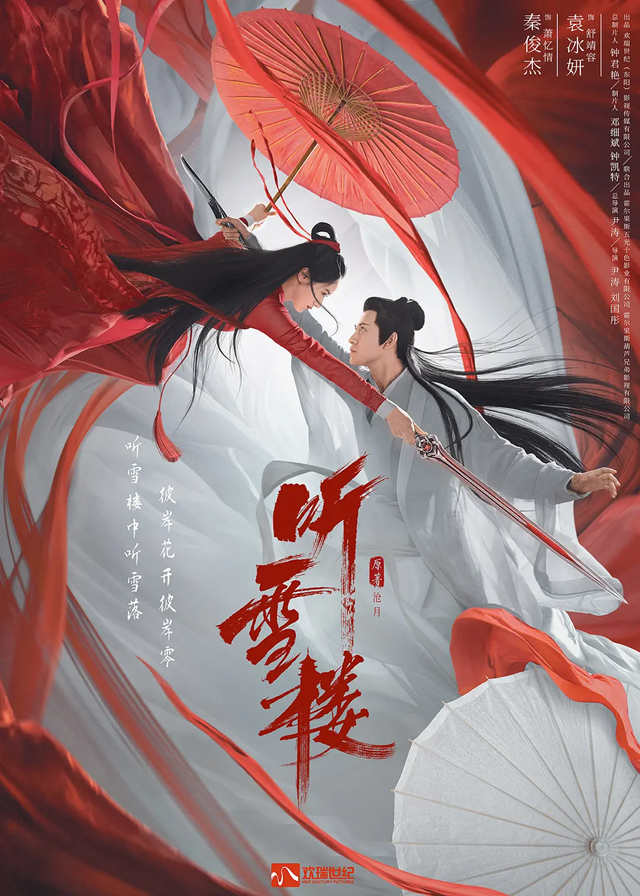 English Title: Listening Snow Tower
Chinese Title: 听雪楼
Genre: Historical, Wuxia, Romance
Tag: Martial Arts, Cold Male Lead, Calm Male Lead, Demon, Fate, Smart Male Lead
Episodes: 56
Duration: 45 min.
Director: Yin Tao, Liu Guotong
Writer: Han Peizhen
Producer: Zhong Junyan, Fang Fang, Deng Xibin, Jiang Xinguang, Zhong Kaite
Product Company: H&R CENTURY PICTURES
Released Date: 2019-05-06
Broadcast Website: 熱點劇場Hotspot!, Prime Video, Viki
Cast
Synopsis
In Jianghu, Baiyue Cult was bring disasters to all beings, the three masters of martial arts, Bai Di, Xue Gu, Xue Mo and "Listening Snow Tower" master xiao Shishui worked together to fight against it.
The master of the Baiyue Cult, Hua Lian and its high priestess joined forces and used the sacred bell to invade the mind of Xue Mo and made him kill his wife.
Shu Jingrong, the daughter of Xue Mo, was accepted by Bai Di and grew up with her senior brother Qing Lan, Qing Yu, and Xiao Yiqing, the son of Xiao Shishui, the beloved pupil of Xue Gu.
After the death of her brother Qing Lan and her master Bai Di, Shu Jingrong discovered the prophecy that she was an unfortunate girl. She blamed herself.
Shu Jingrong took away his father's Sword and joined "Listening Snow Tower", working with the young master Xiao Yiqing to destroy the "Pili Tang" and fight against the evil Moon Cult.
The Baiyue Cult's Protector, Gu Guang, was turned against and helped Xiao Yiqing unlock the wordless book left by Xiao Shishui.
After learning the cause of his parent's death, Xiao Yiqing vowed to avenge for his parents.
Xiao Yiqing and Shu Jingrong joined hands to eradicate the Baiyue Cult and returned the world a peaceful Jianghu. Finally, Xiao and Shu lived and died together, never leaving each other.
Reviews
You May Also Like
Related Posts