Love and Redemption – Cheng Yi, Crystal Yuan
Love and Redemption is an oriental mystery Xianxia drama directed by Yin Tao and Mai Guanzhi, led by Cheng Yi, Crystal Yuan Bingyan, Liu Xueyi, Zhang Yuxi, Bai Shu, and Hou Mengyao.

The drama is based on the novel "琉璃美人煞/ Liu Li Mei Ren Sha" by Shi Si Lang, which tells the story of Chu Xuanji, a young girl born with a deficiency of "six senses", and Yu Sifeng, a disciple of Li Ze Palace, who work together to fight against all kinds of difficulties and create a highly legendary story of immortality under the double pressure of love and conspiracy in their past lives.
Details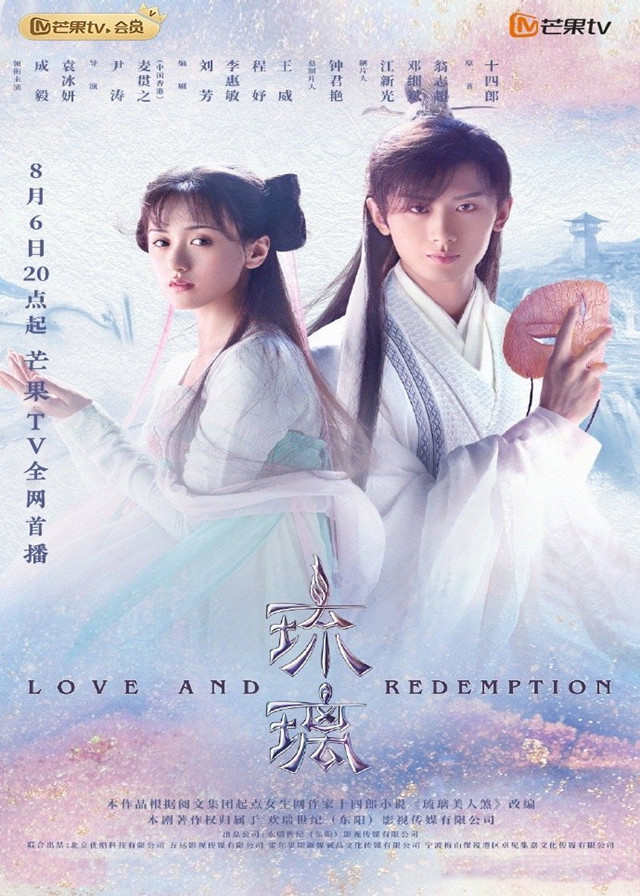 English Title: Love and Redemption
Chinese Title: 琉璃
Genre: Fantasy, Romance, Immortal, Historical
Tag: Xianxia, Steamy Kiss, First Love, Reincarnation, Nice Male Lead, Fated Love
Episodes: 59
Duration: 45 min.
Director: Yin Tao, Mai Guanzhi
Writer: Liu Fang, Li Huimin, Cheng Yu, Wang Wei
Producer: Zhong Junyan, Jiang Xinguang, Deng Xibin, Weng Zhichao
Product Company: H&R CENTURY PICTURES, YOUKU, Wanda Media Co. Ltd, IM-OWER INNOVATION MEDIA POWER, Zhuojian Jijia Cultural Media Co.
Released Date: 2020-08-06
Boradcast Website: Viki, Prime Video, 熱點劇場Hotspot!
Cast
Synopsis
The Zanhua Conference of the five great immortal sects. is about to be held in the Shaoyang sect.
Master Chu Lei's eldest daughter Linglong is smart and capable. The second daughter, Xuanji, is ignorant and lazy and does not care about her training. They are entrusted with the important task of accommodating the participating disciples of various sects.
During this period, Xuanji and Yu Sifeng, the first disciple of the Li Ze Palace, clicked immediately. They formed a friendship, but because they mistakenly entered the secret realm of Shao Yang, Xuanji was punished by Chu Lei and sent to the Mingxia Cave to have a self-reflection
When Linglong has a conflict with Wu Tong, a disciple of another sect, at the Conference, the ruthless Wu Tong retaliates and injures Xuanji by mistake, and is expelled from the righteous sect.
The badly injured Xuanji wakes up and realizes the negative consequences of her " useless" behavior and vows to practice well and not to bring others into trouble.
Si Feng received a cruel punishment at the Li Ze Palace for having his mask removed by Xuanji.
Four years later, Xuanji's magic arts was improved and she gained the opportunity to travel for training. In the town of Lutai, she reunites Si Feng and learns the importance of cooperation and trust under his guidance.
The whole world is in danger as Wu Tong betrays the righteous faction and joins hands with the demon Tianxu Tang with the intention of dominating the whole world.
At this point, Xuanji, who has already learned the true feelings of human beings, is no longer an ignorant girl. She stands firm on justice and works with Si Feng to declare war on the evil forces and successfully turn the situation around.
In the end, the evildoers are killed and peace is restored to the worlds, and after all the misunderstandings and hardships, Xuanji and Sifeng reap their precious love.
You May Also Like
Related Posts