Crouching Tiger, Hidden Dragon 2: Sword of Destiny – Donnie Yen, Michelle Yeoh
Crouching Tiger, Hidden Dragon 2: Sword of Destiny is a martial arts action film directed by Hong Kong director Yuan Heping and co-starring Donnie Yen, Michelle Yeoh, Harry Shum Jr. Liu Bordizzo, Jason Scott Lee, Eugenia Yuan, Thanh Van Ngo and Roger Yuan.
Based on the original novel by Wang Du Lu, the film tells the story of a warrior woman, Yu Xiulian, who returns to Jianghu to defend the Qingming Sword with the help of the heroic Meng Sizhao.
Details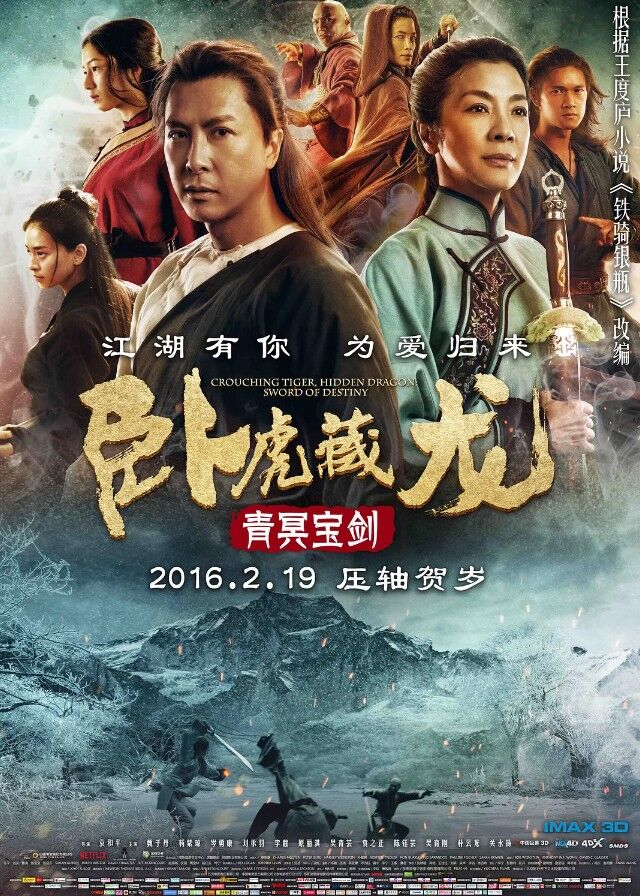 English Title: Crouching Tiger, Hidden Dragon 2: Sword of Destiny
Chinese Title: 卧虎藏龙:青冥宝剑, 卧虎藏龙2
Genre: Wuxia, Action, Drama
Duration: 96 min.
Director: Yuan Heping
Writer: John Fusco
Producer: Truc 'Charlie' Nguyen
Released Date: 2016-02-19
Broadcast Website: Netfilx
Cast
Synopsis
The Qingming Sword was the personal sword of the legendary martial artist Li Mubai. Twenty years ago, Li Mubai gave the sword to Tie Beile, and since then, the Qingming Sword has carried the spirit of chivalry between Li Mubai and Tie Beile, becoming a symbol of leadership in the martial arts world.
Dai Yanwang, a former disciple of Wudang, launched a night attack on Tie Xiaobeile's residence in order to seize the Qingming Ancient Sword. With the help of the deceived Luo Xiaohu, they caused havoc. Yu Jiaolong, after giving birth to her son Tie Ping, was deceived and her son was switched with a daughter named Xueping. The adopted daughter Xueping secretly helped Tie Ping and his father recognize each other. In a chaotic battle in the martial arts world, Dai Yanwang was eventually captured by the united efforts of everyone.
With Tie Beile's passing, the martial arts world was in chaos, and the evil leader Dai Yanwang began to plot. Yu Xiulian and her old friend Meng Sizhao returned to the martial arts world. The conflicts of love, hatred, and vendettas between the older generation of heroes and the new generation were all caught up in this bloody struggle for the sword.
Reviews
You May Also Like
Related Posts