Ace Troops – Johnny Huang, Xiao Zhan, Zhong Chuxi
Ace Troops is a realistic military drama directed by Liu Yan, and Tian Yi, starring Johnny Huang Huang, Xiao Zhan, and Zhong Chuxi, co-starring Fu Chengpeng and Xu Honghao, with Li Youbin and He Zhengjun in special roles.

The drama depicts the growth of an ace troop through a span of forty years, and through the portrayal of individuals, it shapes a new generation of soldiers with soul, ability, blood, and moral character.
Details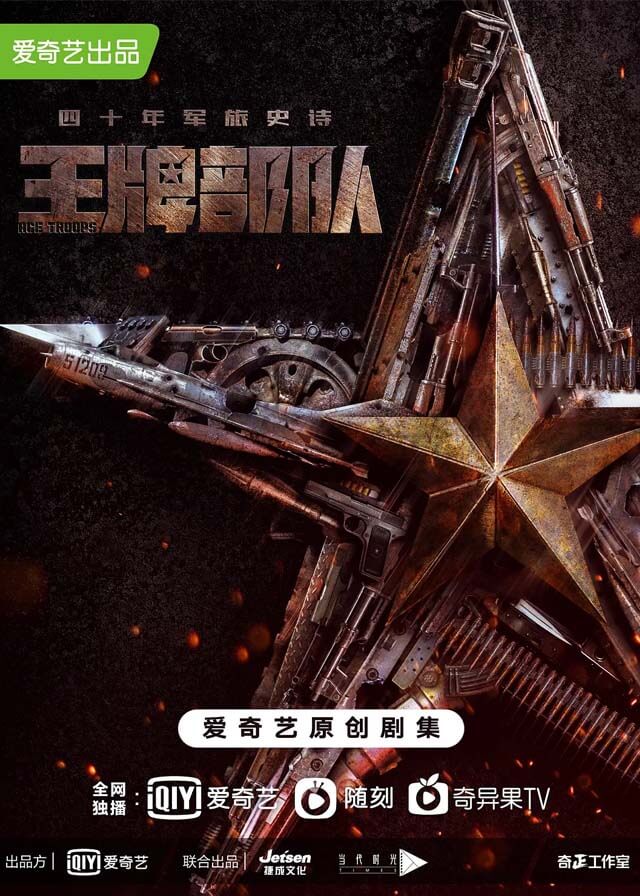 English Title: Ace Troops
Chinese Title: 王牌部队
Genre: Military, Action, War
Tag: Military Training, Army, Love Triangle, Idol Actor, Rivalry, Slight Romance
Episodes: 40
Duration: 45 min.
Director: Liu Yan, Tian Yi
Writer: Zhou Zhifang, Liu Yan, Hu Jian
Producer: Ji Daoqing
Product Company: iQIYI, Jiecheng Culture, Times Media
Released Date: 2021-12-26
Boradcast Website: iQIYI
Cast
Synopsis
The civilian offspring Gao Liang and the military cadre son Gu Yiye is a mutual rivalry of competitors and brothers from the beginning after joining the army.
They fell in love with the same girl, Jiangnan Zheng, but Gu Yiye eventually gave up his love for "righteousness" and married A Xiu, the wife of the former squad leader who died in the war.
Time has passed, Gao Liang not only holds on to the love of the heart but also assumes the duties and mission of a soldier.
In 2003, Gao Liang and Jiang Nanzheng established a happy family, and in 2008, Gao Liang finished his further studies and returned from Russia. Because of an observation report, he was leveled as the acting brigade commander of the Blue Army Brigade.
He reflected on a series of fudging and formalism and was brave enough to pioneer a series of practical training to bring out an ace blue army brigade that can really fight and fight well.
In a drill organized by the headquarters, Gao Liang insisted on the training tradition of actual combat, while leading a group of people to break through the inherent pattern of theoretical information technology, innovative information technology warfare.
With Gu Yiye and Jiang Nanzheng teamed up to expose the problem of training falsification, leading the blue army brigade to break out of the fence with practical action, and eventually became the "dare to fight and win" Ace Troops.