The Journey of Flower – Wallace Huo, Zhao Liying
The Journey of Flower is a historical fantasy immortal drama co-directed by Lin Yufen, Gao Linbao, and Liang Shengquan, led by Wallace Huo and Zhao Liying, with Jiang Xin and Yang Shuo in special roles, co-starring Andy Zhang Danfeng, Ma Ke, Li Chun, Bao Tianqi, An Yuexi, and Xu Haiqiao.

The drama is adapted from the novel of the same name by fresh Guoguo, which is about the pure love and sadistic love between the young girl Hua Qiangu and the Changliu immortal Bai Zihua about responsibility, growth, and trade-offs.
Details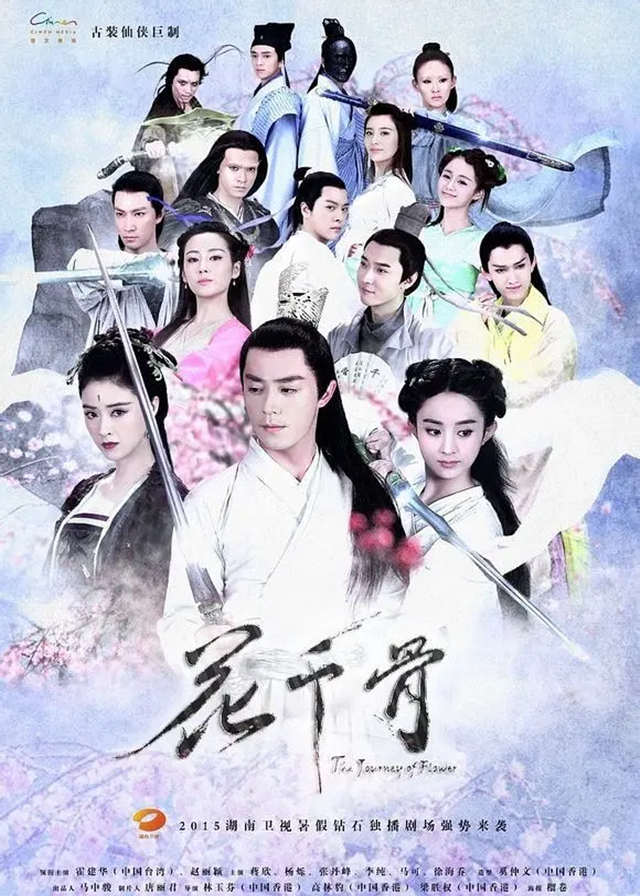 English Title: The Journey of Flower
Chinese Title: 花千骨
Genre: Historical, Romance, Fantasy, Immortal
Tag: Xianxia, Student-Teacher Relationship, Older Man/Younger Woman, Unrequited Love, Reverse-Harem, Tearjerker
Episodes: 58(TV) / 50(DVD)
Duration: 45 min.
Director: Lin Yufen, Gao Linbao, Liang Shengquan
Writer: Fresh Guoguo, Rao Jun
Producer: Tang Lijun
Product Company: CIWEN MEDIA GROUP
Released Date: 2015-06-09
Broadcast Website: 华语影视频道
Cast
Synopsis
Hua Qiangu was once saved by the Changliu immortal Bai Zihua, so she had a crush on him.
After growing up, she traveled a long way to the immortal mountain of Changliu to find her benefactor.
After many tests and competitions, Hua Qiangu finally became Bai Zihua's disciple, but she did not know that her fate was strange, destined to be a cause of Bai Zihua's death.
They had already developed a relationship beyond that of master and disciple in the process of getting along with each other.
  
Immortal Xia Zixuan also loved Bai Zihua, and did not want to see her lover die in vain for Hua Qiangu, she attempted to kill Hua Qiangu by poison but did not expect that Bai Zihua was poisoning in final.
In order to save Bai Zihua's life, Hua Qiangr thought of all the ways, and inadvertently obtained the special power, laying the groundwork for the future of the tragedy…
Reviews
You May Also Like
Related Posts