Sparrow – Li Yifeng, Zhou Dongyu
Sparrow is a suspense spy drama directed by Jin Chen and Zhou Yuanzhou, starring Li Yifeng, Zhou Dongyu, Zhang Luyi, Zhang Ruoyun, Kan Qingzi, Yin Zheng, Wang Jinsong, and Li Xiaoran.

The drama is based on the original novel by national author Hai Fei and focuses on Chen Shen, who lurks around Bi Zhongliang, the head of Wang Jingwei Reorganized National Government's secret service headquarters, using "Sparrow" as a code name to carry on his work, secretly passing information and successfully "stealing" the Wang False Government's "Zero" plan.
Details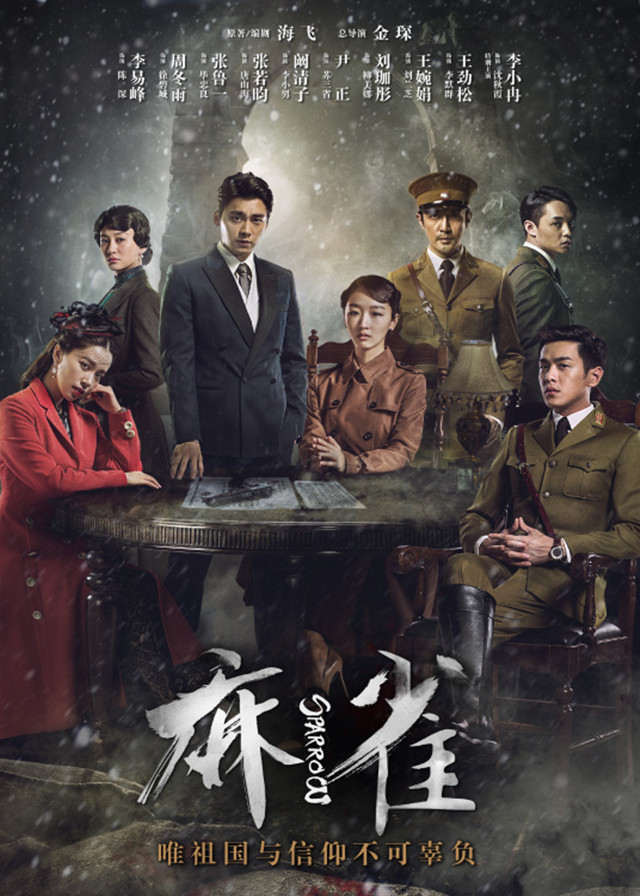 Cast
Synopsis
In March 1940, Wang Jingwei Reorganized National Government was established.
The Japanese army invaded China, tracking down and arresting in Shanghai for anti-Japanese fighters. The Wang Jingwei Reorganized National Government set up a "Special Operations Division" headed by Bi Zhongliang, a former Kuomintang officer, to support the enemy.
Chen Shen, a member of the Chinese Communist Party who has been lurking around Bi Zhongliang, codenamed "Sparrow", temporarily loses contact with the organization.
In the dangerous situation, Chen Shen has strong faith and risks his life to rescue his leader "Zai Xiang" and the anti-Japanese fighters.
Bi Zhongliang is a cunning man. Although he treated Chen Shen as his brother, he was suspicious of him and set many traps.
After the death of the "Zai Xiang", Chen Shen finally finds a new leader "Yi Sheng" and was ordered to get the Japanese army's important battle plan codenamed "Return to Zero".
Chen Shen's former lover, Xu Bicheng, and another intelligence officer Tang Shanhai, pretend to be husband and wife to infiltrate into the special operations division, causing trouble and crisis for Chen Shen in several times.
Chen Shen, who is very clever, took advantage of the "delicate gap" between the Japanese invaders, Wang Jingwei Reorganized National Government and other factions, and paid a huge price, and finally succeeded in obtaining the "Return to Zero" plan. The Japanese invaders' conspiracy was foiled.
Reviews
You May Also Like
Related Posts