Ten Miles of Spring Wind Can't Compare to You – Zhou Dongyu, Zhang Yishan
Ten Miles of Spring Wind Can't Compare to You is an urban romantic drama directed by Ma Jin, starring Zhou Dongyu, Zhang Yishan, Qi Xi, Chen Yilong, You Jingru, and Wei Jianlong.
The drama is based on Feng Tang's novel "Beijing, Beijing / 北京,北京", and follows Qiushui as he befriends his lover Xiao Hong and a group of best buddies during his eight years of university study. After graduation, they have a few ups and downs, which makes them feel nostalgic about their youth.
Details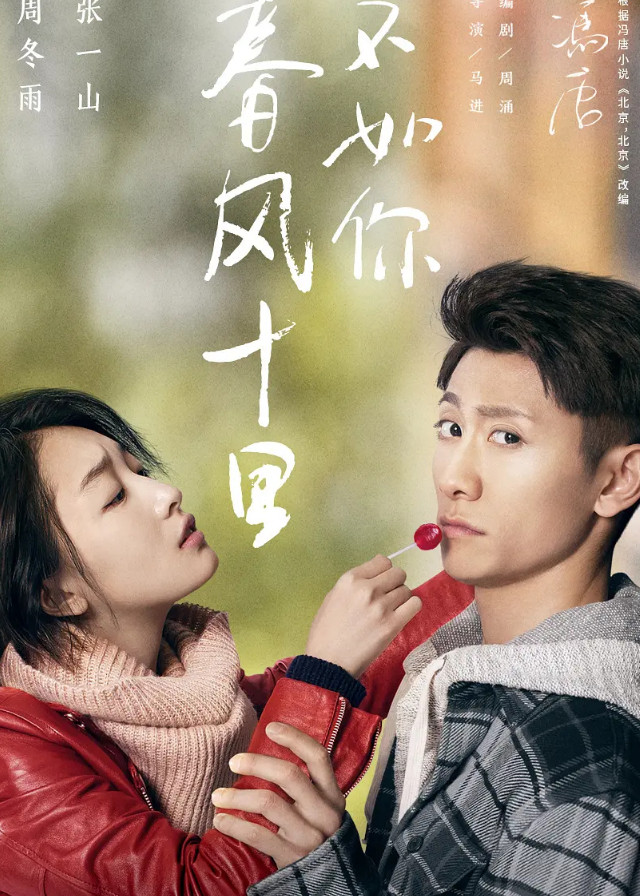 English Title: Ten Miles of Spring Wind Can't Compare to You
Chinese Title: 春风十里,不如你
Genre: Romance, Drama
Episodes: 40
Duration: 45 min.
Director: Ma Jin
Writer: Zhou Yong, Xu Pengpeng, Han Peng
Product Company: YOUKU, ZHOU DONG YU STUDIO
Released Date: 2017-07-21
Broadcast Website: YoYo English Channel
Cast
Synopsis
In the 1990s, Qiu Shui, a literary young man, follows his parents' wishes and enters medical school. There, he meets Xiao Hong and Zhao Yingnan, both of whom have very different personalities but love him.
Faced with the courting of two girls, Qiu Shui chooses Zhao Yingnan, whom he thinks he should like, but always keeps Xiao Hong in his heart.
In the seven years of his relationship with Zhao Yingnan, Xiao Hong has stayed by Qiu Shui's side.
When graduating, Qiu Shui's obsession with literature is criticised by Zhao Yingnan, and they gradually separate from each other.
But Xiao Hong understands Qiu Shui, appreciates his literary talent and is Qiu Shui's soul mate...
Reviews
You May Also Like
Related Posts