Love of Thousand Years – Zheng Yecheng, Zhao Lusi
Love of Thousand Years is a historical romantic fantasy drama directed by Hui Yu, starring Zheng Yecheng, Zhao Lusi, Liu Yitong, and Wang Mengli, with Jiang Yiyi in a special appearance.

The drama is based on the best-selling novel of the same name by Shisi Lang, which tells the love story of Qin Chuan, a hot-blooded princess of the Li Kingdom, who changes her name and practices immortal magic in order to restore her country. She is guarded by Fu Jiuyun for a thousand years and Fu Jiuyun even gives up his life to make it whole.
Details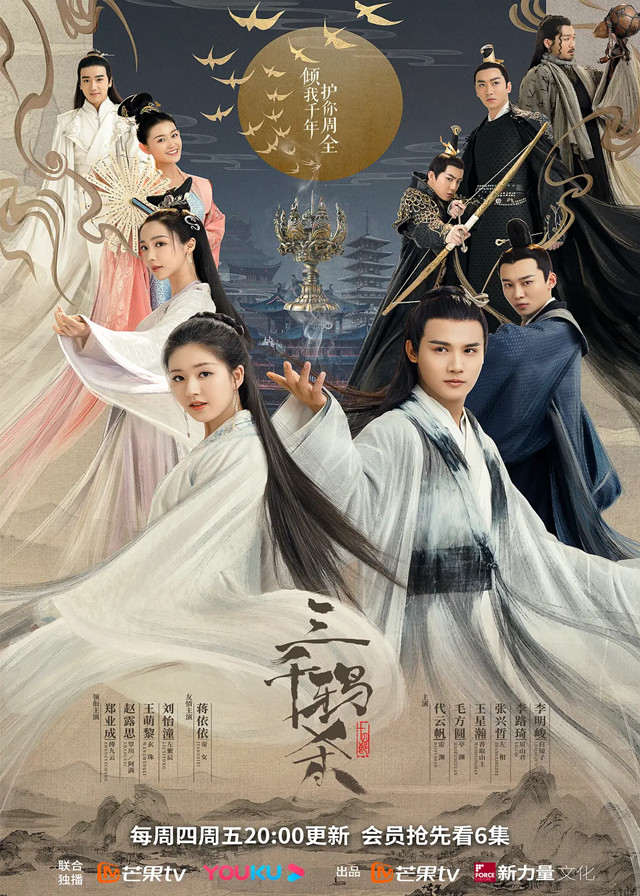 English Title: Love of Thousand Years
Chinese Title: 三千鸦杀
Genre: Historical, Romance, Fantasy, Immortal
Tag: Xianxia, Forbidden Love, Male Chases Female First, Love/Hate Relationship, Strong Female Lead, Reincarnation
Episodes: 30
Duration: 45 min.
Director: Hui Yu
Writer: Zhao Tianyou
Producer: Lu Tian
Product Company: MGTV, FORCE CULTURE
Released Date: 2020-03-19
Boradcast Website: Prime Video, Viki, MGTV, Fresh Drama, Idol & Romance
Cast
Synopsis
In ancient times, the important minister of Li Kingdom secretly collaborated with the enemy Tian Yuan kingdom, which led to the destruction of Li kingdom. Fu Jiuyun saved Princess Qin Chuan.
After witnessing the suffering of the people of the world being enslaved by the Tian Yuan Kingdom, Qin Chuan vowed to find the ancient spirit lamp in order to save the people of the world.
Qin Chuan and Fu Jiuyun fell in love and worked together to find the lamp. But they learned that Fu Jiuyun's true identity was the wick of the lamp. Fu Jiuyun will disappear when the lamp is turned on, and the person who turns on the lamp will also be sacrificed.
When they were determined to sacrifice to save the lives of the people in the disaster, Qin Chuan's cousin sister opened the spirit lamp for her at the critical moment, so Fu Jiuyun disappeared.
Missing Fu Jiuyun, Qin Chuan touched the spirit lamp again. Their spirit and great love moved the gods, they finally reunited.
You May Also Like
Related Posts
Chinese Dramas Like Love of Thousand Years

What's Yang Yang And Zhao Lusi's Relationship?

What's Zhao Lusi, Leo Wu Lei's Relationship? Why Fans Can Not Calm Down

Zheng Yecheng Dramas, Movies, and TV Shows List

Zhao Lusi Dramas, Movies, and TV Shows List

Zheng Yecheng Photos

Zhao Lusi Photos

Does Rosy Zhao Lusi Have a Boyfriend? Her College Boyfriend was Exposed

Liu Te, Rosy Zhao Lusi Were In A Relationship? His Ex-Girlfriend Was Rocket Girls' stylist

Zhao Lusi, Ryan Ding Yuxi Refused To Be CP, Will They Played In "The Romance Of Tiger And Rose 2"?

Rosy Zhao Lusi was Involved in a Dating Rumor, Studio Issued a Statement

Who Is Zheng Yecheng's Girlfriend? He Was Married And Had A Child?

Terry Liu Te: Shy To Shoot Kiss Scenes With Zhao Lusi, Don't Mind Being Judged On Looks

Rosy Zhao Lusi, Liu Yuning Gained Large Popularity For "Hao Yan CP" In "The Long Ballad"

How Is Zheng Yecheng, Crystal Yuan Bingyan's Relationship?

Ju Jingyi And Zheng Yecheng Are Dating Sweetly In "Love Under The Full Moon"

Rosy Zhao Lusi, Xu Kaicheng Interpret The Sweet Relationship Between Teacher And Student In The Ancient Campus

Who Is Jason Gu Jiacheng's Girlfriend?

Zhao Lusi, Xu Kaicheng's New Drama Is Hit, But The Douban Rating Is Only 4.3