Flip in Summer – Kris Shen, Hong Bingyao
Flip in Summer is the first domestic diving inspirational drama, starring Shen Jianhong, Hong Bingyao, Dai Xiangyu, Luo Yunxi, Li Mao, and Cui Baoyue.
The drama is about the ups and downs, crying and laughing, inspirational and positive youth story of a group of young boys and girls in the school diving team.
Details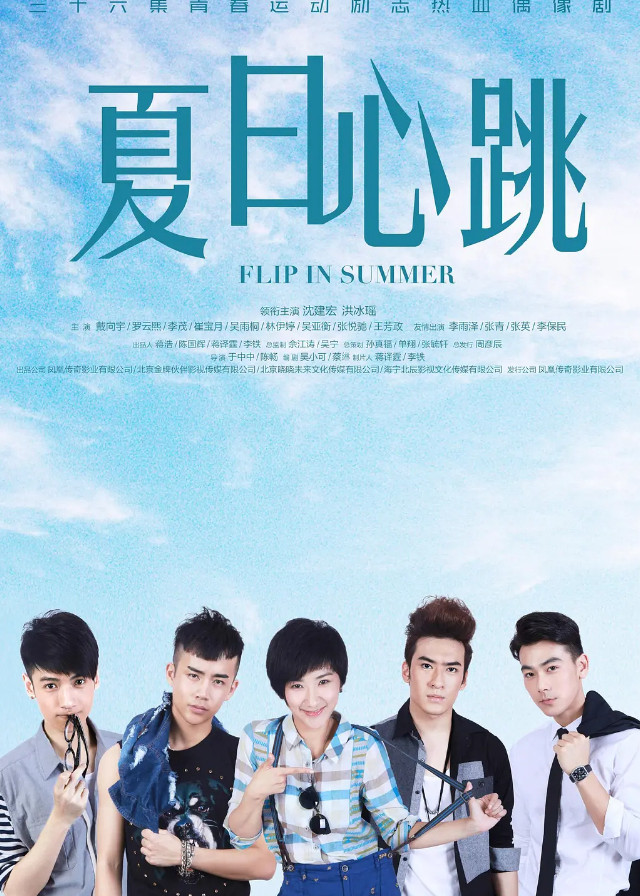 English Title: Flip in Summer
Chinese Title: 夏日心跳
Genre: Youth, School, Sport, Romance
Tag: Love Triangle, University, Cold Male Lead, Cheerful Female Lead, Poor Female Lead, Love/Hate Relationship
Episodes: 36
Duration: 45 min.
Director: Yu Zhongzhong, Chen Chang
Writer: Wu Xiaoke, Cai Lin
Released Date: 2018-07-31
Broadcast Website: 爱奇艺, 腾讯视频
Cast
Synopsis
In order to enhance the physical fitness of students, Qingye University decides to form a diving team and take on the national diving competition.
Xia Wenxi, an indifferent schoolboy, and Xiu Ye, an unruly diving master, join the diving team together and their relationship is tense.
Tao Lesi, a lively and cheerful girl from a poor family, also joins the diving team and becomes a love-hate "couple" with Xia Wenxi.
The diving team is led by assistant coach Ling Mei. During their training sessions, the team members gradually understand each other and become united.
Xia Wenxi's childhood friend, Gao Gongping, meets Tao Lesi and develops an affection on this kind-hearted girl who is defiant in the face of difficulty. Sen Naiyi also joins the emotional stalemate.
Finally, at the national diving competition, Xia Wenxi finally confesses his love for Tao Lesi, and they jump into the pool and embrace each other.
Reviews
You May Also Like
Related Posts
Chinese Dramas Like Flip in Summer

How is Luo Yunxi and Bai Lu's Relationship?

Who is Luo Yunxi 5-year girlfriend, is the net rumor of his love history true?

Luo Yunxi and Dilraba His Favorite Actress on the same stage

Luo Yunxi and Zhang Ruonan Compose Love Symphony, How Their Chemistry Together Is?

Does Yukee Chen Yuqi Have A Boyfriend?

Luo Yunxi Was Injured In A Filming Accident, Fans Were Heartbroken, The Related Actor Issued An Apology And Denied Wearing A Ring

Luo Yunxi looks very handsome in the live video streaming

Luo Yunxi Photos

Luo Yunxi, Cheng Xiao Have Suprise Chemistry. What's Their Relationship?

Victoria Song Qian, Luo Yunxi: Dangerous Relationship in "Broker"

Luo Yunxi, Bosco Wong Takes On The Role Of A Daddy, Taking Care Of The Baby With Fun

"Lie To Love" is about to shoot? Luo Yunxi will play the leading actor, Cheng Xiao will be the leading actress?

Hong Bingyao Dramas, Movies, and TV Shows List

Dai Xiangyu Dramas, Movies, and TV Shows List

Luo Yunxi Dramas, Movies, and TV Shows List

Luo Yunxi's Mr. Moxi Season 3 aired on December 24, 2020