Dust To Dust – Dong Chengpeng, Lam Ka Tung
Dust To Dust is a crime film directed by Jonathan Li, led by Dong Chengpeng and Lam Ka Tung, co-starring Zhang Songwen, Qi Xi, and Sunny Sun, with Yi Yunhe, Shao Shengjie, Wang Zichen, Xu Jinming, and Wang Jianbing.
The film is based on the true events of the 1995 armed robbery case. It tells the story of a criminal gang led by "Private Adviser" Chen Xinwen, who commits a shocking crime of armed robbery of a banknote-carrying vehicle, the main culprit disappears, and the police persevere in their 21-year pursuit of the suspect.
Details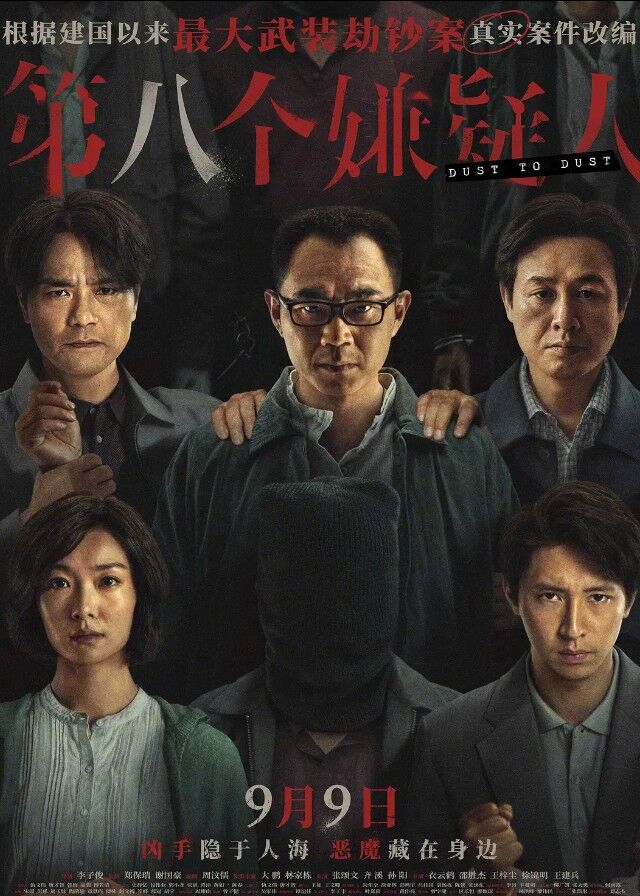 English Title: Dust To Dust
Chinese Title: 第八个嫌疑人
Other Titles: 第8个嫌疑人
Genre: Crime, Suspense, Drama
Duration: 111 min.
Director: Jonathan Li
Writer: Zhou Wenru
Released Date: 2023-09-09
Watch On: –
Cast
Synopsis
A construction company owner plans a shocking nationwide cash-in-transit heist, but when the plan fails, he goes on the run. A righteous and upright police officer, now retired, sets out to apprehend this suspect and journeys alone to the border city, where he encounters a "stranger" who has turned over a new leaf. However, under the law, no one can choose the path of redemption.
Construction company owner Chen Xinwen masterminds a gang to rob a cash-in-transit vehicle, brutally killing three people and making off with 15 million. He disappears with his cousin Chen Xinnian. Police, led by Wang Shouyue and He Lan, immediately launch an investigation, but their search for the suspects proves fruitless.
Twenty-one years later, retired Wang Shouyue discovers the suspect again in Yunnan, realizing that Chen Xinwen has changed his name, and identity, and has been living a peaceful life with his wife Yang Fang for years, raising a daughter. As Chen Xinwen's buried crimes slowly come to light, this long-delayed showdown between good and evil is approaching its final conclusion.
Reviews
Related Posts