Ban Shu Legend – Jing Tian, Zhang Zhehan
Ban Shu Legend is a historical romantic comedy co-directed by Xu Huikang, Zhu Ruibin, and Huang Weiming, starring Jing Tian, Fu Xinbo, Li Jiahang, Deng Sha, Li Xinai, Li Sheng, and Zhang Xinyu.
Set in the inner court academy, the drama tells the story of Ban Shu, an orphan girl from the grasslands who, after being rejected by her clan for looking for her relatives over a thousand miles, enters the palace on her own and undergoes many trials and tribulations, eventually becoming a generation of a female teacher to assist the imperial family.
Details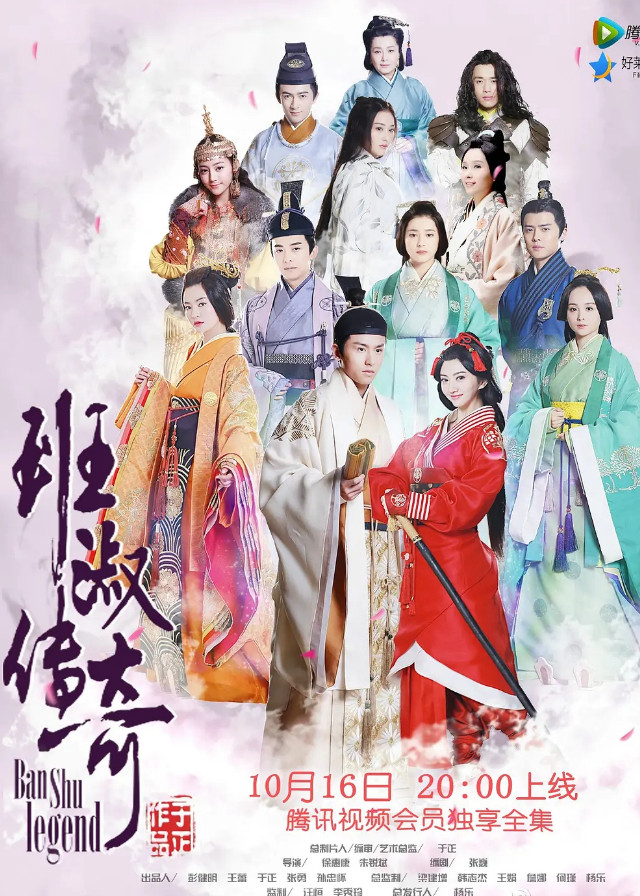 English Title: Ban Shu Legend
Chinese Title: 班淑传奇
Genre: Historical, Romance, Comedy
Tag: Han Dynasty, Smart Female Lead, Strong Female Lead, Love Triangle, Historical Fiction
Episodes: 42
Duration: 40 min.
Director: Xu Huikang, Zhu Ruibin, Huang Weiming
Writer: Zhang Wei
Producer: Wang Hao
Product Company: Huanyu Entertainment Co., Ltd, Yuzheng Studio
Released Date: 2015-10-06
Watch On: MQ Chinese Drama
Cast
Synopsis
Ban Shu is the daughter of Ban Chao, the Eastern Han Dynasty's governor of the Western Region. She was separated from her parents when she was a child and grew up alone in the grasslands.
On the eve of her father-daughter reunion, Ban Chao dies of an illness.
In order to be recognised by the Ban clan, Ban Shu manages to enter the palace and becomes the female tutor of the inner school for noble women and the palace school for men run by Empress Dowager Deng.
She is cheerful and chivalrous, but has no knowledge of Chinese traditional literature, so she makes a lot of jokes in the inner school.
In the course of her teaching, Ban Shu falls in love with Fu Weiying, a male teacher who has experienced many difficulties, and with her passionate and daring heart, she touches the man who cannot forget the tragic death of his fiancée.
Just as their relationship grows, Ban Shu's senior sister returns unexpectedly, leaving Ban Shu and Weiying in a tangle.
In the end, with her ingenuity, Ban Shu and her students join forces to bring the magnificent culture of the Great Han to the people' hearts, and Ban Shu eventually grows in both her career and her relationship.
Reviews
You May Also Like
Related Posts
Chinese Dramas Like Ban Shu Legend

How Is The Relationship Between Simon Gong, Zhang Zhehan?

Esther Yu, Zhang Zhehan's Relationship News Was Exposed, Old Photos Of Seven Years Ago Were Released.

Who Is Zhang Zhehan's Girlfriend? Did He Get Married?

Who Is Sally Jing Tian's boyfriend, Her Mystery Ex-boyfriend Always Attracted Netizens' Attention

Zhang Zhehan And Rumored Girlfriend Wang Peiwen Were Suspected Of Being Married

Feng Shaofeng and Jing Tian Collaboration: Is the Sweet Relationship Extending Beyond the Drama Off-Screen?

Jing Tian Coupled With Vin Zhang Binbin In "Rattan", Achieving Big Reversal On Pubilc Praise

Zhang Zhehan, Simon Gong Are Not The First Candidates Of "Word Of Honor"

Will Zhang Zhehan, Gong Jun Become Next Xiao Zhan, Wang Yibo, "Word Of Honor" Become A Hit

Zhang Zhehan Was Boycotted By Netizens, Endorsements Were Terminated

Jing Tian Dramas, Movies, and TV Shows List

Zhang Zhehan Dramas, Movies, and TV Shows List