Demon Girl – Li Yitong, Zhang Zhehan
Demon Girl is a fantasy romance drama based on the novel of the same name by Mo Bai Qian Jiu, co-directed by Ren Haiyao and Liu Zhenming, starring Li Yitong, Zhang Zhehan, Merxat, He Ruixian, Wang Maolei, and Liu Min.

The drama tells the story of the twisted and sadistic love between the half-demon Nie Qingcheng and the wealthy young man Ming Xia in the Republic of China.
Details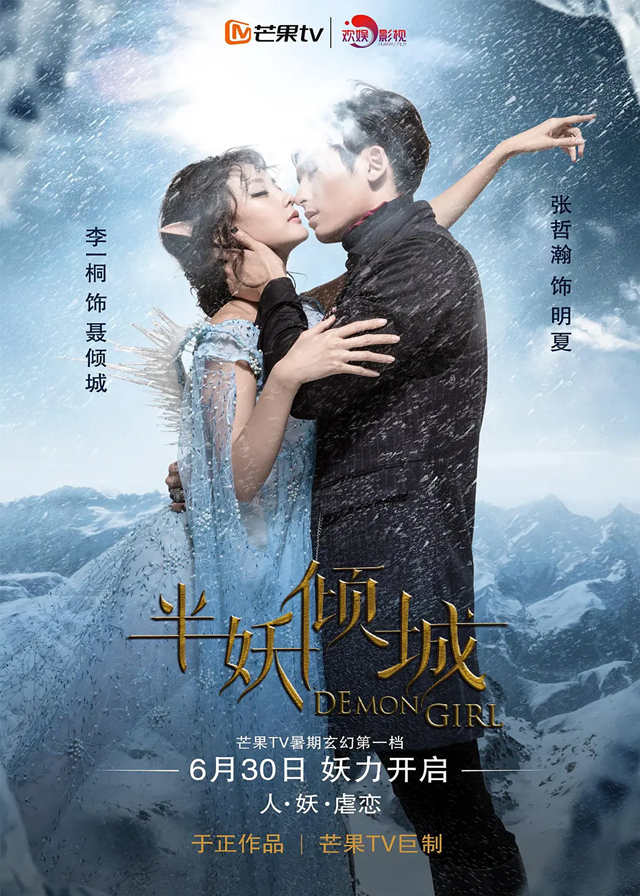 English Title: Demon Girl
Chinese Title: 半妖倾城
Genre: Fantasy, Romance
Episodes: 20
Duration: 45 min.
Director: Ren Haiyao, Liu Zhenming
Writer: Yu Zheng
Producer: Yu Zheng
Produce Company: MGTV, Huanyu Entertainment Co., Ltd
Broadcasting Website: –
Released Date: June 30, 2016
Cast

Zhang Zhehan
as Ming Xia

Li Yitong
as Nie Qingcheng

Merxat Yalkun as You Tong

He Ruixian as Jiang Xuewu

Ady An as Ying Die

Wang Maolei as Nie Rufeng

Liu Min as Fang Yaqing

Cheng Zining as Nie Qingxin
Synopsis
At the end of the Qing Dynasty, the Eight-Power Allied Forces invaded Beijing and in a massacre, Nie Rufeng's family encountered a life-threatening situation.
In this situation, Nie Rufeng's wife, Ying Die, chased Nie Rufeng and his daughter away to face the enemy alone.
Fifteen years later, Nie Rufeng's eldest daughter, Nie Qingcheng, befriended Mingxia who came from a wealthy family.
In the midst of the chaotic world, they fell in love and got together after all the twists and turns.