The Blooms At Ruyi Pavilion – Ju Jingyi, Zhang Zhehan
The Blooms At Ruyi Pavilion is a historical romantic drama directed by Lin Jianlong, Chen Guohua, led by Ju Jingyi, Zhang Zhehan, Liu Yichang, co-starring Xu Jiaqi, Jiang Shan, Wang Yiting, Yang Gen, and Song Xinran, with Wang Youshuo in the special role.

The drama is adapted from the novel "Chong Hou Zhi Lu" by Pin Xiao Jia Ren, which tells the story of Fu Rong, who is determined to be self-reliant and take control of her own destiny because of a prophetic dream. After experiencing a series of life changes together with Lord Su, Xu Jin, they get to know each other and fall in love.
Details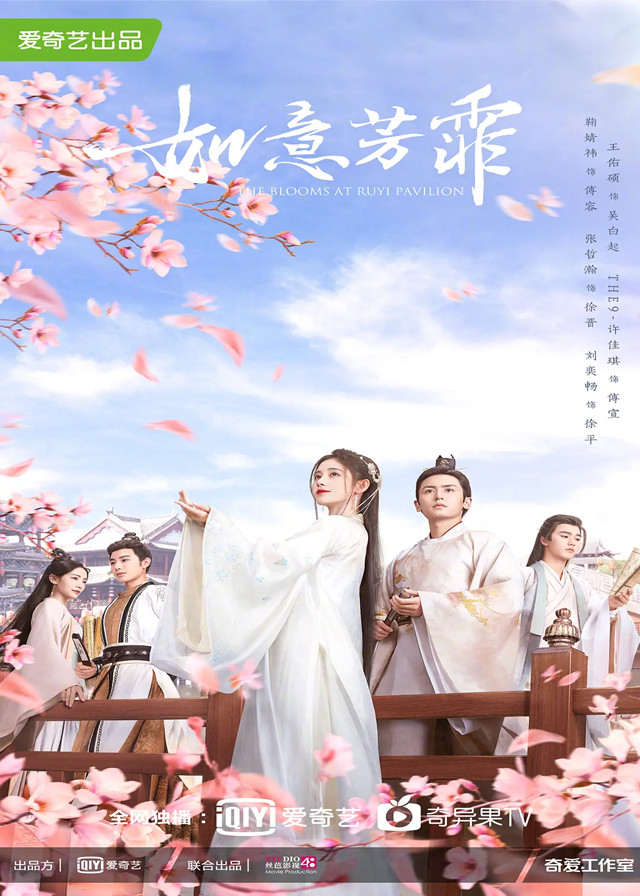 English Title: The Blooms At Ruyi Pavilion
Chinese Title: 如意芳霏
Genre: Historical, Romance
Tag: Love Triangle, Rich Male Lead, First Love, Investigation, Smart Male Lead, Marriage
Episodes: 40
Duration: 45 min.
Director: Lin Jianlong, Chen Guohua
Writer: Shen Mu, Duanmu Qiongfang, Wei Wenting, Li Yuhan
Producer: Dai Ying, Zhang Yan, Yu Ping
Product Company: iQIYI, 48 Movie Production
Released Date: 2020-10-21
Broadcast Website: Viki, iQIYI
Cast
Synopsis
Fu Rong, a strong, intelligent, witty, and lively girl in the Dayu Kingdom, was injured in an accident and got a glimpse of a different life in a dream.
She was determined to change her fate and protect her family after the events in her dreams came true one by one.
Fu Rong was also determined to stay away from Lord Su, Xu Jin. Because she had dreamed many times that she will be buried alive with the dead because of Xu Jin. However, the red line of fate brought them closer and closer.
With the emergence of the mysterious organization Ruyi Lou, a series of events put a layer of fog on the kingdom of Dayu.
In this situation, Fu Rong and Xu Jin worked together through life and death and faced the trials and tribulations of reality together.
At the same time, Lord An was also secretly setting up a bigger conspiracy.
In the face of the unchangeable fate, the successive trickery, whether Fu Rong and Xu Jin can uphold the original intention, solve the mystery, and finally change the fate?
Reviews
You May Also Like
Related Posts
Chinese Dramas Like The Blooms At Ruyi Pavilion

Who Is Zhang Zhehan's Girlfriend? Did He Get Married?

How Is The Relationship Between Simon Gong, Zhang Zhehan?

Zhang Zhehan And Rumored Girlfriend Wang Peiwen Were Suspected Of Being Married

Does Ju Jingyi Have A Boyfriend? What's Her Ideal Type?

Esther Yu, Zhang Zhehan's Relationship News Was Exposed, Old Photos Of Seven Years Ago Were Released.

Ju Jingyi And Zheng Yecheng Are Dating Sweetly In "Love Under The Full Moon"

Zhang Zhehan, Simon Gong Are Not The First Candidates Of "Word Of Honor"

Will Zhang Zhehan, Gong Jun Become Next Xiao Zhan, Wang Yibo, "Word Of Honor" Become A Hit

Zhang Zhehan Was Boycotted By Netizens, Endorsements Were Terminated

Ju Jingyi Dramas, Movies, and TV Shows List

Zhang Zhehan Dramas, Movies, and TV Shows List