Royal Feast – Xu Kai , Wu Jinyan
Royal Feast is an ancient court food drama directed by Wang Wei and Bai Yunmo, starring Xu Kai, Wu Jinyan, and Wang Yizhe, co-starring Wang Yizhe, He Ruixian, Zhang Nan, Wang Churan, Zhang Zhixi.

The drama tells the story of a young girl, Yao Zijin, who is selected to be a court lady in the Imperial Food Bureau during the Yongle period of the Ming Dynasty. She grew up in the palace and persisted in the pursuit of Chinese food skills along the way, made friendships and met love, and had a love story with Zhu Zhanji.
Details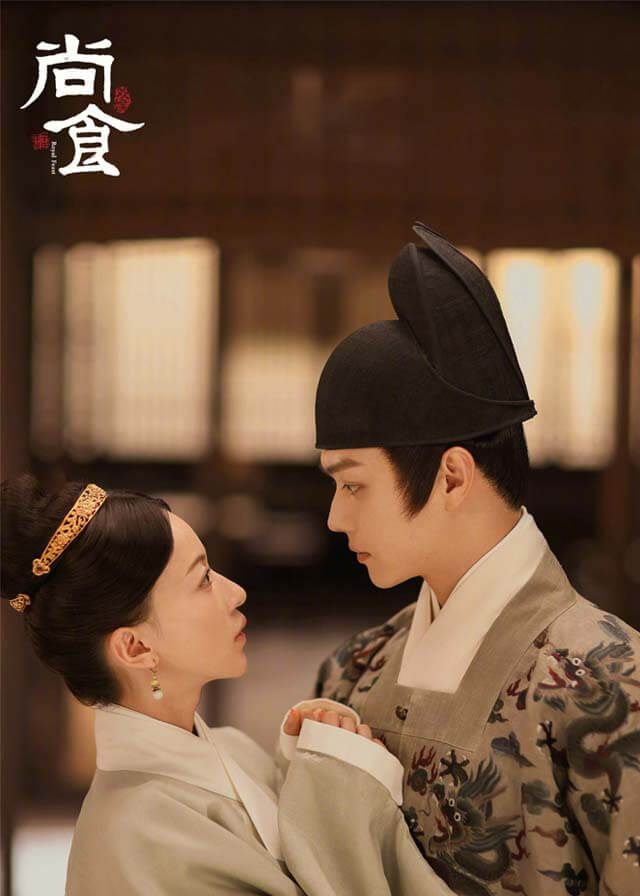 English Title: Royal Feast
Chinese Title: 尚食
Genre: Food, Romance, Historical
Episodes: 50
Duration: 45min
Director: Wang Wei, Bai Yunmo
General Producer: Yu Zheng
Product Company: HUANYI FILM, MONGO TV, Zhihe Film Culture Media Co. Ltd
Broadcasting Website: MGTV
Released Date: –
Cast

Xu Kai
as Zhu Zhanji

Wu Jinyan
as Yao Zijin

Wang Yizhe
as You Yifan

He Ruixian as Yin Ziping

Zhang Nan as Hu Shanxiang

Wang Churan as Su Yuehua

Zhang Zhixi
as Hu Shanwei
Synopsis
In the 19th year of Yongle, the Ming dynasty was prosperous and all countries were coming to visit.
In order to entertain the endless delegations from different countries, the Yongle emperor selected women who are good at cooking to the palace to serve as the food manager of the Food Bureau of Da Ming.
After a lot of selection, the young girl Yao Zijin was selected to be the court lady of the Imperial Food Bureau, so she befriended Luo Xingqiao, who came from a low community, and Su Yuehua, a talented cook.
Yao Zijin, who has always been a good-for-nothing, is inspired by them, and her interest in cooking was truly aroused.
They created a hundred new dishes, cleverly incorporating Chinese medicinal food, and bringing back the famous dishes from the past generations to the world.
Step by step, Yao Zijin went from being a palace maid to being the master of the Food Bureau, her cooking skills gradually became better and better.
She gradually understood the true meaning of "food" and that food is a bridge to promote communication between people and cultures.
In the end, she gave up the competition for the food competition and leaves the palace to join the civil, bringing traditional food culture further!