Story of Yanxi Palace – Wu Jinyan, Nie Yuan, Qin Lan, Charmaine Sheh
Story of Yanxi Palace is a costume court drama co-directed by Hui Kaidong and Wen Deguang, starring Wu Jinyan, Qin Lan, Nie Yuan and Charmaine Sheh, and co-starring Xu Kai, Wang Yuanke, Tan Zhuo, Su Qing, Hong Yao, Wang Guanyi, Lian Lian, Li Chunai, Jiang Zixin, Pan Shiqi, and Li Ruoning, with Jenny Zhang Jiani in a special role.

The drama tells the story of courtesan Wei Yingluo, who overcomes the difficulties of the court with her courage, resourcefulness, flexibility head, and broad-mindedness, and eventually becomes Empress Xiao Yi Chun who assists Emperor Qian Long in his reign.
Details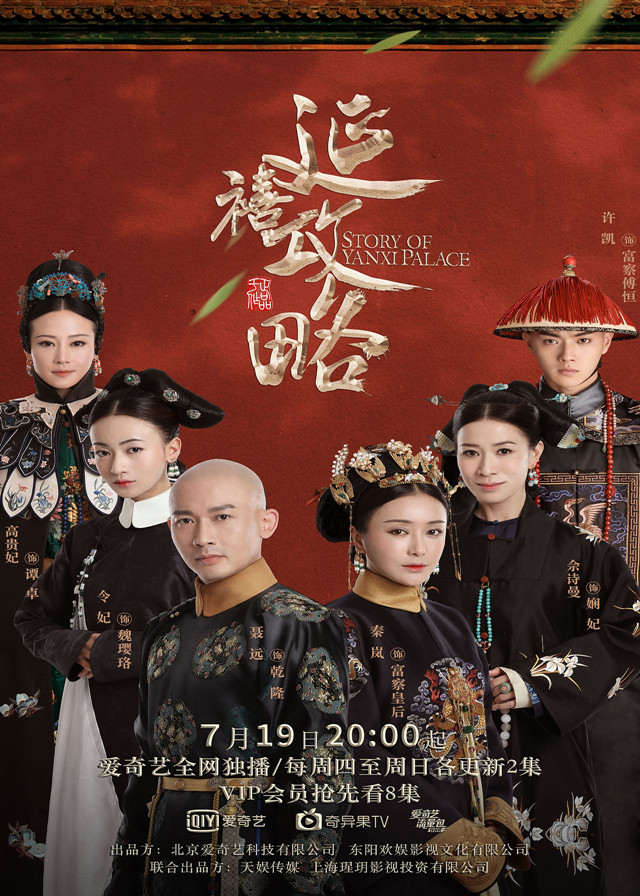 English Title: Story Of Yanxi Palace
Chinese Title: 延禧攻略
Genre: Costume, Court
Episodes: 70
Duration: 45 min.
Director: Hui Kaidong, Wen Deguang
Writer: Zhou Mo
Producer: Yu Zheng
Artist Director: Yang Nianbo
Product Company: Huanyu Entertainment Co., Ltd
Broadcasting Website: Viki, MZTV
Released Date: July 19, 2018
Cast

Wu Jinyan
as Wei Yingluo

Nie Yuan as Emperor Qianlong / Aixinjueluo Hongli

Qin Lan as Empress Xiaoxianchun / Fucha Rongyin

Charmaine Sheh as Consort Xian / Huifanala Shushen

Xu Kai
as Fuca Fuheng

Wang Yuanke as Su Jinghao

Tan Zhuo as Gao Ningxi

Su Qing as Xitala Erqing

Hong Yao as Aixinjueluo Hongzhou
Synopsis
In the sixth year of the Qianlong reign, a young girl Wei Yingluo entered the Forbidden City as a palace maid to seek the truth about her eldest sister's death.
After an investigation, Wei Yingluo confirmed that her sister's death was related to the absurd prince Hong Zhou, and was determined to get justice.
Empress Fucha, who was skilled in rituals and laws, worried that Wei Yingluo has gone astray and tried her best to give her warmth and help.
Under the empress' careful guidance, Wei Yingluo grew up to be a strong and upright court lady and put aside her grudges to live a serious life.
The unfortunate death of the Empress makes Wei Yingluo misunderstand Emperor Qianlong, but they went from mutual hostility to understanding and supporting each other finally.