Ping Pong – Bai Jingting, Timmy Xu
"Ping Pong" is a double hero drama co-produced by iQIYI, Dream Media and Give Me Five, directed by Cheng Hao and Li Jia, starring Bai Jingting and Xu Weizhou, with Wan Guopeng and Bian Yiming in the lead roles and Liu Zhibing, Wang Jianxin, Gao Dongping, Xu Sang and Zhao Chengshun in special roles.

The drama tells the story of Xu Tan, a "growing up" ping pong player, who meets Yu Kenan, a talented ping pong player, on the ping pong field.
Details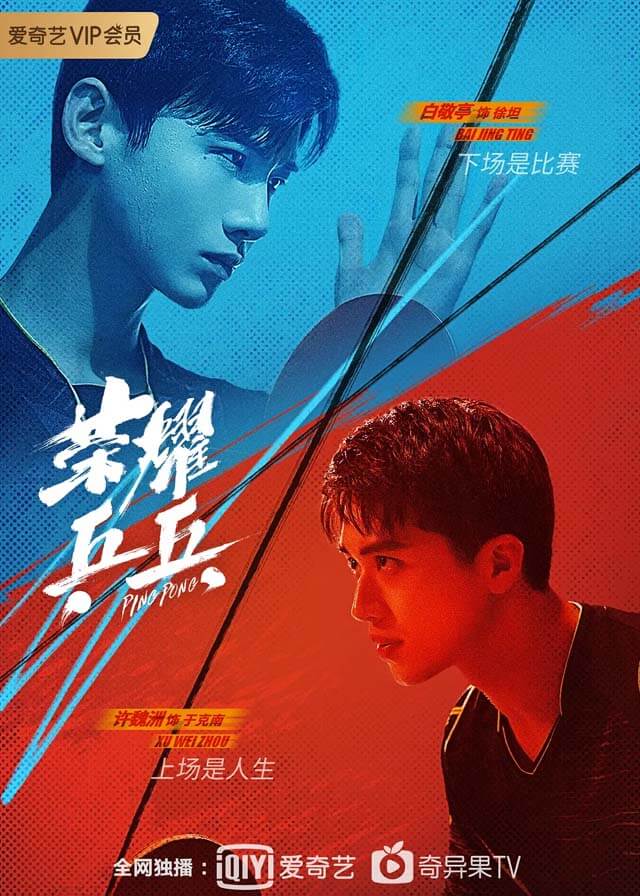 English Title: Ping Pong
Chinese Title: 荣耀乒乓
Genre: Youth, Competition
Episodes: 44
Duration: 45min
Director: Cheng Hao, Li Jia
Writer: Li Jia
Producer: Dai Ying, An Rong
Product Company: iQIYI, Dream Media, Give Me Five
Broadcasting website: iQIYI
Release date: March 9, 2021
Cast

Bai Jingting
as Xu Tan

Timmy Xu
as Yu Kenan
Synopsis
Xu Tan is a shy person who, under the influence of his ping-pong-loving grandfather, started to learn ping-pong to strengthen his body.
Later, when he was facing the prospect of leaving ping-pong, he was discovered by the talent scout.
Through strict technical, physical and psychological guidance, he eventually overcame all kinds of hardships and pressure to become the most comprehensive and reliable absolute starter of the team.
Yu Kenan, a brutal and unruly player, learned ping-pong with his father, a former national ping-pong player, and aspired to become a world champion from a young age.
They grew up together, experiencing and witnessing a period in the history of Chinese ping-pong, and eventually standing at opposite ends of the highest ping-pong table in the world for the sake of national honor and life's ambitions.