Our Times – Leo Wu Lei, Neo Hou Minghao
Our Times is a youthful and inspiring period drama, directed by Liu Chang and Ma Yiming, led by Wu Lei and Hou Minghao, co-starring Mao Xiaohui, Xiang Hanzhi, Wang Xinjun, Gao Haipeng, and Zhang Xiaoqian.

The drama is adapted from Wang Qiang's novel "Our Times / 我们的时代", which tells the story of a group of young people Xiao Chuan, Pei Qinghua, Xie Hang, and Tan Yuan in the early 1990s, who struggled to pursue their dreams and grew up under the tide of the times and wrote the story of their passionate youth together.
Details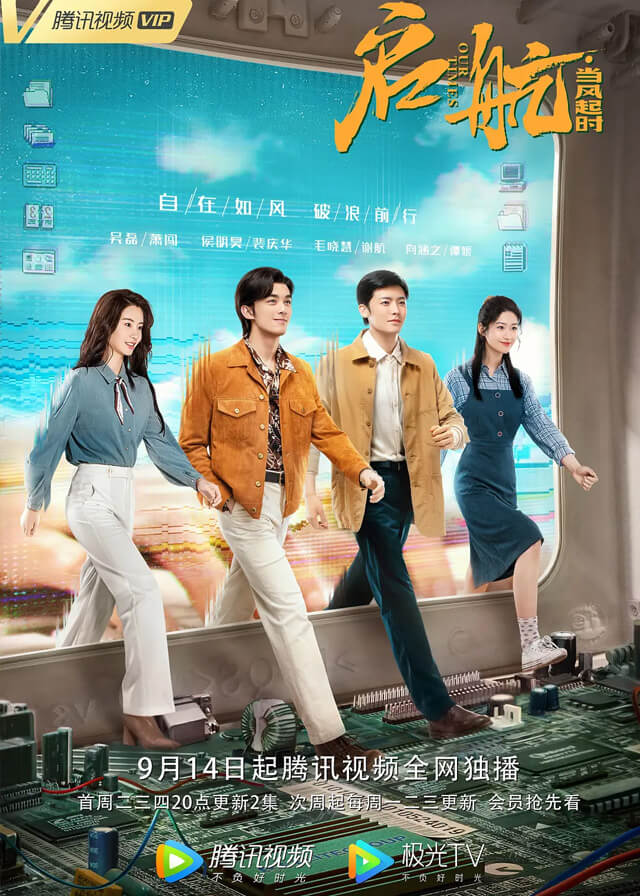 English Title: Our Times
Chinese Title: 启航:当风起时
Genre: Youth, Life, Business, Drama
Tag: Healing, Entrepreneur, Character Development, Hardship, Workplace Setting, Adapted From A Novel
Episodes: 36
Duration: 45 min.
Director: Liu Chang, Ma Yiming
Writer: ZhuoYue Paomo, Xu Yitian, Chen Xiao, Nandifu, Hu Liping, Wang Shumin
Producer: Zhang Na, Zhu Zhenhua
Product Company: Tencent Penguin Picture, Sugarman
Released Date: 2021-09-14
Broadcast Website: WeTV, TencentVideo
Cast
Synopsis
In the early 1990s, with the reform and opening up of China, the development of the information industry opened a new page. Two rash youngsters from the Institute of Computer Science of Yanjing University, Xiao Chuan and Pei Qinghua, started their careers by selling Han cards and were selected by the director Tan Qizhang to be among the tide of computer sales.
The researchers, led by the two of them, who saw the opportunity to take advantage of the policy, starting from being an agent for foreign computers and transitioning to independent research and development, transforming from grassroots to a generation of business wizards, and chronicling the history of China's rapid development at the end of the 20th century.
Reviews
You May Also Like
Related Posts