Master of My Own – Lin Gengxin, Tan Songyun
Master of My Own is an urban romantic comedy directed by Yao Tingting, led by Kenny Lin Gengxin and Tan Songyun, co-starring Liu Chang, Su Xin, Wang Xiuzhu, and Liu Enjia, with Michelle Bai and Gong Beibi in the special appearances.

The drama is based on the novel of the same name by Hong Jiu. It tells the story of Ning Meng, who has dreamed of becoming an investor since she was a child, becoming the president's secretary by mistake, and fighting with her boss, Lu Jiming, who is extremely capable and hot-tempered. They eventually join hands to pursue their dreams and work side by side.
Details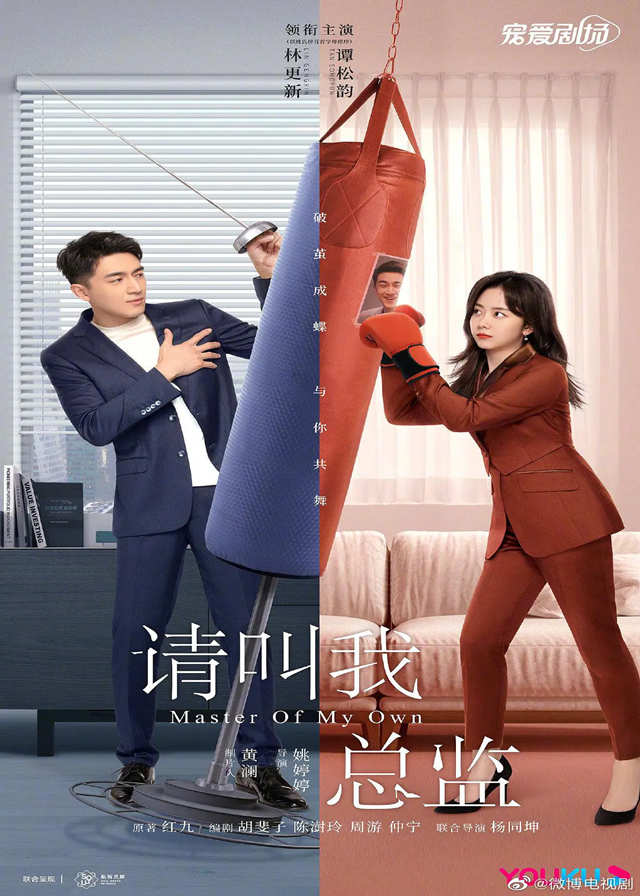 English Title: Master of My Own
Chinese Title: 请叫我总监
Genre: Urban, Romance, Comedy, Business
Tag: Strong Female Lead, Rude Male Lead, Character Development, Hardworking Female Lead, Smart Female Lead, Slight Romance
Episodes: 32
Duration: 45 min.
Director: Yao Tingting
Writer: Hu Feizi, Zhong Ning, Chen Shuling, Zhou You
Producer: Huang Lan, Zhou Jing
Product Company: YOUKU, SOUL MAKES PICTURES
Released Date: 2022-04-29
Broadcast Website: Youku, Viki, youku.tv
Cast
Synopsis
Ning Meng always had a career dream of becoming an investment director, but the work she did after graduation was far from her dream.
Her boss, Lu Jiming, was an investment CEO with strong business skills, and he never thought that Ning Meng could become a qualified investor.
One day Ning Meng finally made up her mind to leave Lu and prove to him and to herself that she could do it.
Ning Meng resumed her job search, and after all the obstacles, she finally entered Yingshi Investment by chance, starting her path to promotion.
During the process, Lu Jiming was also following Ning Meng. At first, he did not approve of her, but at important moments, he would still give Ning Meng advice and help her through the difficulties.
Lu Jiming's long-term investment philosophy benefited Ning Meng, and Ning Meng also changed Lu Jiming's attitude toward the world.
They influenced each other and went hand in hand. After experiencing numerous ups and downs and "storms", Ning Meng transformed into the best investor, while Lu Jiming became more mature and responsible.
They believed that they were the right person for each other.
Reviews
You May Also Like
Related Posts