Lost You Forever – Yang Zi, Zhang Wanyi
Lost You Forever is a historical fantasy romantic drama, starring Yang Zi, Zhang Wanyi, Deng Wei, Dai Luwa, and Wang Hongyi, with a special appearance by Tan Jianci.
Details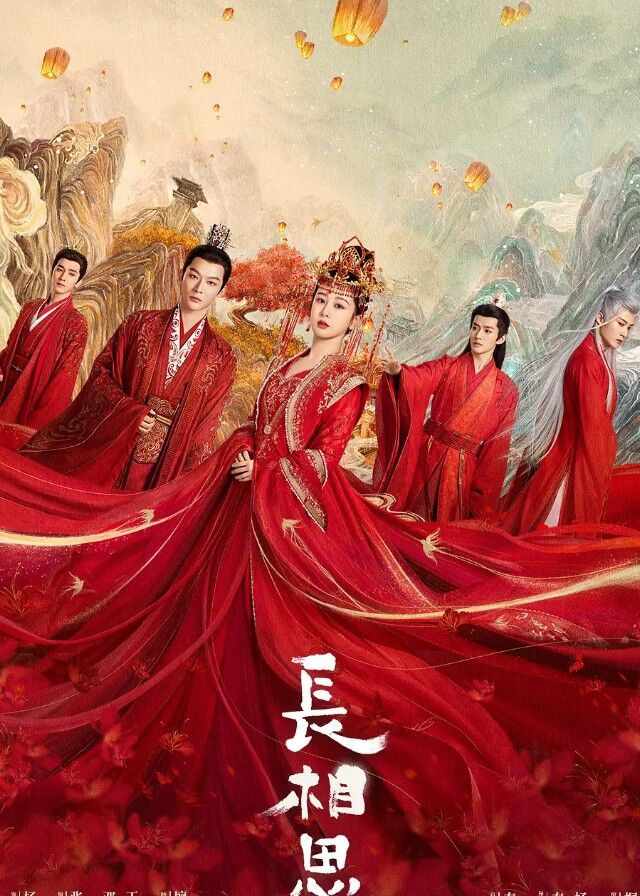 English Title: Lost You Forever
Chinese Title: 长相思
Other Titles: 长相思 第一季
Genre: Historical, Fantasy, Romance, Immortal
Tag: Reverse-Harem, Xuanhuan, Love Square, Political Intrigue, Trauma, Martial Arts
Episodes: 39
Duration: 45 min.
Director: Qin Zhen, Yang Huan
Writer: Tong Hua, Wang Jing, Xue Lingzhi, Qin Ye
Producer: Li Liming, Tang Panjing, Xiao Sha, Xiao Ruocai, Tan Jie
Product Company: TENCENT PENGUIN PICTURES
Released Date: 2023-07-24
Broadcast Website: WeTV, TencentVideo, Viki, iQIYI
Cast
Synopsis
In ancient times, humans, gods, and demons lived together, and there were three kingdoms, Shennong, Xuan Yuan, and Gao Xin.
After a hundred years of hardships, Jiu Yao(Xiao Yao), the leader of Gao Xin, who was stranded in the wilderness, not only lost her identity, but also his appearance, and settled in Qingshui Town.
She lived a life of unrestrained recklessness by commenced her medical career.
Xiao Yao's cousin, Prince Xuan Yuan, is a very tolerant man, he traveled all over the wilderness to find Xiao Yao and came to Qingshui Town.
The days in Qingshui Town were simple and warm. Wen Xiaoliu accidentally saved the dying Prince Tu Shanjing of Qing Qiu. gradually had an affection for each other.
Wen Xiaoliu and Xiang Liu, a nine-headed demon, acquainted with each other and became friends.
Wen Xiaoliu and Cang Xuan met again, but they were unable to recognize each other. After several twists and turns, she finally identified with Cang Xuan and restored her real identity.
In order to unify the world, Xuan Cang gave up his personal love and took the throne. After Xiang Liu died in battle and Xiao Yao helped Xuan Cang complete his great work, then she and Tu Shanjing retired to Jianghu.
Xu Cang devoted all his efforts to managing the country because he knew that as long as the world is peaceful, his Xiao Yao will be able to be happy and healthy.
Reviews
Soujanya

"Lost You Forever" is worth watching

The plot of "Lost You Forever" progresses quickly. In less than one episode, it neatly introduces the world and backgrounds of the main characters, including their childhood and relationships. Even if you haven't read the novel, it won't affect your viewing experience. The character development is rich and diverse, and even the main characters' appearances carry a sense of mystery.

Yang Zi's performance is steady, and Tan Jianci's entrance shines brightly in "Lost You Forever". As for the actors' skills, Yang Zi's acting remains solid. Whether she's portraying a girl disguised as a boy with a deep voice or a commoner's behavior, her attention to detail is impeccable. I can naturally believe that Yang Zi is the real Wen Xiaoliu.

The appearances of Zhang Wanyi and Deng Wei are currently quite standard and average. Their chemistry with the female lead is okay. In the beginning, they are a bit at a disadvantage in the plot, as Cang Xuan hasn't recognized the female lead's identity yet, so their relationship can't deepen yet.

As for Ye Shiqi, he comes off as an obedient "puppy." Although he has a lot of physical contact with the female lead, his innocent character needs time to develop and build up a stronger impact.

On the other hand, Xiang Liu, portrayed by Tan Jianci, has ample space to showcase his acting skills. Tan Jianci's entrance captivates the audience. Compared to other male characters, his portrayal of Xiang Liu has an otherworldly presence. He doesn't need to explain that he is a nine-headed monster; just standing there, he conveys to the audience that he is not someone you can mess with. His character is destined to be unpredictable, always keeping the audience guessing about his next move.

All in all, "Lost You Forever" has more strengths than weaknesses and is a well-made drama.
You May Also Like
Related Posts
Chinese Dramas Like Lost You Forever

How is Yang Zi's relationship with Zhang Wanyi, Deng Wei, Tan Jianci in Real life?

Who Is Yang Zi's Boyfriend? Two Relationships Got A Lot Of Attention

Does Li Xian Like Yang Zi? How Is Their Relationship?

How Is Yang Zi and Cheng Yi's Relationship?

Lay Zhang Yixing, Yang Zi Relationship Is Suspected

Yang Zi Is Dating Liu Xueyi? Netizens: Boring

How Is the Relationship Between Xiao Zhan, Yang Zi?

Yang Zi Photos

Yang Zi, Qin Junjie Relationship Review

Who Is Niu Junfeng's Girlfriend? What's His Relationship With Guan Xiaotong And Yang Zi

Xiao Zhan, Yang Zi: "The Oath of Love" Will Be Delayed-Release? HunanTV Confirmed It

Yang Zi, Xiao Zhan: What Kind Of Chemistry Will They Bring In "The Oath of Love"

Zhang Wanyi Dramas, Movies, and TV Shows List

Yang Zi Dramas, Movies, and TV Shows List

How Is Yang Zi And Jing Boran's Relationship?

Xiao Zhan Helped Yang Zi With Her Dress On Weibo Night, "The Oath Of Love" CP Is So Sweet.

Yang Zi's 21 Quotes

The shooting of "The Psychologist" started finally! Yang Zi appeared at the start-up banquet