Les Interprètes – Yang Mi, Huang Xuan
Les Interprètes is an urban romance drama directed by Wang Ying, starring Yang Mi and Huang Xuan.

Based on Miu Juan's novel "翻译官/Fan Yi Guan", the drama tells the story of Qiao Fei, a master of French, who grows up to become a senior translator under the guidance of Cheng Jiayang, a translation genius. They go from a love-hate relationship to close lovers.
Details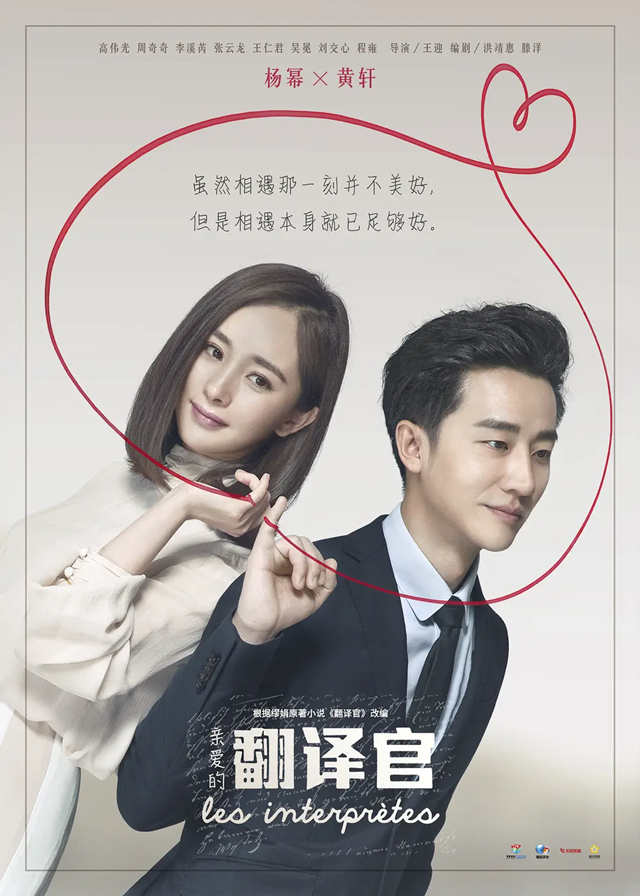 English Title: Les Interprètes
Chinese Title: 亲爱的翻译官,
翻译官
Genre: Urban, Romance
Episodes: 42
Duration: 45 min.
Director: Wang Ying
Writer: Hong Jinghui, Teng Yang
Produce Company: JAYWALK STUDIO, Letv,
Broadcasting Website: Viki
Released Date: May 24, 2016
Cast

Yang Mi
as Qiao Fei

huang xuan
as Cheng Jiayang
Vengo Gao
as Gao jiaming

Zhou Qiqi as Wen Xiaohua

Sierra Li
as Wu Jiayi

Zhang Yunlong
as Wang Xudong

Wang Renjun as Zhou Nan

Wu Mian as Zhang Qiaochu

Liu Jiaoxin as Cheng Siyuan

Cheng Yong as Wen Dao
Synopsis
Qiao Fei, a master of French, has been aspiring to be a translator since childhood.
By chance, she meets Cheng Jiayang, a genius translator, and Qiao Fei makes a misunderstanding with Cheng Jiayang when avoiding her ex-boyfriend Gao Jiaming.
On the second day of the interview, Qiao Fei finds out that Cheng Jiayang is actually her examiner. They start a "competition" with their misunderstanding about each other.
In the end, Qiao Fei gets Cheng Jiayang's affirmation through her unremitting efforts; and after all the twists and turns, they finally confirm their affection for each other.
Just when Qiao Fei's career and love are going smoothly, a unexpected incident comes, and Gao Jiaming also intervenes in Qiao Fei's emotional life again at this time.
The reality and suspicion make Qiao Fei and Cheng Jiayang contradict each other and finally have to break up.
Qiao Fei then leaves to study French, while Cheng Jiayang takes on a new challenge in his career.
Both of them grow up, faceing the test of life and death, but finally they are reborn.
Qiao Fei is finally willing to face her feelings and pursue higher career aspirations; Cheng Jiayang has also found his true self.