Cyber Heist – Aaron Kwok, Simon Yam, Lam Ka Tung
Cyber Heist (Disconnect'd) is a crime drama directed by Danny Wong, led by Aaron Kwok, Simon Yam, and Lam Ka Tung, co-starring Kenny Wong, Megan Lai, Tony Wu, and Gu Dingxuan, with a special appearance by Patrick Tam.
The film tells the story of Zhuo Jiajun, a cyber programmer, who accidentally gets involved in a money laundering scheme while trying to hack a major bank. To protect his family and clear his name, he fights against the criminals involved in a life-and-death battle.
Details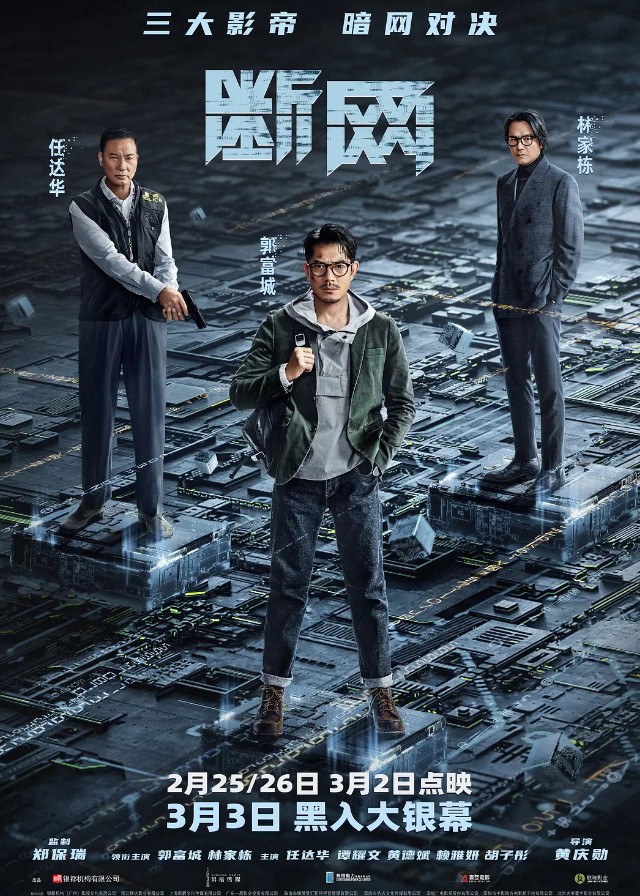 English Title: Cyber Heist
Chinese Title: 断网
Genre: Action, Crime, Drama
Duration: 110 min.
Director: Danny Wong
Released Date: 2023-03-03
Boradcast Website: -
Cast
Synopsis
Zhuo Jiajun is a senior cyber technician who is targeted by his brother Jason and general manager Sun Bin. He has a daughter Bao Er with his wife Du Yongshan.
Jiajun has developed a powerful AI program ''Yi Tai''. Sun Bin accuses him of being involved in money laundering activities and threatens him to cooperate with him against CEO Chen Mingzhi.
Jiajun doesn't know who is his enemy and who is his friend, so he launches ''Yi Tai'' in the hope of finding out the truth.
This move alerts Chen Mingzhi, who sends his men to intercept Jiajun and take away the SSD.
As Chen activates the ''Yi Tai'' for illegal theft and money laundering, Jiajun and Yongshan try to stop the operation of the ''Yi Tai''.
Yongshan, a former brilliant hardware engineer, tries to use the computer to shut down the ''Yi Tai''. At this point, Chen Mingzhi blackmails them to stop interfering with the 'Yi Tai' by kidnapping Bao'er. Jiajun blackmails Chen in return, and when Chen Mingzhi sees the amount of money plummeting, he asks Jiajun to return to the company immediately to deal with the situation.
Jiajun and Yongsanh return to the company and they risk their lives to try to shut down ''Yi Tai''. Then Sun Bin appears and Jason also appears with Bao'er...
Reviews
You May Also Like
Related Posts