Nirvana in Fire 2: The Wind Blows in Chang Lin – Huang Xiaoming, Liu Haoran, Tong Liya, Zhang Huiwen
Nirvana in Fire 2: The Wind Blows in Chang Lin is an ancient political drama co-directed by Kong Sheng and Li Xue and starring Huang Xiaoming, Liu Haoran, Tong Liya, Zhang Huiwen, Sun Chun, Wu Haochen, Mei Ting, Zhang Bo, Guo Jingfei, Qiao Xin, and so on.

The drama tells the story of the illustrious Changlin royal family, which was caught in a whirlpool of intrigue. Xiao Pingxing, who grew up amidst the loss of his family and the frame-up of others, solved the crisis of Daliang.
Details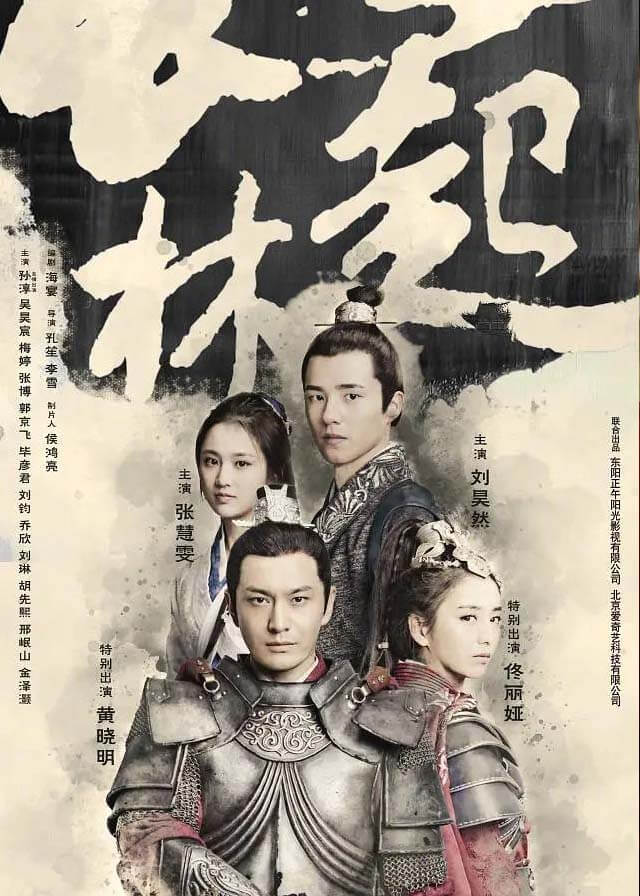 English Title: Nirvana in Fire 2: The Wind Blows in Chang Lin
Chinese Title: 琅琊榜之风起长林, 琅琊榜2
Genre: Historical, Political, War, Military
Tag: Bromance, Revenge, Father-Son Relationship, Royalty, Scheme, Martial Arts
Episodes: 50
Duration: 45 min.
Director: Kong Sheng, Li Xue
Writer: Hai Yan
Producer: Hou Hongliang
Product Company: DAYLIGHT ENTERTAINMENT, iQIYI
Released Date: 2017-12-18
Broadcast Website: YoYo English Channel, Viki
Cast
Synopsis
The Liang dynasty was stable, but there were constant battles at the border. The Changlin army, which guarded the northern border of Liang, had won many military achievements.
As the Emperor was kind and weak and the Crown Prince was young, Empress Xun and her brother Xun Baishui were afraid that the Changlin royal family would threaten the monarch by their success.
They were used by Puyang Ying, a spy from Ye Qin who had infiltrated the court, to frame the Changlin Royal Family.
They had not only interrupted the front-line supplies in a battle in the north, causing the son of the Changlin Royal Family, Xiao Pingzhang, to be seriously injured, but also created a large-scale epidemic in the capital.
In the course of the investigation, Pingzhang and his little brother Xiao Pingjing were poisoning.
At this very moment, the north was in danger, Pingzhang gave up treatment and went to support the border. After that, he died because of the poison.
In order to keep the country safe, Pingjing was stationed at the border immediately after his eldest brother's death.
After the death of Emperor Liang, Lord Changlin Xiao Tingsheng was asked to assist the court. Xun Baishui helped Xiao Yuanqi to take control of the military power to fight against the Changlin royal family.
Under their trickery, Pingjing was in the crime of resisting the decree. After Xiao Tingsheng died, Changlin House closed, Changlin army's Military units and formations were withdrawn.
Xiao Yuanqi secretly colluded with his uncle who had become the Lord of the Donghai Kingdom to betray his country.
Pingjing, who had been living in seclusion for many years, saved the country in a crisis and successfully foiled Xiao Yuanqi's conspiracy.
When the borders of Great Liang were settled, Pingjing returned to seclusion again.
Reviews
You May Also Like
Related Posts
Chinese Dramas Like Nirvana in Fire 2: The Wind Blows in Chang Lin

Ouyang Nana, Zhai Zilu Relationship was Exposed?

Is Angelababy Dating Deng Lun And Divorced With Huang Xiaoming?

Zhou Dongyu and Turbo Liu Haoran Have Been Dating for Two Years?

Angelababy, Huang Xiaoming Responded To The Love Triangle Rumors With Li Fei'er

Angelababy, Huang Xiaoming Announced The Divorce

Huang Xiaoming announced his withdrawal from "Sisters Who make waves 2".

Tong Liya, Chen Sicheng Announce Divorce On "520"

Turbo Liu Haoran, Vicky Chen Are In A Relationship? Vicky Chen Denied At Once

Gong Jun, Zhang Huiwen Coupled In "The Flaming Heart", The Drama Is Expected.

Huang Xiaoming Dramas, Movies, and TV Shows List

Liu Haoran Dramas, Movies, and TV Shows List

Zhang Huiwen Dramas, Movies, and TV Shows List

Tong Liya Dramas, Movies, and TV Shows List