Never Too Late – Wang Ziwen, Deng Jie, Bai Jingting
Never Too Late is an urban comedy directed by Ding Pei, led by Wang Ziwen, Deng Jie, and Bai Jingting, co-starring He Hongshan, Chen Hao, Jiang Yiru, Dai Jiaoqian, and Jin Zehao.
The drama tells the story of Jiang Tian, who is transferred back from Beijing to work in her hometown Suzhou, and meets her roommate Wu Jingfang. They build a deep friendship through setbacks one after another and realize their career plan to help renovate other people's old houses, while also firming up their respective future paths.
Details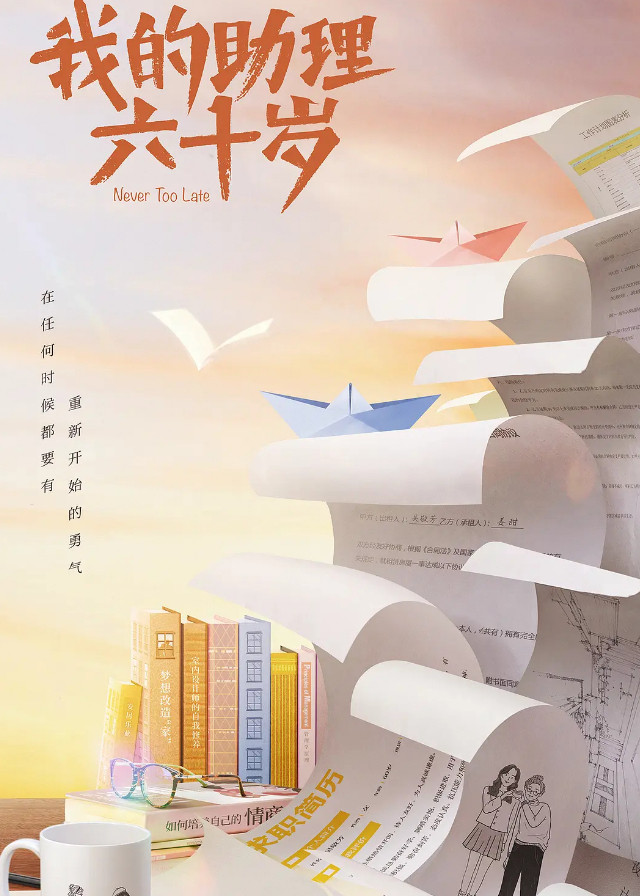 Cast
Synopsis
Jiang Tian leaves home to work as an interior designer in Beijing, trying hard to save money to buy a house and manage her relationship.
As everything is going in the desired direction, Jiang Tian is transferred to a branch office in her hometown after offending the head of the company, forcing her to be separated from her boyfriend Fang Yuanqing.
The workplace environment in the branch office is far from Jiang Tian's imagination and she unexpectedly becomes a colleague with the 60-year-old Wu Jing Fang.
Jiang Tian's plans to return to Beijing are interrupted when she breaks up with her boyfriend and loses her job as a result.
Unemployed and heartbroken, Jiang Tian has no choice but to stay in her hometown.
Wu Jingfang takes Jiang Tian step by step out of her declining days and becomes her assistant in order to learn design.
Under the influence of Wu Jingfang, Jiang Tian finds a way to develop personally and integrate into her hometown, while Wu Jingfang discovers a new value and possibility for herself with Jiang Tian's help, reintegrating into the competitive society.
They build a deep "comradeship" through one setback after another, helping others to build their ideal home while at the same time firmly establishing the path each will take in the future.
You May Also Like
Related Posts
Bai Jingting and Song Yi Relationship is Revealed, Fans: Good Job!

Olivia Wang Ziwen Announced Dating Andrew Wu Yongen

Wang Ziwen Dramas, Movies, and TV Shows List

Bai Jingting Dramas, Movies, and TV Shows List

Wang Ziwen Photos

Bai Jingting Photos

The Relationship Between Bai Jingting And Sandra Ma Sichun Is True Or Not?

Olivia Wang Ziwen Admitted Have A Son, But Denied Ever Getting Married

What's Bai Jingting and Tian Xiwei's Relationship? New Life Begins Gets Hurt The Most?

Bai Jingting, Sandra Ma Sichun Fall In Love In "You Are My Hero", Experiencing His First Screen Kiss

Does Bai Jingting Have A Girlfriend? What's His Ideal Type?

Olivia Wang Clarified The Relationship With Jerry Jia Nailiang In The Show "Listion To Me"

Olivia Wang Ziwen Denied The Secret Marriage On "A Journey For Love"

Bai Jingting, Janice Wu Qian's CP Is Less Attractive Than Ni Dahong In "Octogenarian And The 90s"

Bai Jingting, Angel Zhao Jinmai Bring The First Hit Drama Of The New Year