Cross Fire – Lu Han, Leo Wu, Dai Luwa, Song Yanfei
Cross Fire is a youthful, inspirational fantasy drama directed by Xu Hongyu, led by Lu Han, Leo Wu Lei, Dai Luwa, and Song Yanfei (Cecilia Boey), co-starring Liu Shuailiang, Zhu Junlin, Huang Deyi, and Pan Meiye.

The drama tells the story of Xiao Feng in 2008 and Lu Xiaobei in 2019 who meet across time and space in a game map. They go from mutual suspicion to mutual trust and mutual support, forming a respective team, researching tactics and helping each other grow, and eventually turning it around in their respective time and space with the spirit of defiance.
Details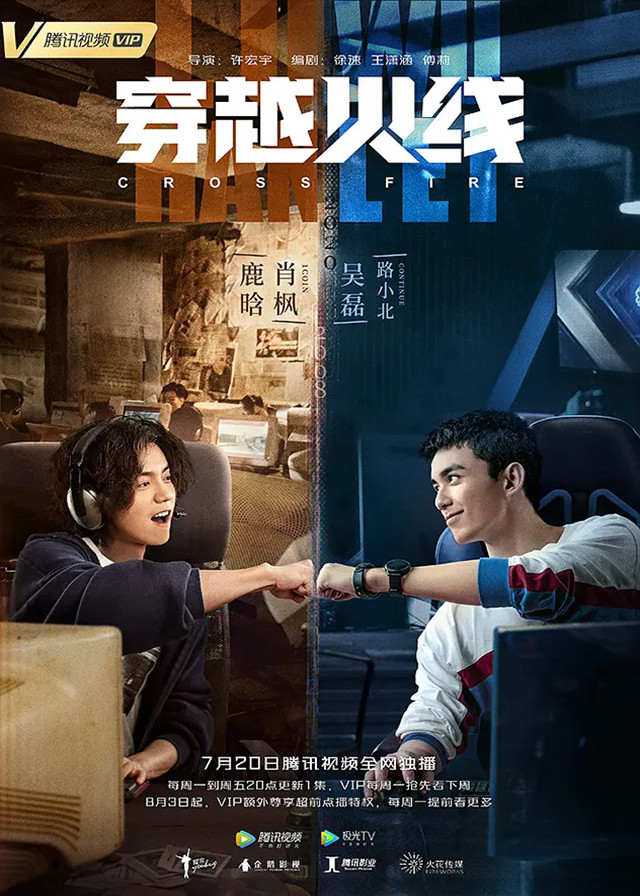 English Title: Cross Fire
Chinese Title: 穿越火线
Genre: Youth, Sport, Sci-fi, Action
Tag: Gaming, Esports, Time Altering, Slight Romance, Different Timelines, Poor Male Lead
Episodes: 36
Duration: 45 min.
Director: Xu Hongyu
Writer: Xu Su, Wang Xiaohan, Li Kuangning, Fu Li
Producer: Xu Su, Zhang Meng, Li Eryun, Fang Fang
Product Company: Shanghai Youhug Media Co., Ltd., TENCENT PENGUIN PICTURES, TENCENT PICTURES, FIREWORKS
Released Date: 2020-07-20
Watch On: YOUHUG MEDIA
Cast
Synopsis
In 2008, the down-and-out e-sports veteran Xiao Feng barely maintained his team.
At this time, e-sports was far from its best era, and Xiao Feng's team was misunderstood and ridiculed, but he persisted with the dream in his heart.
In 2019, the combat genius in the game and the wheelchair boy in reality, Lu Xiaobei inherited his brother's legacy and vowed to become an e-sports professional. He was invincible in the game but lost his eligibility to enter the professional team due to an accident.
By chance, Lu Xiaobei and Xiao Feng met in a game map across time and space.
In different times and spaces, they went from mutual suspicion to mutual trust. They set up their own battle team, studying tactics together and helping each other grow.
Dreams are never easy, and the road of professional e-sports players is not easy, countless times repeated boring training, repeatedly failures did not make them give up.
Different times, the same passionate youth. But when Lu Xiaobei and Xiao Feng encouraged each other to tide against the odds, an accident came…
Reviews
You May Also Like
Related Posts
Chinese Dramas Like Cross Fire

What's Zhao Lusi, Leo Wu Lei's Relationship? Why Fans Can Not Calm Down

Does Leo Wu Lei Have A Girlfriend? What's His Ideal Type?

Rosy Zhao Lusi was Involved in a Dating Rumor, Studio Issued a Statement

Lu Han And Girlfriend Guan Xiaotong Have Broken Up? Guan Xiaotong Is Absent From Lu Han's Birthday Blessing.

Who is Julia Xiang Hanzhi's Boyfriend? Is She Dating Leo Wu Lei?

Dilraba, Leo Wu Lei Playing A Couple In "The Long Ballad" Led A Hot Discussion On The Net.

How is the relationship between Lu Han, Guan Xiaotong?

Leo Wu Photos

Leo Wu's New look on M.A.C Poster Led To Hot Debate: "Human High-quality Male"

Leo Wu Was Burned On Face? He Hasn't Responded To The News So Far

Guan Xiaotong Celebrates Lu Han's Birthday In late-night, Shattering Rumors Of A Breakup

Leo Wu Dramas, Movies, and TV Shows List

Lu Han Dramas, Movies, and TV Shows List

Dai Luwa Dramas, Movies, and TV Shows List

Song Yanfei Dramas, Movies, and TV Shows List