The Whirlwind Girl 2 – Ji Chang Wook, An Yuexi
The Whirlwind Girl 2 is a modern youth inspirational drama directed by Cheng Ziyu, starring Ji Chang Wook, Chen Xiang, An Yuexi, Tan Songyun, Fiction Guo Junchen, Leo Wu Lei, and co-starring Zhao Yuanyuan, Wang Zixuan, Yu Ting'er, Jiang Yiyi, and so on.

The drama is based on Ming Xiaoxi's novel of the same name and tells the story of a group of young boys and girls who persistently struggle for their dreams, compete fairly and encourage each other, and go on a different journey with friendship and love.
Details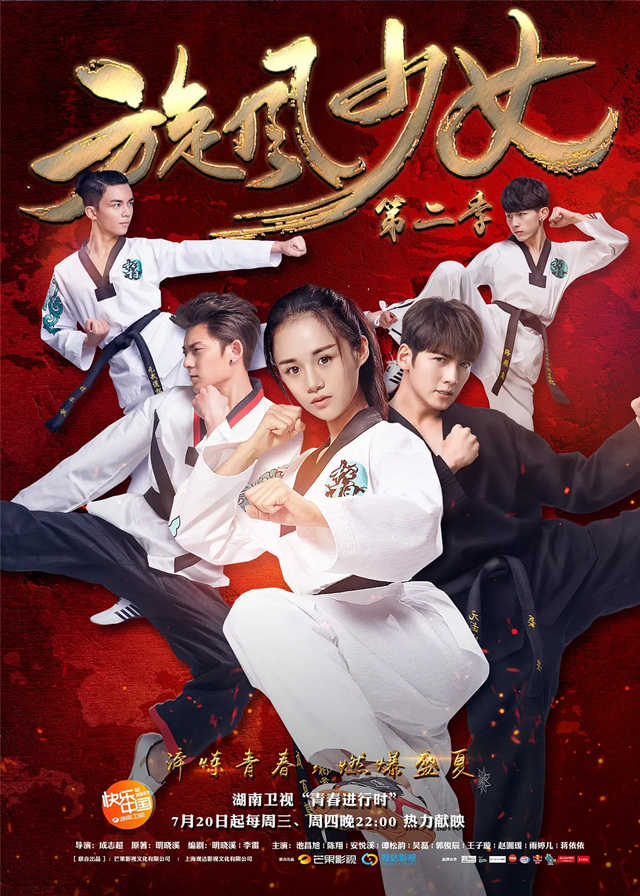 English Title: The Whirlwind Girl 2, Tornado Girl Ⅱ
Chinese Title: 旋风少女2, 燃烧的青春第二季
Genre: Romance, Youth, Inspiration, Competition
Episodes: 36
Duration: 40 min.
Director: Cheng Ziyu
Writer: Ming Xiaoxi, Li Lei
Producer: Zhang Yong, Zhou Dan
Product Company: MANGO STUDIO, GRAND MEDIA
Broadcasting Website: MGTV, Viki, China Zone
Released Date: July 20, 2016
Cast

Ji Chang Wook as Chang An

Chen Xiang as Fang Tinghao

An Yuexi as Qi Baicao

Leo Wu
as Hu Yifeng

Tan Songyun
as Fan Xiaoying

Guo Junchen
as Lu Feiyu
Synopsis
After a lot of baptisms, Qi Baicao officially embarked on the journey of Yuan Budo and entered the eyes of the Yuan Budo audience.
She finally qualified for the World Youth Tournament and advanced to the club tournament, using her unique tricks such as the Whirlwind Triple Kick, Double Whirlwind Triple Kick, and Spinning Storm to dominate various points competitions in Japan and Singapore.
Because her old friend Fang Tingyi was injured in a vegetative state by mistake in the beauty challenge, giving her a profound new understanding of Yuan Budo.
Unfortunately, Ruobai left her forever. She tried to numb herself with her training, but she didn't know where to focus when she lost Ruobai.
At this point, Baicao meets the cool, mysterious, and gifted Chang An.
Chang An was entrusted by Ruo Bai to train Baicao instead and helped Songbo through a difficult time.
It looks like Chang An was using cruel methods to train Baicao, but in fact, he was only trying to develop her limits to the maximum, but he was gradually impressed by this seemingly strong and hardworking, but actually fragile and stubborn girl.
Under Chang An's leadership, she felt the warmth of pine and cypress and the spirit of Yuan Budo again.
The three brothers who grew up together were finally left alone, Tinghao, who wanted to quit loving Baicao but was never able to do anything about it until his beloved sister Tingyi had an accident that caused Tinghao's stubbornly held worldview to collapse, but he rose from despair on his own.
Tinghao has changed, but he was still the gentle knight for Baicao who used to help her.
How should Baicao get out of the shadow of Ruo Bai's departure? How will she face the feelings of Chang An and Tinghao?
What secrets are hidden behind the dramatic change in the fate of these young people? Will this stubborn and kind girl be able to persist in her dream to sprint to the top and reap her own happiness?