When We Were Young – Neo Hou, Wan Peng, Dai Luwa, Gala Zhang
When We Were Young is a youth campus drama directed by Deng Ke and written by Sun Xiao, starring Neo Hou Minghao, Wan Peng, Dai Luwa, Gala Zhang Yao, Pan Meiye, Li Mingde, and Chen Xijun, with Feng Bo, Wu Yanshu, and Wang Sen in special roles.

The drama is based on a novel of the same name derived from a post in the Tianya Forum and tells the campus story of a hot-blooded teenager, Hua Biao, and the members of the "Fei Che Wu Ren Zu" who left wonderful youthful memory in the final days of their senior middle school year.
Details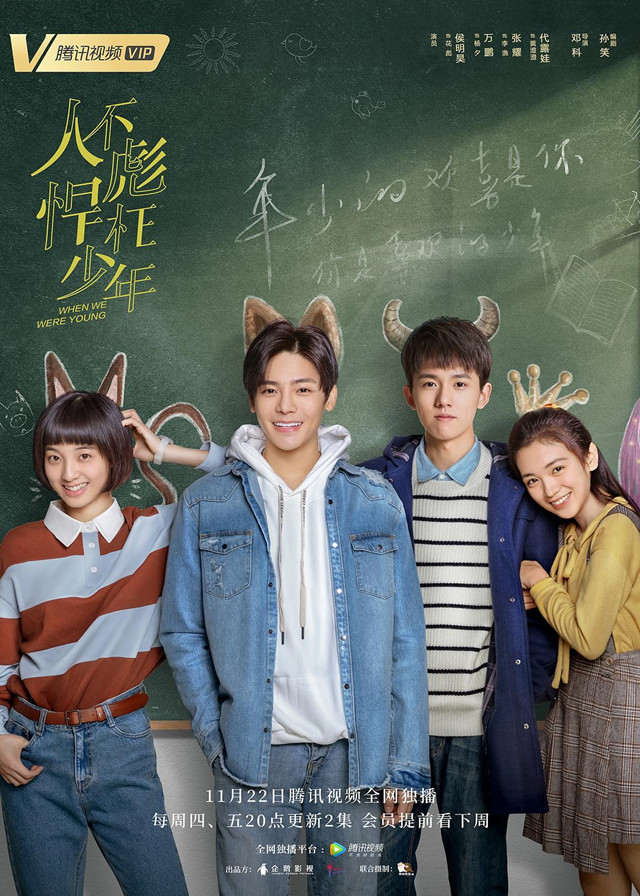 English Title: When We Were Young
Chinese Title: 人不彪悍枉少年
Genre: Youth, School, Romance, Friendship
Tag: Nice Male Lead, Strong Female Lead, High School, Competition, Love Triangle, School Bullying
Episodes: 24
Duration: 45 min.
Director: Deng Ke
Writer: Sun Xiao
Producer: Li Eryun, Wang Rouxuan
Product Company: TENCENT PENGUIN PICTURES, Shanghai Youhug Media Co.,Ltd.
Released Date: 2018-11-22
Broadcast Website: YOUHUG MEDIA, KUKAN, Viki, WeTV
Cast
Synopsis
In the summer of 1996, Yang Xi's legs were injured by the shockwave of a laboratory explosion while chasing a car thief. She was unable to participate in the long-distance running race that would give her extra points in the entrance exam.
After the start of the school year, Yang Xi found out that the "culprit" transferred to her class and took away the class president position she wanted to be re-elected.
The teenager Hua Biao was a hot-blooded, righteous, a little impulsive science genius.
The sudden appearance of Hua Biao made the whole class very serious "like facing an enemy". However, he used his genius brain to save the class's mid-autumn party qualification, refresh the game record with a fabulous game strength, help his classmates regardless of his own safety. After he proved his own personality with practical action, everyone finally dispelled the suspicions for him.
Hua Biao formally became one member of the mall group "Fei Che Wu Ren Zu".
Yang Xi discovered Hua Biao not only has a sense of responsibility and loyalty but also returns filial piety to grandma, then she also finally put down prejudice.
So in the last days of senior high school, the "Fei Che Wu Ren Zu" was all-powerful on campus. They tasted the laughter and bitterness of youth, withstood the growth of the storm, left a trail of youthful in this unforgettable year.
Reviews
You May Also Like
Related Posts
Chinese Dramas Like When We Were Young

Does Wan Peng Have A Boyfriend? Did She Get Married?

The Relationship Between Gala Zhang Yao, Wan Peng

What is Neo Hou's Ideal Type Girlfriend?

Neo Hou, Yang Chaoyue Make Romance Novels Come True!

Does Zheng Shuang Have An Affair With Neo Hou? The Hou Minghao Studio Denied The Rumor

Who Is Gala Zhang Yao's Girlfriend? Dating Pan Meiye is true or not?

Evan Lin Yanjun, Wan Peng Interpret The Sweetest Healing Love This Summer

Neo Hou Photos

Guan Xiaotong Make CP With Neo Hou In New Drama "A Girl Like Me"

Neo Hou Dramas, Movies, and TV Shows List

Wan Peng Dramas, Movies, and TV Shows List

Dai Luwa Dramas, Movies, and TV Shows List

Zhang Yao Dramas, Movies, and TV Shows List