An Oriental Odyssey – Janice Wu, Zheng Yecheng
An Oriental Odyssey is a historical fantasy detective drama directed by Zhou Xiaopeng, starring Janice Wu, Zheng Yecheng, Zhang Yujian, and Dong Qi, with Yuan Wenkang, Liu Tianzuo, Yu Mingjia, Wang Renjun, Huang Zheng, Tian Li, and Yin Xiaotian in special roles.

The drama tells the story of Ye Yuan'an, a young lady of the Ministry of Revenue, and her servant Mu Le, the head constable Zhao Lanzhi, and Ming Hui, who solve mysterious and complicated suspense cases together.
Details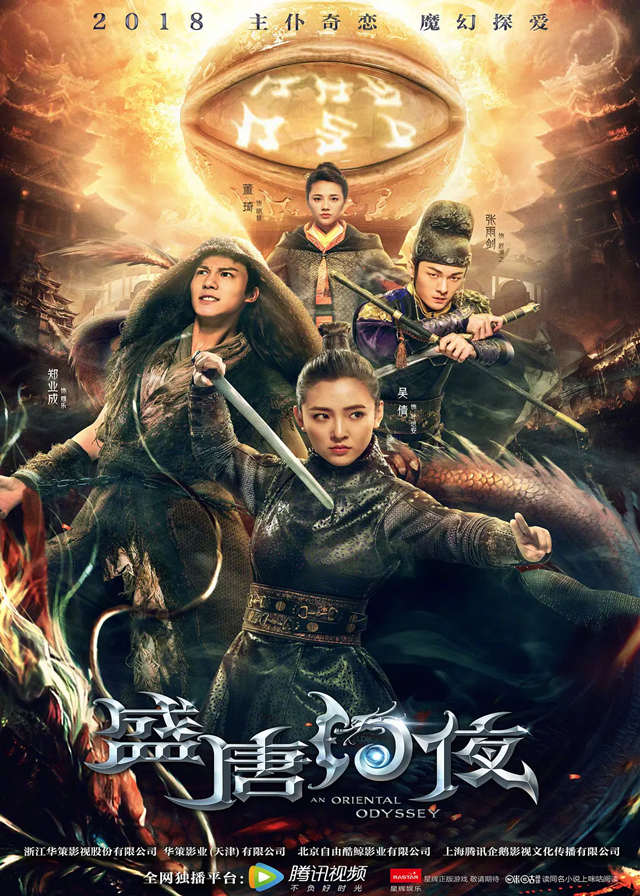 English Title: An Oriental Odyssey
Chinese Title: 盛唐幻夜
Genre: Historical, Fantasy, Suspense
Tag: Badass Female Lead, Master-Slave Relationship, Double Identity, Tang Dynasty, Girl Disguised as Boy, Amnesia
Episodes: 50
Duration: 45 min.
Director: Zhou Xiaopeng
Writer: Miu Juan
Producer: Chen Pinxiang, Zhang Ning
Product Company: HUACE FILM&TV
Released Date: 2018-10-18
Broadcast Website: Huace, Viki, AsianCrush
Cast
Synopsis
In Luoyang of the Tang Dynasty, Ye Yuan'an, the daughter of the Minister of Household Affairs, is a good fighter. In a case, she mistakenly befriends the brave constable Zhao Lanzhi.
They work together to solve cases and get to know each other. Yuanan rescues a mysterious man with amnesia, Mu Le, from the market and takes him as her servant. It is unexpected that Mu Le gradually develops a love for her.
In many cases, they work closely together to solve strange cases and foil the conspiracy of the State Master Tengyo who tries to seize the most precious nine-star rosary.
The princess Ming Hui, a disciple of Tianqiao, falls in love with Lan Zhi and uses Yuan An's life to coerce him into marriage. Yuan An feels doubly lost and says that she will marry Mu Le in a fit of pique, but is misunderstood by Mu Le.
When Mu Le is sad, he finds out that he is a foreign prince in distress, so he steals the nine-star rosary and returns to his country to take revenge.
Yuan An, Zhao Lanzhi, and Ming Hui track and find Mu Le, they joined hands to put down the scourge, and they also found their true love.
Reviews
You May Also Like
Related Posts
Chinese Dramas Like An Oriental Odyssey

Janice Wu Qian, Zhang Yujian Were exposed To Be Married With A Child

Janice Wu Qian, Zhang Yujian Announced Divorce

Zhang Yujian Admits To Having A Daughter With Janice Wu Qian

Who Is Zheng Yecheng's Girlfriend? He Was Married And Had A Child?

How Is Zheng Yecheng, Crystal Yuan Bingyan's Relationship?

Ju Jingyi And Zheng Yecheng Are Dating Sweetly In "Love Under The Full Moon"

Bai Jingting, Janice Wu Qian's CP Is Less Attractive Than Ni Dahong In "Octogenarian And The 90s"

Zheng Yecheng Photos

Janice Wu Dramas, Movies, and TV Shows List

Zheng Yecheng Dramas, Movies, and TV Shows List

Zhang Yujian Dramas, Movies, and TV Shows List

Dong Qi Dramas, Movies, and TV Shows List