Faithful – Janice Wu, Li Jiahang
Faithful is a historical mystery drama directed by Zang Xichuan, led by Janice Wu, Li Jiahang, Qiao Zhenyu, and Hu Yixuan, with special appearances by Tang Jingmei, Yang Yutong, and Hai Lu, co-starring Bai Shu, Zhang Kangle, and Han Yezhou, Sheren Tang.
Adapted from Li Bojian's novel of the same name, the drama tells the story of a young girl, Lin Rulan, who, despite the opposition of her best friend, Meng Wan, gambles on her honor to sue the owner of the Embroidery House, Wu Lian, and eventually kills herself to prove her innocence. Meng Wan, who has been working on her case for seven years, gathers the "Nine Righteous Men" who are inextricably linked to Rulan's case, such as Liu Xian, and plans to reverse the case!
Details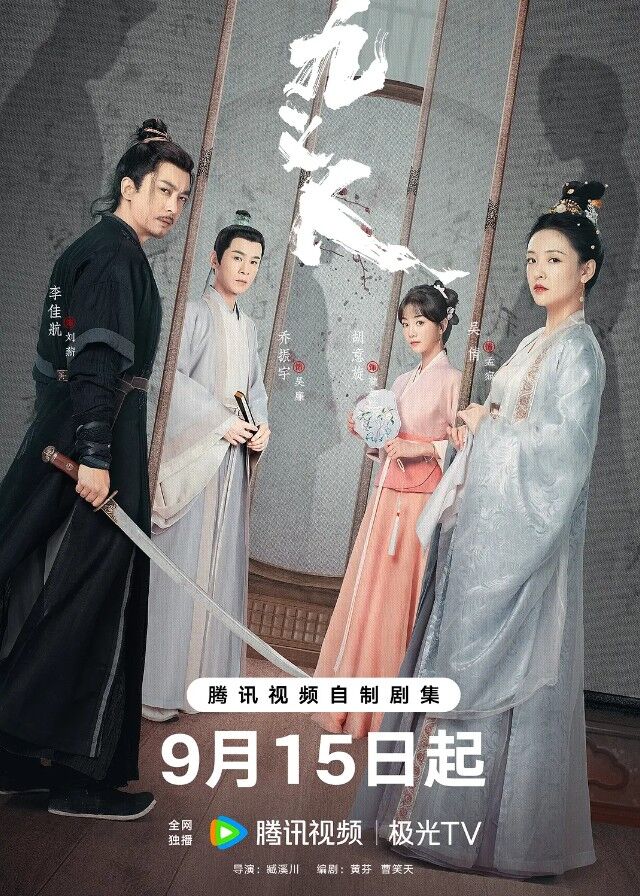 English Title: Faithful
Chinese Title: 九义人
Genre: Historical, Suspense, Thriller, Drama
Episodes: 25
Duration: 45 min.
Director: Zang Xichuan
Writer: Huang Fen, Cao Xiaotian
Producer: Li Eryun, Huang Xing, Chu Fei, Nie Wen, Lou Minan
Product Company: Tencent Penguin Pictures
Released Date: 2023-09-15
Watch On: WeTV, TencentVideo
Subtitle:
English, Chinese, Thai, Malay, Korean, Portuguese, Vietnamese, Spanish, Arabic, Indonesian
Cast
Synopsis
The girl Lin Rulan, ignoring the opposition of her close friend Meng Wan, staked her own reputation and accused the owner of the Embroidery Pavilion, Wu Lian.
However, her attempts to report to various authorities were in vain, and she found herself isolated and without support. In the end, she took her own life to prove her innocence.
Meng Wan, after seven years of hardship, gathered a group of "Nine Righteous Men," including Liu Xin, who had numerous connections to the Lin Rulan case. They formed a "revenge team" with the goal of overturning the case.
The struggles and battles of the young girl buried in the sands of time gradually emerged during this process.
Reviews
Aroha

Faithful: 5 stars for the actors and subject

It's been a while since I've seen a drama with such an unexpected plot twist. I highly recommend it!

The costume and set design are exquisitely done. As for the acting, it's a bit uneven, but Wu Qian's performance is mostly on point. She looks stunning!

The combination of historical drama and revenge storyline makes for a rich viewing experience. Wu Qian has really unlocked a new character this time, and I love her portrayal of Meng Wan. She speaks with confidence and seems to have a clear plan, and her thoughts are well-calculated. Looking forward to the upcoming revenge plot!

Let's give some praise to Qiao Zhenyu and Li Jiahang.

Qiao Zhenyu portrayed Wu Lian, a scoundrel who seemed harmless on the surface, with such depth. He looks incredibly handsome, yet he is so bad.

Li Jiahang, as an actor, has consistently surprised me, and this time is no different. His acting is not only natural but also perfectly suited to the character. His appearance is both mature and handsome, fitting the role seamlessly.
You May Also Like
Related Posts
Janice Wu Qian, Zhang Yujian Were exposed To Be Married With A Child

Does Hu Yixuan Have A Boyfriend? What's The Relationship Between her and Fei Qiming

Janice Wu Qian, Zhang Yujian Announced Divorce

Miles Wei Chases Hu Yixuan With Tricks In "Unforgettable Love"

Zhang Yujian Admits To Having A Daughter With Janice Wu Qian

Bai Jingting, Janice Wu Qian's CP Is Less Attractive Than Ni Dahong In "Octogenarian And The 90s"

Janice Wu Dramas, Movies, and TV Shows List

Hu Yixuan Dramas, Movies, and TV Shows List

Li Jiahang Dramas, Movies, and TV Shows List

Qiao Zhenyu Dramas, Movies, and TV Shows List