Young Blood – Zhang Xincheng, Zhou Yutong
Young Blood is a historical suspense drama directed by Yi Zheng, Wang Fei, Peng Xuejun, Luo Zhigang, and Liu Chongjie, starring Zhang Xincheng, Zhou Yutong, Zheng Wei, Wang Youshuo, He Haochen, Su Xiaotong, Xu Weidong, and Lu Qinghui, with special appearances by Gao Ziqi, Yan Su and Liu Meihan.
Set against the backdrop of the century-long war between the Northern Song Dynasty and the Xia Kingdom, the drama tells the story of youths who fight for the righteousness of their family and country and fight on the hidden front to protect the kingdom and the peace of the people.
Details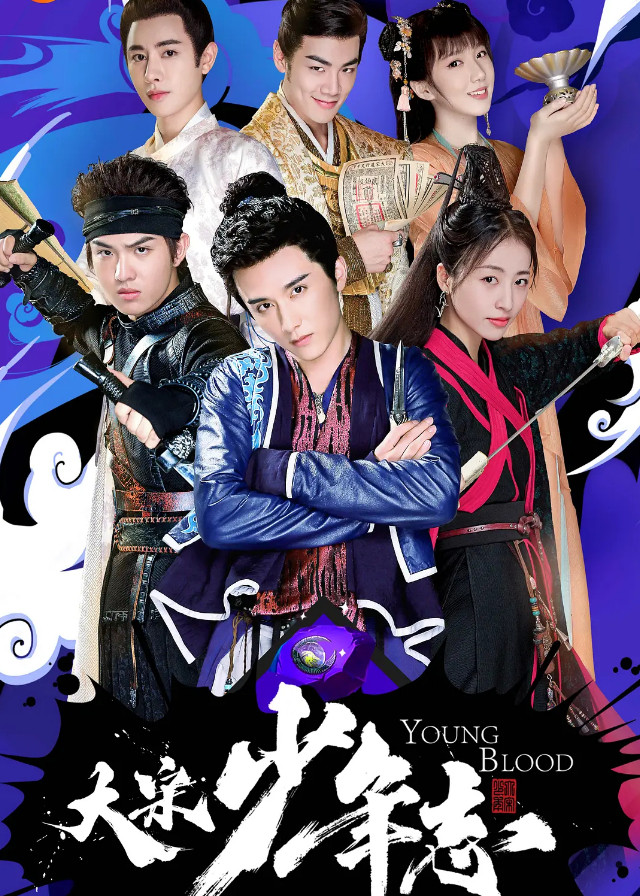 English Title: Young Blood
Chinese Title: 大宋少年志
Genre: Historical, Youth, Suspense, Crime
Tag: Smart Male Lead, Strong Female Lead, Spy, Love/Hate Relationship, Martial Arts, Investigation
Episodes: 42
Duration: 45 min.
Director: Yi Zheng, Wang Fei, Peng Xuejun, Luo Zhigang, Liu Chongjie
Writer: Pan Xiaochen, Wu Zheng, Li Zhe, Huang Jiandong
Producer: Wang Shuo, Zhou En
Product Company: MGTV, iQIYI
Released Date: 2019-06-03
Watch On: iQIYI
Cast
Synopsis
During the Qingli period, the Northern Song Dynasty, in order to avoid war and maintain peace and stability among various ethnic groups, trained young spies under the name of the "Secret Court ".
After a rigorous selection and vetting process, six youths – the intelligent Yuan Zhongxin, the beautiful and clever Zhao Jian, the never-killing Xiaojing, the never-lying Wang Kuan, the unsociable Xue Ying, and the cheerful Wei Yanei – formed the "Seventh Team of Secret Court ".
After a series of dangerous missions related, the once young and ignorant youths grow up and unite with each other, using their passion and loyalty to defend peace and eliminate the disasters of the Song Dynasty.
Reviews
You May Also Like
Related Posts
Chinese Dramas Like Young Blood

Are Simon Gong Jun, Zhou Yutong in a relationship? Why Is Their Marriage Certificate Circling On The Net?

Landy Li Landi's Boyfriend is Zhang Xincheng? They Have Been in a Relationship for 6 Years?

Zhang Xincheng And His 4 Rumored Girlfriend

Does Zhou Yutong Have a Boyfriend? Did She Ever Date Timmy Xu Weizhou

Zhang Xincheng Dotes On Tan Songyun, Called Her Unquie Nickname

2020 Top 10 Campus Prince Charming: Zhang Xincheng only took the 3rd, Song Weilong was recognized as the Dreamboat

Zhang Xincheng, Liang Jie Swap Lives, "The Day Of Becoming You" Received Good Reviews

Zhou Yutong Photos

Zhang Xincheng Photos

Zhang Xincheng's 25 Quotes

Does Jasper Liu Yihao, Zhou Yutong Look Perfect For Each other?

Zhang Xincheng Dramas, Movies, and TV Shows List

Zhou Yutong Dramas, Movies, and TV Shows List