The Coolest World – Zhou Yutong, Wang Dong, Li Hongyi
The Coolest World is a youthful inspirational drama written and directed by Li Ang, led by Zhou Yutong, Wang Dong, Li Hongyi, co-starring Guan Xin, Chen Jinru, Ze Nan, Cao Lei, Cui Xinxin, and Xiao Han.

The drama tells the story of a group of media workers with ideals and ambitions who break free and start afresh.
Details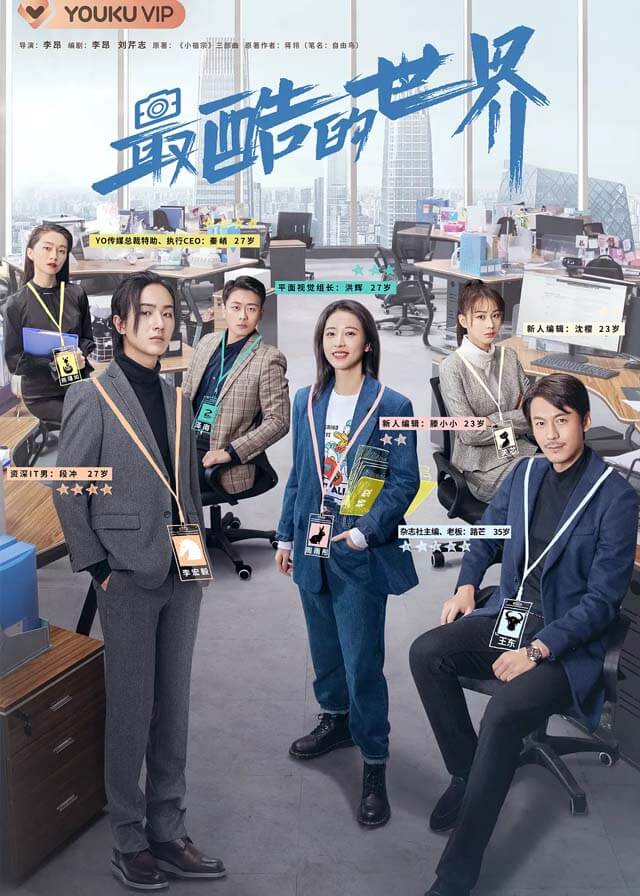 English Title: The Coolest World
Chinese Title: 最酷的世界
Genre: Urban, Business, Youth
Tag: Competition, Bromance, Sismance, Strong Female Lead, Slice of Life, Hardworking Female Lead
Episodes: 40
Duration: 45 min.
Director: Li Ang
Writer: Li Ang, Liu Qinzhi
Producer: Zhang Wenli, Ming Fei, Xiao Yan, Zhang Ru, Li Yuanhao
Product Company: Alibaba Pictures
Released Date: 2021-08-25
Boradcast Website: Youku, Viki
Cast
Synopsis
Teng Xiaoxiao, a grassroots girl, works hard for her dream to win the Pulitzer Prize at a magazine, but her company was suddenly acquired by the new media company Yo Media and starts as an intern.
In the rapidly changing world, facing the competition and integration of traditional media and new media, Teng Xiao Xiao and other people keep moving forward with a striving attitude, growing up and finally reaping career and love.