Shining Like You – Wang Zixuan, Gong Jun
Shining Like You is a Youth, Campus drama, direct by Fu Cong, starring Gong Jun, Wang Zixuan, co-starring Zhou Cheng'ao, Mary Ma, Gou Jiayi, Zhong Wenbin, Chen Pengwangli, Yang Zilong, Zhang Bozhi, Wang Qian, Peng Biyao.

The drama tells the story of a super learner girl, Lu Qiyi, who turns into a "dream-chasing girl" and ventures into the showbiz, gradually transforming from a nondescript "school oddball" to an enthusiastic, cheerful, and confident top student.
Details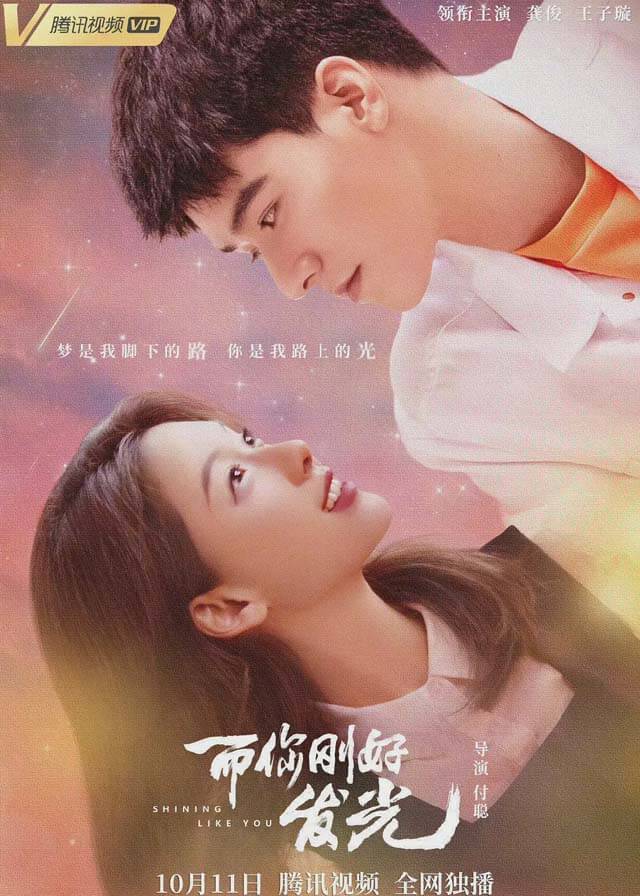 English Title: Shining Like You
Chinese Title: 而你刚好发光
Genre: Youth, Campus
Episodes: 24
Director: Fu Cong
Writer: Ren Yi, Yang Chao, Yang Fan, Fu Cong
Producer: Liu Deping, Zhang Liangliang, Xu Qiushi, Yu Xiaochuan
Product Company: Juying Media, Galloping Horse Production
Broadcasting Website: WeTV
Released Date: October 11, 2021
Cast

Wang Zixuan
as Lu Qiyi

Gong Jun
as Fang Yan

Zhou Cheng'ao as Du Yang

Mary Ma as Bai Qiao

Guo Jiayi as Hao Kaixin

Zhong Wenbin as Yi
Synopsis
Lu Qiyi, who excelled in the college entrance examination, chose to major in acting without informing her parents' when she filled out the application form.
Although this was a huge challenge for her, she remained reluctant to give up. She learned how to integrate. In the wonderful "Experience Life" course, she gradually opened up her nature.
When her father pays a surprise visit to the school, Qiyi is in danger of dropping out and has to fight for her life.
But things don't go as smoothly as expected, the judges criticize the musical they did and the final performance is unexpectedly canceled.
Just when Qiyi was about to give up, her friends helped her gather students from all majors in the school to present a wonderful show, in which QiYi's brilliant performance eventually impressed her family.