Prodigy Healer – Li Hongyi, Zhao Lusi
Prodigy Healer is a romantic fantasy drama co-directed by Chuor Hei Wo and Wei Jie, starring Li Hongyi, Zhao Lusi, Zhang Sifan, Feng Junxi, Xu Yifang, Zhao Qi, Tang Lvjing, Yang Yue, with special appearances by Tse Kwan Ho, Jackie Lui, Liang Dawei, Che Yongli, Yang Mingna, and Ma Li.

The drama tells the story of Mu Xingchen, who uses his "Qing Nang skill" and a combination of Chinese and Western medicine to save the people who were wounded, and falls in love with Ye Yunshang, unraveling the conspiracy of the rebel clan and saving all beings.
Details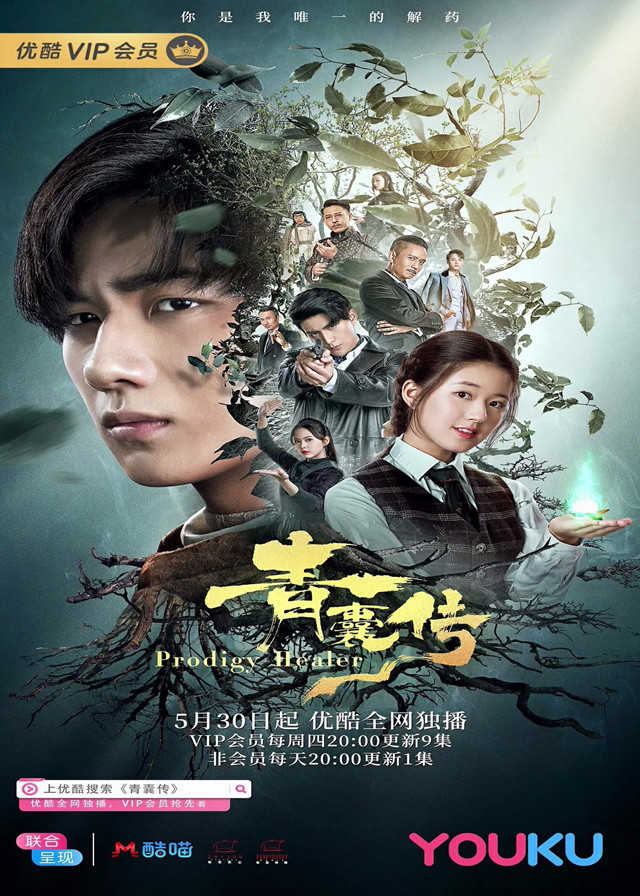 English Title: Prodigy Healer
Chinese Title: 青囊传
Genre: Fantasy, Romance, Medical
Tag: Love/Hate Relationship, Love Triangle, Stolen Identity, Amnesia, Healing Power, Calm Female Lead
Episodes: 36
Duration: 40 min.
Director: Chuor Hei Wo, Wei Jie
Writer: Fang Moqi, Yu Yinglan, Zhang Jie, Xue Hui
Product Company: ZHI YOU MEDIA, YOUKU
Released Date: 2019-05-30
Broadcast Website: Idol & Romance, Viki, youku.tv
Cast
Synopsis
A young man of the Shenmu tribe, Mu Xingduan, who comes from a family of studying medicine for generations, saves Ye Yunsheng, the daughter of a medical family who mistakenly enters the territory.
He travels with Ye Yunshang to the troubled world of the Republic of China to escape from the internal strife of the royal family but encounters a rare plague. Ye Xingchen saves the lives of the people with his "Qing Nang Skill", and experiences all kinds of temptations and trials of love. He finally becomes a top healer of the generation.
In the end, he gives up his throne and travels the world with his lover, Ye Yunsheng, to help all living beings.
Reviews
You May Also Like
Related Posts
Chinese Dramas Like Prodigy Healer

Does Rosy Zhao Lusi Have a Boyfriend? Her College Boyfriend was Exposed

How is Zhao Lusi and Chen Zheyuan's Relationship? "Yuan Xing Bi Lu" CP is Gaining Great Popularity

What's Yang Yang And Zhao Lusi's Relationship?

Liu Te, Rosy Zhao Lusi Were In A Relationship? His Ex-Girlfriend Was Rocket Girls' stylist

Zhao Lusi, Ryan Ding Yuxi Refused To Be CP, Will They Played In "The Romance Of Tiger And Rose 2"?

What's Zhao Lusi, Leo Wu Lei's Relationship? Why Fans Can Not Calm Down

Rosy Zhao Lusi was Involved in a Dating Rumor, Studio Issued a Statement

Li Hongyi Photos

Zhao Lusi Photos

Rosy Zhao Lusi, Liu Yuning Gained Large Popularity For "Hao Yan CP" In "The Long Ballad"

Terry Liu Te: Shy To Shoot Kiss Scenes With Zhao Lusi, Don't Mind Being Judged On Looks

Who Is Jason Gu Jiacheng's Girlfriend?

Li Hongyi Dramas, Movies, and TV Shows List

Zhao Lusi Dramas, Movies, and TV Shows List

Rosy Zhao Lusi, Xu Kaicheng Interpret The Sweet Relationship Between Teacher And Student In The Ancient Campus

Zhao Lusi, Xu Kaicheng's New Drama Is Hit, But The Douban Rating Is Only 4.3